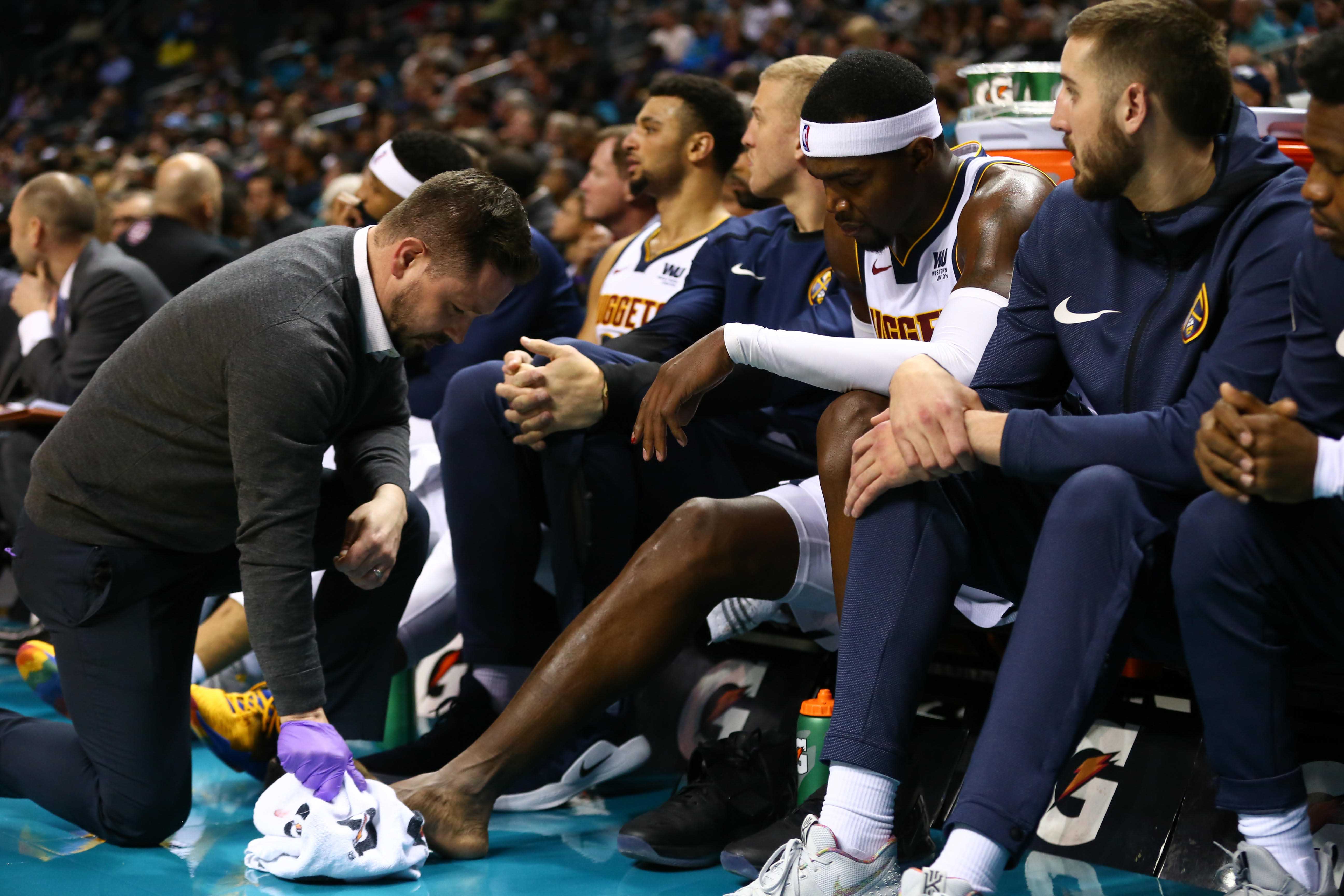 On Saturday morning, the Denver Nuggets announced that Paul Millsap fractured his big toe on his right foot in Denver's road loss to the Charlotte Hornets on Friday night.
There has not been a specific timetable for when Millsap could return. All that the organization offered in terms of recovery time is that Millsap, "will undergo continued evaluations and updates will be provided when necessary".
Here is the play in which Millsap fractured his big toe on his right foot. Look at how the front of Millsap's right foot slams into the hardwood.
Most of the time when an NBA player breaks a big toe, it usually takes anywhere from 2-to-8 weeks for a full recovery. Being that the Nuggets have not released any sort of timetable on when Millsap could return to the court, that is really all that anyone has to work with in terms of how long it could take for Millsap to return to the court.
The best news is that Millsap fractured his big toe and not his pinky toe. If he would have injured the latter, he could have had a jones fracture, which took Ben Simmons' rookie season from him and could require surgery.
Now, the question becomes more about what the Nuggets will do without Millsap for the foreseeable future; especially with Gary Harris sidelined for the next 3-to-4 weeks with a hip issue. Before we jump into possible starting lineups, let's just assume that the Nuggets will continue starting Torrey Craig in Gary Harris' spot and Juancho Hernangomez in Will Barton's spot. So who will Nuggets insert into the starting lineup with Millsap sidelined?
Trey Lyles
Starting Trey Lyles for the injured Paul Millsap is likely going to be the decision that Nuggets' head coach Michael Malone makes. That would make the Nuggets starting-five comprised of Jamal Murray, Torrey Craig, Juancho Hernangomez, Trey Lyles, and Nikola Jokic.
Lyles is a multifaceted power forward who can handle the ball, hit jump shots, and also punish mismatches in the post. Lyles is very similar to Millsap in terms of what he brings on the offensive end of the floor. In addition to his offensive repertoire, Lyles has the length and mobility to give the Nuggets some switchability on defense, but Lyles has not exactly been a defensive stalwart throughout his career. Still, regardless of which player fills in for Millsap, there will be a steep drop off defensively.
From that perspective, it makes a lot of sense to start Lyles, but it would likely hurt the bench unit's ability to score quite a bit. Lyles has not shot the ball particularly well this season, but he is still averaging 10.1 points and 4.4 rebounds in 19.8 minutes off of the bench for the Nuggets. Lyles has also been quietly a strong playmaker for the Nuggets. Without Lyles on the bench, the Nuggets reserves would suffer on offense.
In addition to a fall in production, moving Lyles into the starting lineup would also lead to more depth issues as well. Denver would only have a mixture of Monte Morris, Malik Beasley, and Mason Plumlee to fill out the bench mob and, if Lyles ends up moving into the starting unit, the Nuggets would likely have to rely on Tyler Lydon to give them some strong minutes off the bench as power forward.
Overall, starting Lyles may make sense on paper, but it may not make as much sense on the court.
Malik Beasley
This is my favorite choice for who replaces Millsap in the starting unit. Malik Beasley has played very well as of late and has earned not only a boost in minutes, but also the opportunity to start as well.
If Beasley did end up joining the starters, the Nuggets starting five would be Jamal Murray, Malik Beasley, Torrey Craig, Juancho Hernangomez, and Nikola Jokic. That group would give the Nuggets multiple versatile defenders in Beasley, Craig, and Hernangomez; plenty of 3-point shooting from the likes of Murray, Hernangomez, and Beasley; and all of those players know how to play alongside Jokic at a high level on the offensive end of the floor.
Defensively, they have enough size, length, and athletic ability to at least make a run at staying elite on that end of the floor. All three of Beasley, Craig, and Hernangomez have played extremely hard on defense all year and all three of them are between six-foot-five and six-foot-eight. That is a recipe that could allow the Nuggets aggressive pick and roll scheme to continue to be effective so long as that trio gives great defensive effort off of the ball.
If Beasley slides into the starting lineup, that would leave Monte Morris, Trey Lyles, and Mason Plumlee on the bench for the Nuggets. So long as one of Beasley, Hernangomez, or Craig is on the floor at all times, the Nuggets bench unit could also continue operating and producing at an elite level among other bench units in the NBA.
Mason Plumlee
The idea of starting Mason Plumlee in place of Paul Millsap has been floated around a bit. It does make some sense in a couple ways, but also could hurt the Nuggets in multiple ways as well.
Plumlee is without a doubt the most similar defender on the Nuggets roster to Millsap. He can protect the paint, switch onto the perimeter, hedge pick and rolls, and does a great job of helping down as a weak-side defender. Outside of being able to stretch the floor, Plumlee is also vaguely similar to Millsap on offense too. He can handle the ball, act as a secondary or tertiary playmaker, and can attack mismatches in the post. In addition to all of those offensive skills, Plumlee is even more of an above-the-rim threat than Millsap and is better rolling to the rim.
Inversely, starting Plumlee could have drastic effects on the Nuggets bench unit. The only other center on the Nuggets roster is Thomas Welsh — who was called up to the Nuggets on Saturday morning and will be with the team in Atlanta — which means Welsh would have to most likely log somewhere between 10-15 minutes of playing time for the first time in his career. The Nuggets could also play Lyles at center for a few minutes here or there, but Denver taking their only true backup center and inserting him into the starting lineup could really hurt the bench unit's production.
Still, even with all of that being said, one thing that has to be taken into account is Malone's affinity for Plumlee. Malone has said that he wants to get Plumlee more minutes on numerous occasions and this may be his opportunity to do so.
"I want to try to get him more minutes, but it is so hard because we have Paul (Millsap) and Nikola (Jokic) who are also playing well, but Mason has been terrific," Malone explained at practice prior to the Nuggets five-game road trip and prior to Millsap's injury. "He is selfless and he is all about team which i really respect."
This does seem like the least-likely decision by Malone, but it is not off of the table.
---
Simply stated, Millsap breaking his big toe after missing 44 games last year with a torn ligament in his wrist is just cruel. Millsap has never dealt with injuries this consistently in his career and he absolutely battled all offseason in order to come back fully healthy for the 2018-19 season.
Now, the Nuggets will have to whether the storm without their best defender and, in recent memory, their most consistent player, with Millsap sidelined for an undetermined about of time.
Millsap, who has played in all 25 games this year, is averaging 13.6 points, seven rebounds, two assists, 1.4 steals, and 1.1 blocks in 26.8 minutes per game while shooting a career-high 40 percent from 3-point distance.