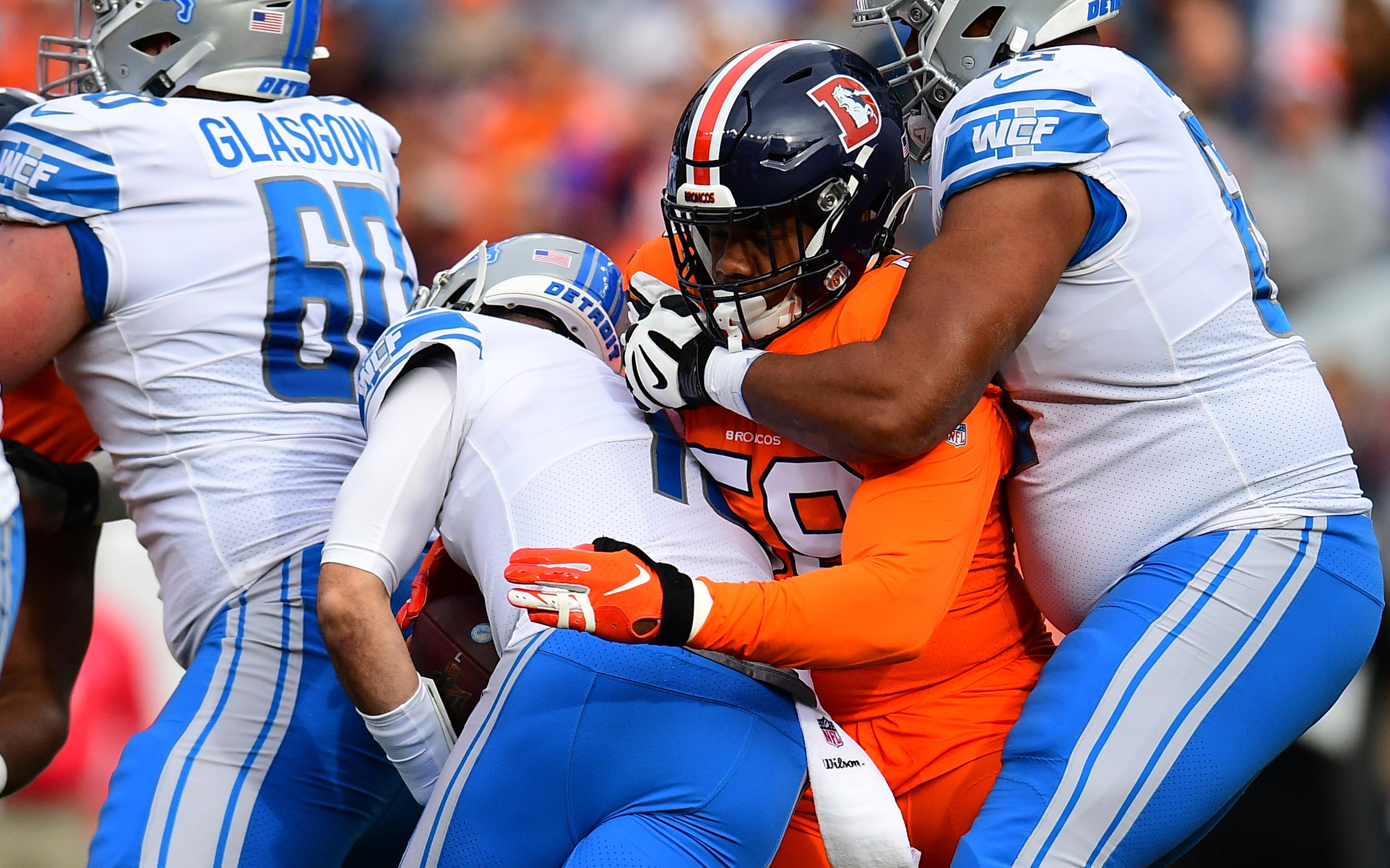 2020 can't get any worse, right?
With a pandemic, the sports world coming to a halt during the summer and everything else bad going on, now Von Miller is hurt, too.
That's right, Miller injured a tendon in his ankle on the last play of practice on Tuesday and multiple reports are now saying he's likely done for the season.
Miller, now 31 years old, could be considered "over the hill" for an outside linebacker. After all, edge rushers make their living on being faster, stronger and quicker than the offense tackles trying to block them. Von Miller has made his living on his athleticism, racking up 106 career sacks as well as the Super Bowl 50 MVP and Defensive Rookie of the Year trophies.
Last year, Miller had his first full season in which he didn't hit double digits in the sack department, registering only 8.0. That was partly because the Broncos defense couldn't register a single sack in the first four games of last season, defensive guru Vic Fangio's first as head coach.
Bradley Chubb's ACL injury in Week 4 also hurt Denver's pass rush a bit last year, and Broncos fans couldn't wait to see Chubb and Miller together for a full season in 2020. Now, we'll all have to wait until 2021, likely.
With Miller injured, more pressure will now be placed on the young Bradley Chubb's shoulders this year while it's also time for the next man up on the left side of the defense.
That means Malik Reed and Jeremiah Attoachu have to ball out, and they'll likely rely on one another to try to fill the legendary Vonster's shoes.
Honestly, on his first sack in the NFL during a preseason game last year, Reed looked a lot like Miller:
.@Broncos LB Malik Reed's got speed off the edge 👀 #PFHOF19

📺: @ProFootballHOF Game on NBC
Watch free on mobile: https://t.co/gjdN954aVr pic.twitter.com/FoG8SpR4KK

— NFL (@NFL) August 2, 2019
During the regular season, Reed started eight games in place of Chubb and earned two sacks, one fumble recovery and 27 combined tackles. And while his athleticism is unquestioned, his game needs consistency as he was graded only a 60.1 in terms of pass rush by Pro Football Focus in his rookie year. For an undrafted rookie, it was a solid campaign, and one to build upon for sure.
When he struggled last year, though, Jeremiah Attaoachu stepped up and did well. Attoachu really impressed during the stretch run of the season, when he started five games. All told, he racked up 3.5 sacks with a fumble recovery and 21 combined tackles. That fumble recovery was then intelligently handed off to Kareem Jackson, who took it to the house against Houston.
Reed may be the younger and more athletic pass rusher, but Attoachu is the seasoned veteran and may be better overall.
But, if the Broncos choose to go and sign a free agent with the $30.2 million of cap space do they have, who are the candidates to replace Miller?
Free Agents
Terrell Suggs
Suggs is well beyond his best years, but he proved with both Arizona (5.5 sacks) and then the Chiefs (1 sack) that he can still play. Do the Broncos take a chance on the 16-year veteran?
Cameron Wake
Wake, too, is a well-established veteran, but with 11 years under his belt, he has more tread left on the tires than does Suggs. Wake was at one point (10 years ago) one of the best pass rushers in the NFL. Last year he earned 2.5 sacks in nine games with the Titans before landing on the Injured Reserve in November.
Clay Matthews
Matthews is also an 11-year veteran who played quite well (8 sacks, 37 tackles) with the Rams last year after 10 seasons with the Packers. If the price is right, Matthews would be a great addition for Denver.
Shane Ray
The experiment with Ray, a first-round pick who never lived up to the billing, already ran its course.
Ziggy Ansah
The seven-year veteran was most recently with the Seahawks, and while his sack number were low in 2019 (2.5) he has been elite at getting after the quarterback before.