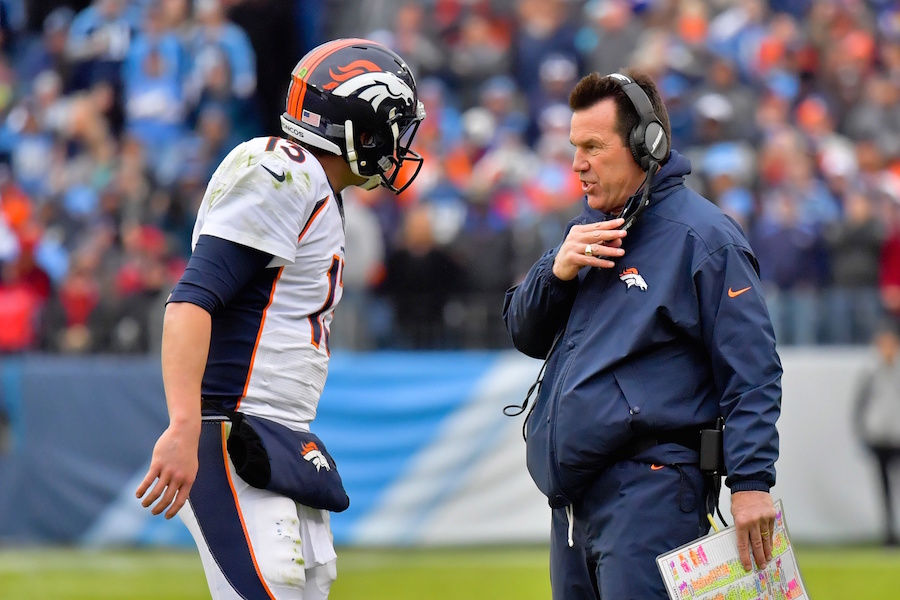 If the season ended to day, despite the loss on Sunday, the Denver Broncos would be in the playoffs as the sixth seed.
Unfortunately, the season doesn't end today, and the Broncos will be forced through the gantlet to finish the season.
In Weeks 15, 16 and 17, Denver will face three of the four best teams in the NFL in the New England Patriots, Kansas City Chiefs and Oakland Raiders. That's a combined record of 30-8.
So, yeah, it's not going to be easy. One slip up and the Broncos could tumble out of the postseason for the first time in half a decade.
This team isn't giving up, though. They're the reigning Super Bowl champions for a reason; they have a championship mentality.
Here's what the team had to say about their tough finish to the season:
Gary Kubiak on their tough path to the playoffs:
"I just told them I know, from the outside looking in, a lot of people are going to say it doesn't look good. I've been part of a hell of a lot worse and come out of it. We're going to keep battling. I'm a battler. Those guys in the locker room are battlers. We fought until the end, but we didn't play good enough to win. So we're honest with ourselves. We go back to work tomorrow."
"You put it behind you and you look forward to New England.  That's all we can do. On this loss, it is what it is. We have to move on."
Trevor Siemian on the difficult task of making the playoffs:
"I think we've got the right group to do it with.  It's going to be an awesome challenge.  I know I'm looking forward to it.  Obviously, it starts one game at a time with New England coming in, but I think we've got the right guys in that locker room for it.  We're going to give it our best shot and see how we stack up."
T.J. Ward on bouncing back from a tough loss:
"We've got to have a dog mentality, a bear mentality, you know? Once you want it, you have to keep charging. You can't sit back and sulk and feel sorry for yourselves, man. We got to pick it up and get ready for New England next weekend."
DeMarcus Ware on their "do or die" mentality:
"The schedule is nasty, but we can win those games. I feel like everybody has to be on the same accord and have that mentality of do or die. That's what we were talking about at the end in the meeting, and that's the mentality everybody's taking."