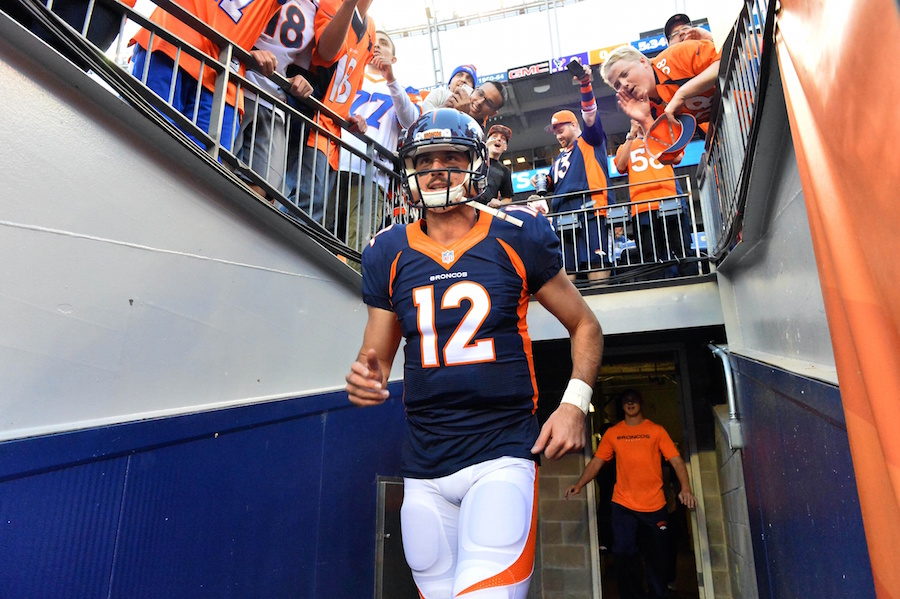 It was a disappointing end to the season for Paxton Lynch fans, as they watched the man they believe is heir apparent to the throne of Broncos quarterbackdom sidelined throughout a season finale whose only meaning was to send head coach Gary Kubiak out on a high note.
On Friday, Kubiak said he'd be splitting snaps evenly between Siemian and Lynch, but on Sunday it was Siemian and Siemian alone who guided the Broncos to victory against the Raiders in Kubiak's final game as a head coach.
Lynch took it all in stride, though. Speaking with the media on Monday, Lynch looked back on his rookie season, but also looked forward to the future and the opportunity to improve ahead of a new season with a new head coach.
Here's what Lynch had to say, courtesy of Broncos PR…
On his takeaways from his rookie season
"Just what I learned from those starts and having the opportunity to go out there and play, and play against NFL defense for the first time. To get my first start and to get my first win. I'm excited about all of that and I'm excited about this offseason too."
On what he will work on this offseason
"I'm sure that [Quarterbacks/Passing Game Coordinator] Coach [Greg] Knapp will have some things to have us work on. I spoke with him earlier and I'm sure I'm going to stay in touch with him. I think he's going to put something together for us to all work on as individuals."
On what he wants to improve on this offseason
"As a quarterback, you can always work on your footwork and accuracy. That's always been a big thing for me. If there's one thing that I can point out, it's one of those."
On Head Coach Gary Kubiak stepping down
"I was pretty upset. I know a lot of other guys are a lot more upset than I am because they spent more time with him than I have. He was a great coach and he had done nothing but help me through the whole process."
On how potentially learning a new scheme could affect his development
"Obviously it's going to be difficult for anybody learning a new offense. Hopefully they bring in a guy that has similarities to the system that we have here. That's what the offseason is for. I'm going to grind at it just like I did with this offense. When that time comes, I'm going to work on it."
On learning how to study the offense
"I think it's a big thing. Every guy learns differently. Every guy is going to learn the playbook differently. It's just getting into your rhythm and learning how you learned. That was a big thing for me coming in with all of the big changes. I thought I did a good job. Coach Knapp was very pleased with how far I've come from when I first got here. I'm excited to get the ball rolling with the new coaches and learning the offense."
On learning how to be an NFL player on and off the field
"It's obviously different from when you're playing in college, to when you're playing at the professional level. It's a job at that point. You're getting paid to go out there, make plays and do what you're supposed to do. In that sense, it's different. At the end of the day, football is still football."
On plans to unwind during the offseason
"I'll probably take a couple weeks off, maybe a month or so, just to relax and go spend time with my family. I'll probably be in Florida training, too. There's always time to get away from it and relax."
On getting together with the receivers and quarterbacks in the offseason
"Yes, definitely. I know [WR] Emmanuel [Sanders] was talking about wanting to in Houston. I think he was trying to get everybody together. Any time I have the opportunity, I'm going to be there."