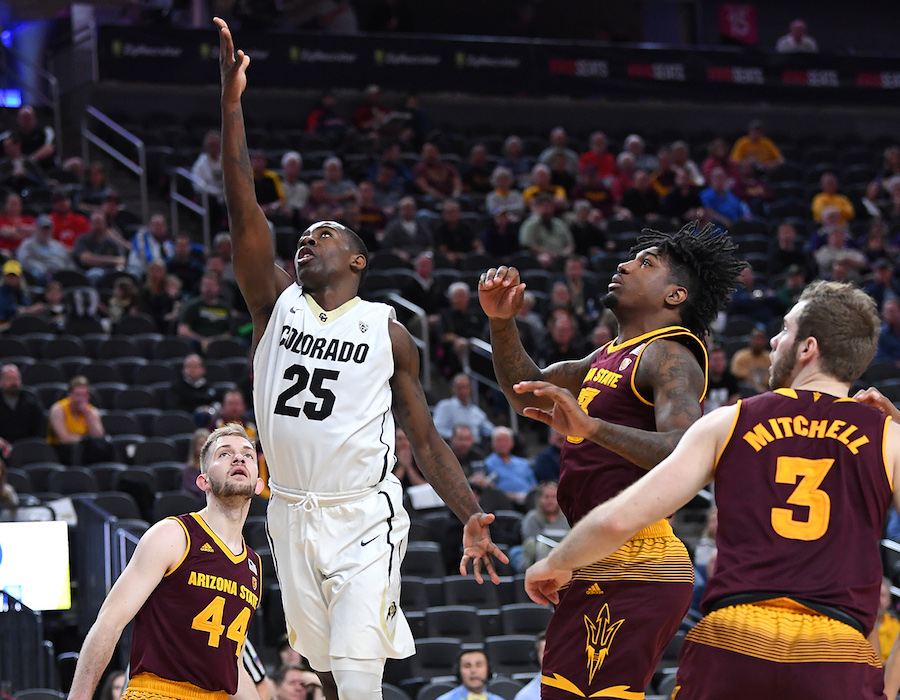 The Colorado Buffaloes knew they could beat the Arizona State Sun Devils, who at Christmastime were ranked No. 3 in the country. The Buffs had done it before, after all.
In fact, Colorado's Jan. 4 victory over ASU knocked the Sun Devils out of the top 10 in the AP Poll. Since that time Bobby Hurley's squad has been in freefall, losing their top-25 AP ranking in mid-February and finishing the season with the same 8-10 Pac-12 record as the Buffaloes.
So, the Buffs knew they had a chance against the Sun Devils entering the first round of the 2018 Pac-12 Men's Basketball Tournament in Las Vegas.
Despite a decidedly pro-ASU crowd, Colorado ran to a 97-85 victory at T-Mobile Arena.
Led by freshman McKinley Wright IV's 20 points and 11 assists, Colorado took the lead at the 9:54 mark of the second half and never trailed again. Dom Collier, recently named the Co-Pac-12 Sixth Man of the Year, was second in scoring for the Buffaloes with 17 off the bench.
Sun Devils guard Remy Martin matched Wright's game-high 20 points to lead ASU.
Colorado advances to play No. 15 Arizona, the Pac-12 regular season champions, in the next round. Tipoff for that game is 1 p.m. MST on Thursday.