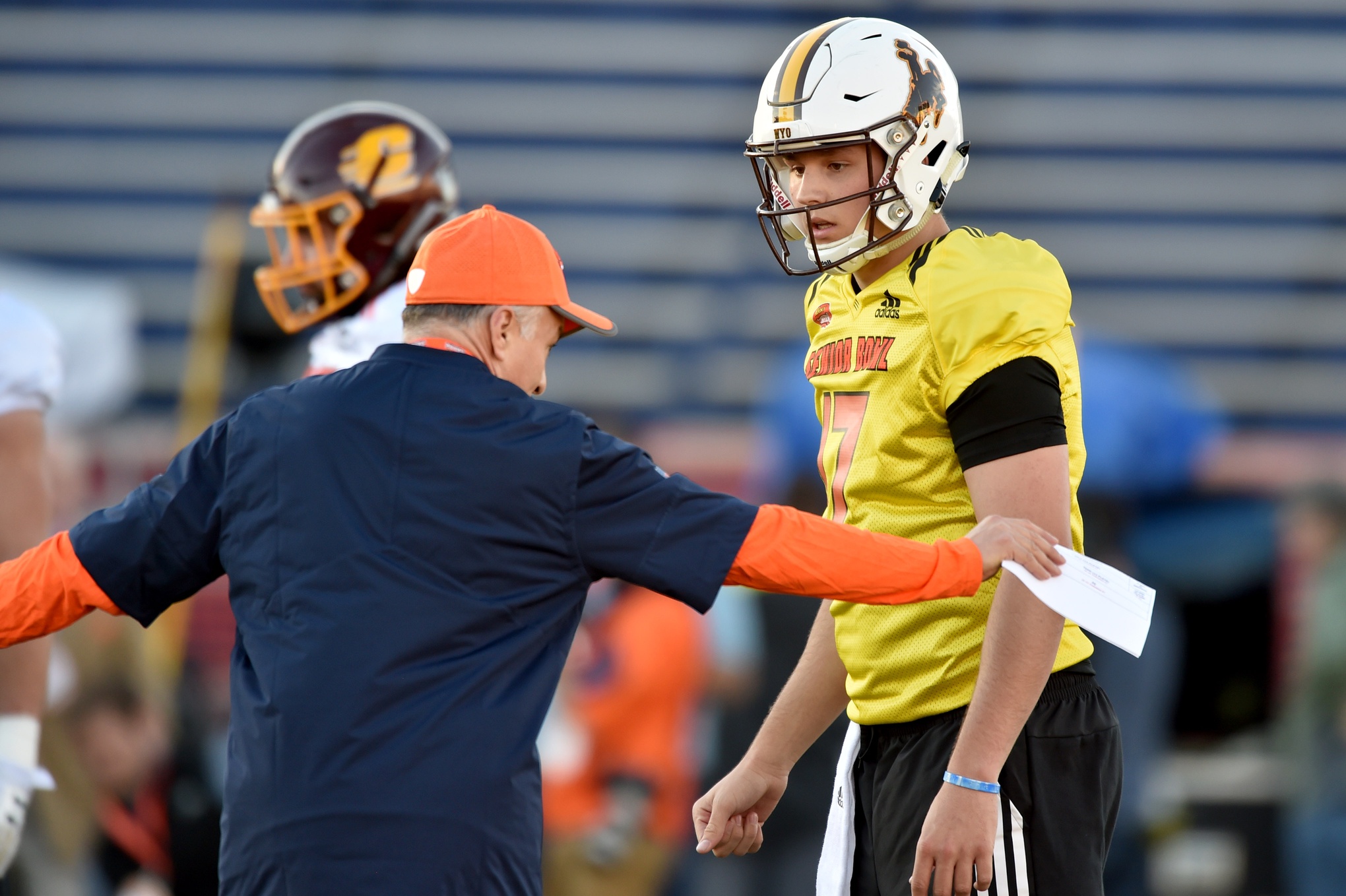 As the Denver Broncos continue their week coaching some of the highest-profile names in college football in Mobile, Ala. for the Senior Bowl. Certain players are beginning to rise up over others, and flaws in many are beginning to be exposed.
The Broncos should be very wary about Wyoming quarterback Josh Allen. While Allen is expected to be picked early in the draft and has a tremendously strong arm, inaccuracy has plagued his entire career, and history says this should worry the Broncos' staff if they consider him at their No. 5 draft position.
Baker Mayfield and Josh Allen … I mean, maybe it's a small target ??‍♀️ pic.twitter.com/pbVldFeDkh

— Nicki Jhabvala (@NickiJhabvala) January 24, 2018
The quarterback position is a complex one, and it's unfair to grade a quarterback on just a week, a month, or even a year worth of work. But this isn't an overnight issue with Allen.
Completing only 56.2% of his passes in his three-year college career, inaccuracy is a continued problem that hasn't shown signs of improvement. Allen has never been known to be an accurate thrower, and he averaged an interception on every 24.8 passing attempts in 2016, the season widely considered his best year at Wyoming.
To compare with current quarterbacks from last year, Broncos quarterback Trevor Siemian had a better ratio of interceptions per passing attempt at 24.9. Brock Osweiler averaged an interception every 34 attempts and even turnover prone, strong-armed Jay Cutler only threw a pick once every 30 attempts.
Recent history says inaccurate quarterbacks in college who get a chance in the NFL generally don't succeed. Over the last couple years, the NFL has given chances to Tyrod Taylor, Tom Savage, Josh Freeman, Jake Locker, and Ryan Mallett, all who threw for under 60% completion in college. All of them have been underwhelming to say the least, and two of those quarterbacks aren't even in the NFL anymore.
The only exception to this rule is Detroit Lions quarterback Matthew Stafford, who finished his college career with a 57% completion percentage mark. But even Stafford finished his final year at Georgia completing 61% of his passes.
Inaccuracy is a killer for quarterbacks in the NFL, and very little success is attributed in the playoffs to inaccurate quarterbacks. Since the Broncos won back-to-back Super Bowls in the '97 and '98 seasons, only one quarterback has played in the Super Bowl while completing 57% of his passes in a season or worse — Rex Grossman — and it took an all-time great defense for the Chicago Bears just to get there in 2006, only to be torched by one of the most accurate quarterbacks in NFL history, Peyton Manning.
Many make comparisons of Allen to North Dakota St. standout turned Philadelphia Eagles starter Carson Wentz. They have similar measurables, both are small-school players, and both were coached by current Wyoming head coach Craig Bohl. But those comparisons quickly end when on-field play comes into play. Wentz never finished a year completing less than 62% of his passes and was a five-time NCAA FCS National Champion. Allen's highest accomplishment in college was All-Second team Mountain West.
Allen has been described by anonymous sources at the Senior Bowl watching him throw this week as "a thrower, not a QB," saying that "he needs a lot of work," and "should red-shirt a year," pointing out that he "needs good coaching and talent around him."
That's not exactly effusive praise for a player that could be picked in the top five.
Allen certainly has the size. Just shy of 6'5", and weighing 237 lbs, his measurables rival NFL quarterbacks like Paxton Lynch, Brock Osweiler, and Joe Flacco. Then again, that may not be the list you'd want to be lumped into.
Allen may buck the trend and turn into a star in the NFL. Under the right situation, where he has to opportunity to sit, learn and listen to an elite quarterback, he may develop into a full-time starter with potential.
But if history has proven anything, it's that big-armed, big-bodied, big-handed, inaccurate quarterbacks generally deliver small returns on an expensive investment.