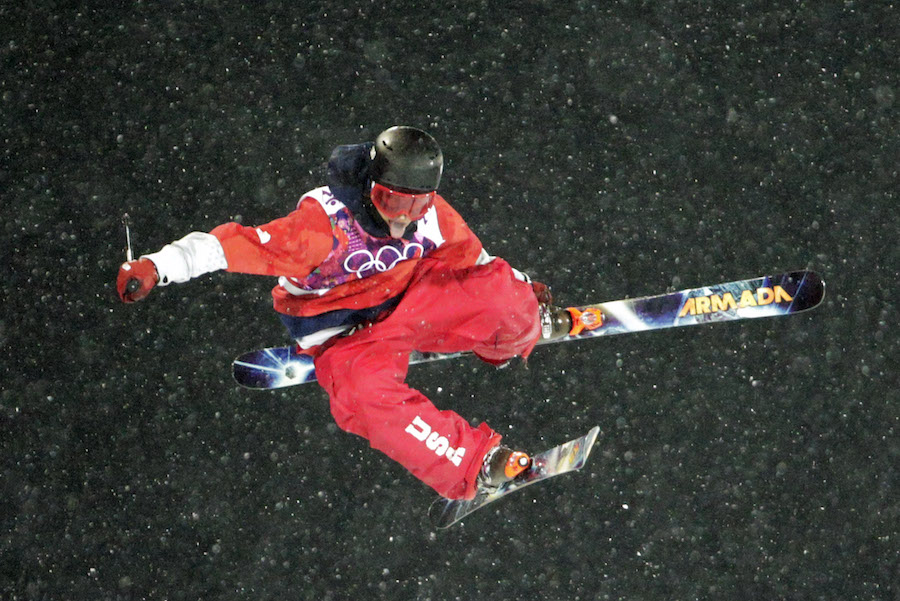 After a long journey, Aspen, Colo. natives and longtime friends Torin Yater-Wallace and Alex Ferreira are bound for the 2018 Winter Olympic Games.
This past weekend at X Games Aspen, Ferreira, 22, finished silver while Yater-Wallace, 23, finished bronze in the men's ski superpipe. These wins led to the first time the duo was able to stand on the X Games podium together after years of competition side by side.
"It's always really special to stand on the podium with one of my closest friends. I'm so proud of Alex. His skiing has come a long way," Yater-Wallace told the Aspen Times after winning bronze at X Games Aspen Thrusday, Jan. 25.  "He's had talent for years, and it's all really come full circle this year. He's really gotten the mental strength, which is so special. He's always had the skiing strength, but the mental strength is there and he can just keep it together and put runs down."
After facing a life-threatening infection in 2015, Yater-Wallace bounced back and won the men's ski halfpipe at Mammoth Mountain, Calif. last February, the first Olympic qualifier. From there, he had four more opportunities for a second podium that would land him a spot on the U.S. team bound for PyeongChang. However, gaining that podium turned out to be a challenge for Yater-Wallace. Last Friday he finished third at Mammoth and he was able to finally secure a spot on the team.
"I was just wanting to land a run so bad. That was my pure motivation," Yater-Wallace told the Aspen Times after qualifying on Friday, Jan. 19. "I'm really happy to walk away from there how I did. I'm extremely thankful to have made it happen on the third run."
Ferreira, on the other hand, had no doubts about landing a spot on the team, winning at Dew Tour in Breckenridge, Colo. and securing second in Snowmass, Colo. and Mammoth Mountain, Calif.
"Now I can just sleep easy. I fully went in there and clinched my spot. I didn't leave anything up to chance," Ferreira told the Aspen Times.
Yater-Wallace was the youngest X Games medalist, winning second in superpipe in 2011 when he was 15-years-old. He has also won four medals since 2011 in Winter X Games Europe. This will be his second Olympic appearance. He did not medal in Sochi, Russia in 2014.
Ferreira has won a total of four medals at the Winter X Games, three in Aspen, Colo. and one in Oslo. This will be his Olympic debut.
Torin Yater-Wallace and Alex Ferreira talk about what it means to share this journey to PyeongChang.Come wish them luck tomorrow at 3:30PM at Gondola Plaza!

Posted by Aspen Snowmass on Tuesday, January 30, 2018
"If we could share the podium together, that would be the best moment I think of our lives," Ferreira told Aspen Snowmass on Facebook after X Games Jan. 29. "Just to be able to share that together. Going is enough for me, it's like we're sharing that moment, and it's such a beautiful thing, and if we could bring home a medal it'd be just the cherry on top, why not?"
After standing on the podium together in Aspen, the two hope that the same will happen in PyeongChang.
"My goal is by no means to win the Olympics. After my last experience all I'd really like to do is just to go and be able to ski at 100 percent, and showcase what I can do, and I really hope the same for him. He's been skiing unreal this year, so if we ski our best, and things go our way that'd be amazing," Yater-Wallace told Aspen Snowmass on Facebook Jan. 29. "Just the experience in itself to go share this opportunity with a close friend of mine in Korea is insane."
The 2018 Winter Olympic Games will begin on Feb. 9, with men's ski halfpipe qualifiers beginning Feb. 20 in South Korea.