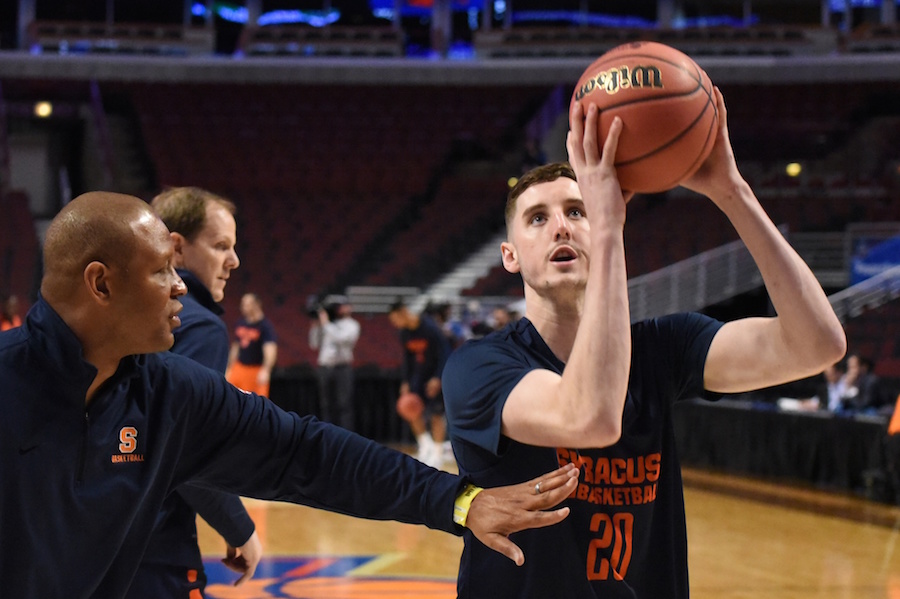 There was no pomp, no circumstance to Nuggets first-round draft pick Tyler Lydon signing his rookie contract on Thursday.
Lydon wasn't decked out in an expensive suit or $10,000 watch.
There was no mugging for the camera. He didn't take a selfie.
Lydon didn't even sit down to sign the paperwork that will make him a millionaire.
He quickly signed the paperwork, dressed in a sweat-soaked Denver Nuggets t-shirt, then got back to work.
In an era when high school athletes turn national signing day into nationally televised multimedia events, you have to like the no-frills approach from Lydon.
It's official! Tyler Lydon has officially signed his rookie contract! #MileHighBasketball pic.twitter.com/F0jat4ixv0

— Denver Nuggets (@nuggets) July 6, 2017
The rookie scale for Lydon, selected No. 24 overall, slots the four-year value of his contract around $7.66 million, with $2.88 million of that guaranteed in years one and two. Draft picks can sign for between 80 and 120 percent of those slotted values.
Lydon, 6-foot-10, 215 pounds, spent two seasons at Syracuse University where he averaged 11.6 points, 7.4 rebounds, 1.6 assists, 1.6 blocks and 1.1 steals in 71 games (34 starts). He was named All-ACC Honorable Mention as a sophomore after averaging 13.2 points, a team-high 8.6 rebounds, 2.1 assists, 1.4 blocks and 1.0 steals per game. As a freshman, he helped lead the Orange to a Final Four appearance. He was also selected to the All-ACC Academic Team as a sophomore. The 21-year-old New York native was also a member of the 2014 USA Basketball Men's Under-18 National Team that won the 2014 FIBA Americas Championship.
Denver acquired the rights to Lydon (24th pick) along with third-year forward Trey Lyles in a draft-night trade with the Utah Jazz in exchange for the rights to the 13th pick (Donovan Mitchell).
Lydon will wear #20 and will play for the Nuggets' Summer League entry in Las Vegas during the MGM Resorts 2017 NBA Summer League, which begins play on Friday.