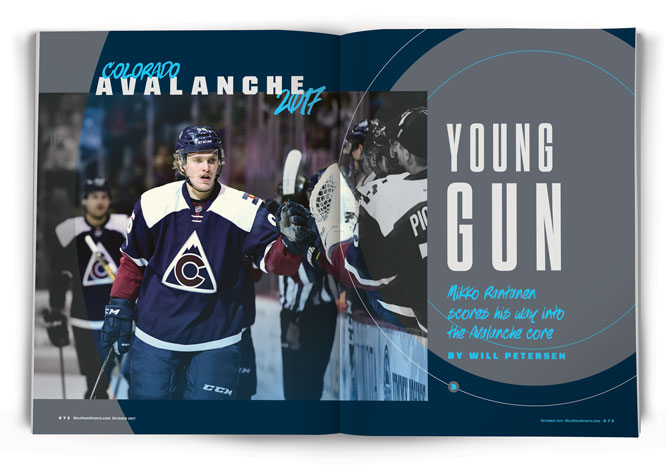 This story originally appeared in Mile High Sports Magazine. Read the full digital edition.
Mikko Rantanen didn't want to leave the ice.
Check that: Maybe he wanted to be done for the day, but deep down, knew he couldn't be.
There was barely anyone left inside the rink at Family Sports Center in Centennial, the Colorado Avalanche's home away from home when they're not skating at Pepsi Center.
The calendar said early September, but outside it felt more like Florida in July. It was one of those sneaky humid Colorado summer days – but Rantanen wasn't sweating because of the heat.
He was sweating because he was working his ass off inside.
It was methodical: Rantanen would do the hockey equivalent of a "suicide" like a basketball player, sprinting from one goal line to the other, back and then back again, checking his time with an assistant in the bleachers before doing it again. And again. And again.
About 20 minutes later, apparently satisfied with the results, he emerged from the rink dripping in sweat, barely able to catch his breath.
"You've got to do the little stuff," Rantanen says while still trying to suck down oxygen. "Training camp starts next week."
If that's the little stuff, this kid is going to do big things.
At 20 years old, Rantanen still can't have a legal drink in the United States. But that didn't stop him from leading the Avalanche in goals a year ago, matching his age with 20 tallies.
The casual Avs fan knows Gabriel Landeskog, Nathan MacKinnon, Tyson Barrie, Erik Johnson and Semyon Varlamov, but it's about time for folks to plug into Rantanen (if they haven't yet).
"He's a guy who has all the potential in the world," voice of the Avalanche Marc Moser says. "He's a smooth skater who gets up and down the ice really well. He's got a good head on his shoulders, great hands and can mix it up in the dirty areas if he needs to go there."
Good skater? Check. Smart? Check. Quick hands? Check. Tough as nails? Check.
Oh, and don't forget that work ethic.
"My last few times were 37, 38 and 38 seconds," Rantanen says, explaining the drill he just finished up, speeding across the ice back and forth in a blur.
It's part of a conditioning test he and the rest of the Avalanche had to pass on the first day of training camp. The exact same drill – in under 40 seconds. Rantanen's in good shape both figuratively and literally.
"I do these [sprints] because I have to keep my time solid," Rantanen says with a smile.
His teammates have noticed these good habits, including the captain of the squad.
"Mikko is the type of player we need," Landeskog says. "He's really excited about every day at the rink, and he always has a good attitude and is ready to work. As long as he's got that, there's nothing that can stop him."
Even with the season still a month away, Rantanen knew taking advantage of a handful of pre-camp workouts was important. Many call them "captain's practices," and with his attitude and perspective, someday Rantanen could be the one organizing them.
"I try to give all I can all the time. I try to do that extra stuff so I can be ready when the games start – you don't have that much time to train because there are so many games. Now is really the time you have to get a lot of stuff done," he says.
Rantanen isn't a young man who came out of nowhere and woke up with this maturity. He earned it, and learned it, by entering the "real world" of hockey long before most kids know anything more than high school cliques and gossip.
He's young when it comes to the number of birthdays he's celebrated; he's not all that young when it comes to this hockey thing.
Rantanen was doing what a lot of teenagers do in Finland. He was playing in the junior leagues trying to get noticed. At the tender age of 16, he did just that.
"The head coach of the Finnish Elite League talked to me after playing some good games and asked me to move up," Rantanen says.
So, there he was, not even allowed to drive yet (the legal age in Finland is 18 years old), and ready to play with the best the country has to offer. His opponents weren't exactly worried about when they'd get a driver's license.
"It was a good battle when I was that age to go against guys who were 30 years old," Rantanen says. "It helped me a lot to play against grown men – there are a lot of strong guys in Finland. I saw the physicality of the game and how professionals do it."
Rantanen spent part of three seasons in The Liiga, as it's known in Finland, progressively getting more comfortable and playing more games. He skated in 15 contests in 2012-13, 37 the following year and wrapped it up with 56 games in 2014-15. While his career numbers weren't eye-popping (16 goals, 24 assists), the experience proved to be invaluable.
Rantanen made the move to North America after the Avalanche selected him 10th overall in the 2015 NHL Draft and immediately used the experience from Finland to thrive in the United States. That season with Colorado's AHL affiliate in San Antonio, Rantanen scored 24 goals and added 36 assists, eventually earning him an All-Star berth and a spot on the league's all-rookie team.
Yet there was a "break" for Rantanen in the middle of that first year on this side of the Atlantic Ocean, one in which he reached the highest moment of his hockey career to this point.
The Avalanche gave Rantanen permission to leave San Antonio for a short period and return home to represent Finland in the World Junior Championships. The best part? The host city was the nation's capital, Helsinki.
Finland got hot as the tournament went on, and so did Rantanen, scoring a goal to give his country a 3-2 lead late in the championship against Russia – a game they'd eventually win 4-3 in overtime to take the gold medal.
"That was an unbelievable moment and the best achievement of my career so far," Rantanen says. "When you win, and share that moment with the great guys on your team, it's an amazing feeling."
With a gold medal already to his name, especially one earned while representing his country, it's easy to wonder if that's the ultimate standard for a player like Rantanen.
Hold up, says the Avalanche young forward; that's not close to the peak of the hockey world.
"No," Rantanen says when asked if that was the mountaintop. "Not at all. The Stanley Cup is what everybody dreams of – it's by far the best thing you can win in all of hockey."
The Avalanche have a couple of those, but it's been a long time. The glory days of 1996 and 2001 and many a great year in between are still seared into the brains of Avs fans, but freshening those memories up wouldn't be the worst thing, either.
A guy like Rantanen could be the one to get this team back there. But it won't be without the help of the rest of the Avalanche's "core" – something everyone knows exists, but is getting a little more difficult to define. Maybe that's a good thing.
We've heard for years about the Avalanche's "young core."
It's a group that included the aforementioned big names on this team, the likes of Landeskog, Matt Duchene, MacKinnon, Barrie and Johnson.
Those guys are still incredibly young when it comes to life, but in terms of NHL experience, they've played a ton of games. The peak came in 2013-14, when the Avs tallied 112 points, earning the No. 2 seed in the Western Conference before losing a heartbreaker in Game 7 to the Minnesota Wild. Since then, the production of the "core" has been generally down, but they haven't received a lot of help from guys on the third or fourth lines, either.
While Rantanen projects to be a hell of a lot more than a bottom line or two forward, it's still nice reinforcements have arrived.
"To feel that support is important. Obviously, secondary scoring is huge, and who knows, they might be primary scoring," Landeskog says when talking about Rantanen and former first-round pick Tyson Jost. "But we've got to do this thing together. It's not like it's 'our group' and 'their group' or whatever – we're a team and we're going to do this together."
That's a crucial point from Landeskog. While everyone is in a hurry to sort this team into "cores" or "tiers," they won't improve on the NHL's worst record without everyone contributing. Moser, who calls all 82 games on the radio, agrees.
"I don't think there's any doubt Mikko Rantanen is a part of the core of this Avalanche team. You can call it 'young core' if you want, but those other guys are still young, too. I mean, Nathan MacKinnon is only 22 years old. Rantanen is not only part of the 'young core,' he's part of the main core right now," Moser says
Young core…? Main core…?
Who cares?
Colorado is only going to get better if guys like Landeskog and MacKinnon produce at an All-Star level and Jost and Rantanen take the leap from new kids on the ice to established, upper-tier NHL players. And while Rantanen is proud of leading the team in goals last year and what he accomplished, he knows none of that matters.
"The next step for me is to help the team win more games. That's what we were missing last year when we only won 22, and that's not good enough. We need to be better all around," Rantanen says. "I want to score goals and for us to win games."
That formula seems simple enough.
Everyone who has spent time around Rantanen expects him to score plenty of goals and win plenty of games in the next decade-plus of what looks to be a promising NHL career. The praise both Moser and Landeskog heap on the kid should give any Avs fan chills when it comes to his ceiling.
"Mikko has the potential to be a star in this league," Moser says. "We're talking about a guy who's still so young and has so much untapped potential. He's elevated his game every time he's gotten to the next level. Heck, he scored 20 goals [in his first season], which in today's NHL is a benchmark."
Landeskog doesn't hold anything back, either.
"If he has the same attitude and approaches the game the same way, I really don't think there's anything that can stop that guy. He's got all the tools, the size, the strength and the skill. If he just keeps improving as a player and his hockey IQ – which is great already – he'll be a great player for a long time," Landeskog says.
Rantanen, not one to toot his own horn, knows he has the potential to be special, but stays modest.
"That's what I work for," Rantanen says of wanting to be great. "I just hope I stay healthy as best as I can and play this game for a long time."
With that, and his breathing back to normal, Rantanen hits the showers – likely to start sweating again when he heads outside into the humid summer day.
But it'd only be a matter of time until he was back on the ice, not wanting to leave.