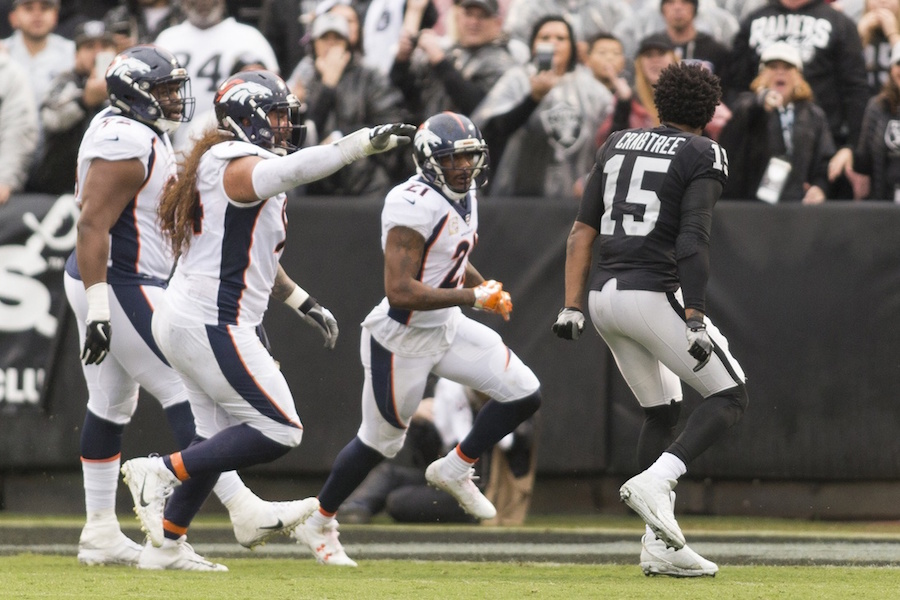 Denver Broncos defensive lineman Zach Kerr spared no sympathy on words when describing the incident that unfolded Sunday between the Broncos and Oakland Raiders.
Michael Crabtree and Aqib Talib were the gasoline that fueled a wildfire that stole headlines with a first-quarter fight that broke out between both teams. Both players were ejected; fines and suspensions could both be forthhcoming.
Defensive lineman Zach Kerr, he spoke to Eric Goodman and Les Shapiro of Mile High Sports AM 1340 | FM 104.7 inside the Broncos' locker room and made his feelings about Crabtree's antics abundantly clear.
"Bullsh– play, by a bullsh– player," Kerr said.
"If we really wanted to, we could've got real violent," Kerr stated. "He was on our sideline, we could've got real crazy. I don't think it got that out of hand, because he was on our sideline. I think it was B.S. man; that's not football."
Click here to listen to the full interview with Zach Kerr, including what he had to say about what his expectations were when joining the Broncos and more, or listen to the podcast below.
Catch Afternoon Drive with Goodman and Shapiro every weekday from 4p-6p on Mile High Sports AM 1340 | FM 104.7 or stream live any time for the best local coverage of Colorado sports from Denver's biggest sports talk lineup. Download the all-new free Mile High Sports Radio mobile app for Apple or Android.