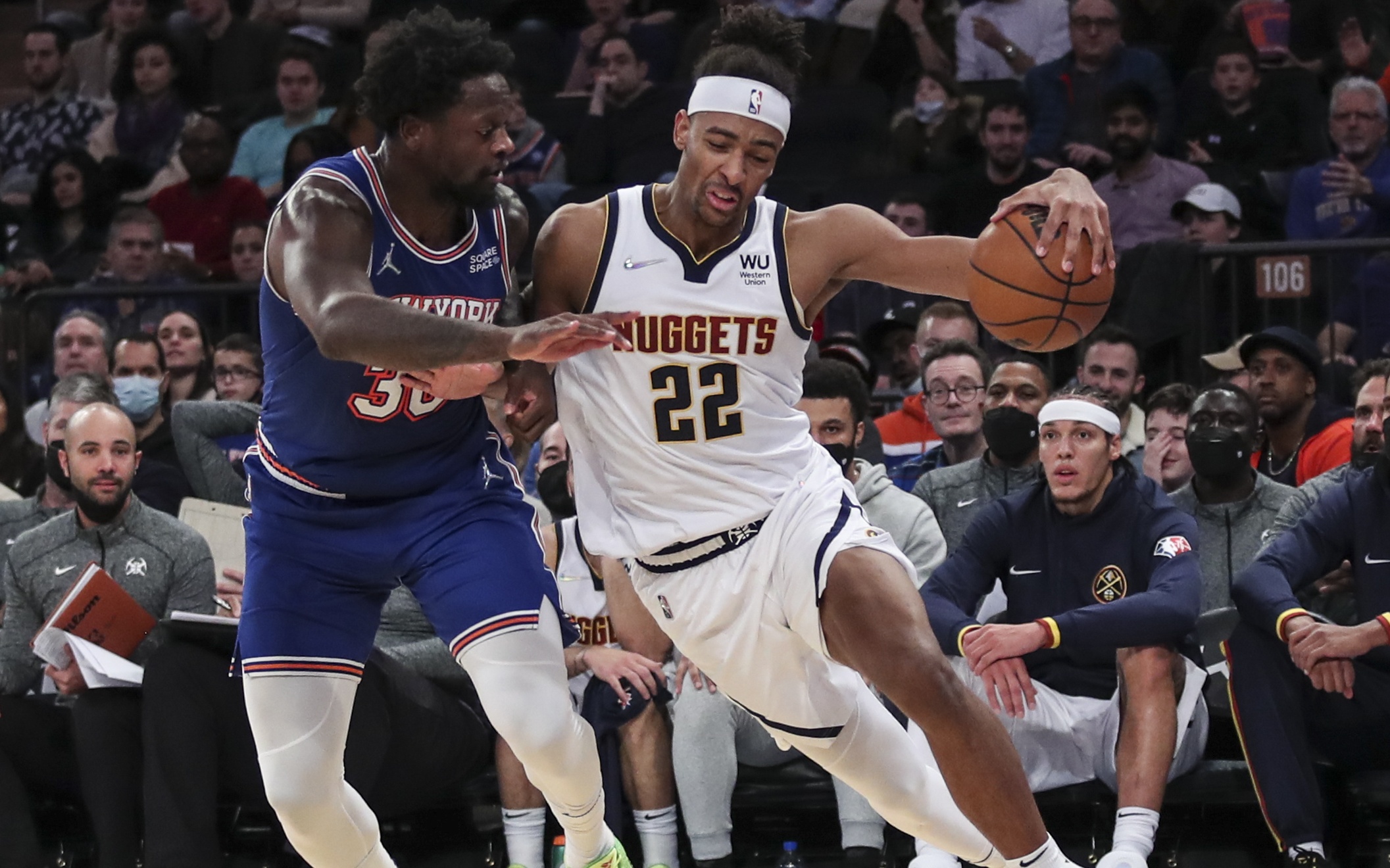 Nikola Jokic put on an MVP performance in the Nuggets' 113-99 win over the Knicks on Saturday afternoon. He scored 32 points, secured 11 rebounds and added 5 assists in a much-needed bounce back win after a tough loss in Orlando on Wednesday night.
Zeke Nnaji had a career-high 21 points on 5-9 from long range and had 8 rebounds to go along with it. He is shooting 67 percent from the 3-point line so far this season.
"I'm extremely confident in my shooting," Nnaji said. "I feel like I've always been confident and I think that confidence comes from knowing the work that I put in everyday in the gym. I work a lot on my shot…and I'm really happy my hard work is starting to pay off."
The Nuggets were once again shorthanded. They were without not only Jamal Murray (knee), Michael Porter Jr. (back), and PJ Dozier (knee) but also were without Austin Rivers, Bones Hyland and Bol Bol who all entered health and safety protocols.
Denver needed an extra hand so it called Davon Reed up from the G-League and signed him to a 10-day contract. He made an impact right away and shot 3-4 from the field for 9 points and added 4 assists. He was also locked in defensively.
"They called me Thursday night and they told me to be ready to leave in the morning so I got up early, flew out and I was locked in and ready to go," Reed said.
Reed is averaging 15 points, 8 rebounds and 6 assists on Denver's G-League team, the Grand Rapids Gold and played for the Nuggets Summer League team this past summer. He said coach Michael Malone complimented his game and had faith in his return to the NBA someday.
"It has been a rocky journey my NBA career," Reed said. "My first coach got fired three games into the season and I was hurt so to have a coach finally be there for me, reassure me and tell me he believes in me and how much I can help the team just gives me that added fuel because respectfully nobody wants to go to the G-League. I contemplated it but I just believed in a plan that the Nuggets had for me and just waited for my opportunity."
Reed fit in right away with this Denver squad and it was an all around great team win at Madison Square Garden.
It took sometime to get things going in the first quarter. Denver went on a 4-0 run to start and then it was back-and-forth until midway through the quarter. The game was tied at 15 and then the Nuggets went on a 7-0 run. Reed found Nnaji in the corner for back to back triples to give Denver an 8-point lead. The Nuggets finished the quarter up 30-25 and shot 57 precent from the field.
Denver opened the second quarter on a 8-1 run without Jokic. The second unit held things down while the reigning MVP got some rest. Reed hit a bank shot 3 and Nnaji tipped one in to give Denver a 9-point advantage. The Nuggets followed it up with three triples in a row to fuel a 14-3 run. They had a 44-28 advantage. New York called a timeout and then cut Denver's lead to ten going on a 9-2 run. Jokic entered back into the game and got things going. He knocked down a 3 after missing eight straight over the last few games and finished the first half with 17 points on 67 percent shooting and 7 rebounds. Denver led 60-49 lead at halftime.
Malone had a word for his players at the half after blowing a significant 16-point lead to Orlando last game. No lead is safe in this league.
"I just wanted to remind our guys, not tonight," Malone said. "Let's remember why we built this lead, see how we built it and not get bored with success. Let's get back to the things that we were doing. Moving the ball, sharing the ball, taking care of it, defending, rebounding and obviously they responded to that."
His message resonated and they continued shooting the ball at a high clip in the third and got stops on the defensive end. Jokic scored 14 points in the quarter to give Denver a 17-point lead with five minutes left to go. The Nuggets then closed the quarter on a 23-8 run to take a 92-71 lead.
After shooting 62 percent from the field in the third quarter, Denver continued to stay red hot to open the fourth but this time from downtown. Facu Campazzo hit two straight, Reed added one and then JaMychal Green knocked one down to give the Nuggets a 104-76. The Knicks tried closing the gap but Denver had too much of a lead.
It was a much needed win in MSG and something the Nuggets can build on heading into their next game against the Bulls on Monday night. They still have another week on the road. After Chicago they travel to New Orleans and then San Antonio for two games.