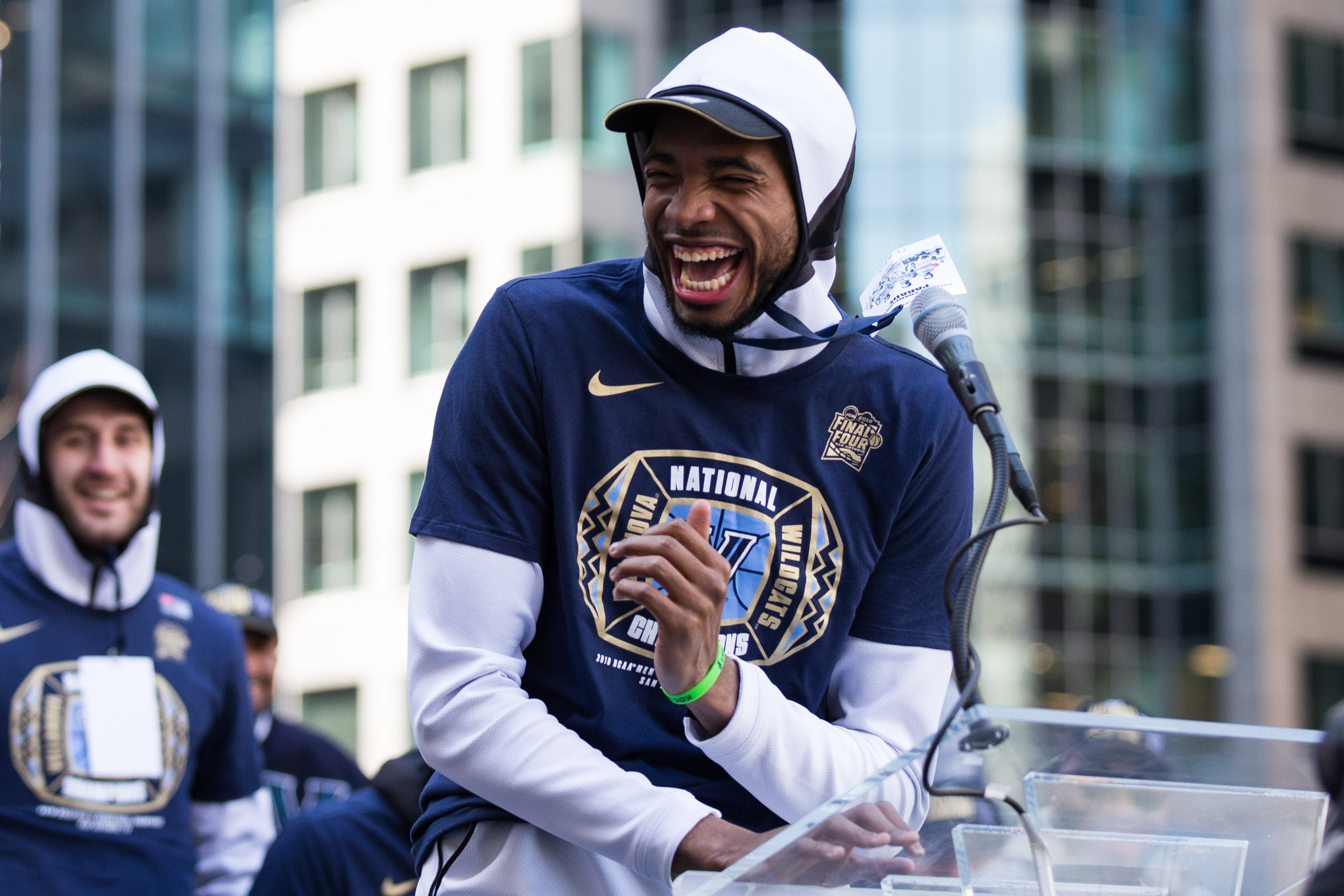 Former Villanova standout Mikal Bridges came a long way in three strong seasons with the Wildcats, and now the two-time national champion is poised to take his talents to the NBA. After a breakout junior season, highlighted by an offensive explosion that landed his points per game average at a career high 17.6, Bridges will enter the league as a polished scorer and is considered to be a lock to go in the first round of the 2018 NBA Draft.
Bridges' offensive developement hit sky high after upping his points per game total by almost eight points from the year before. Between Bridges freshman season to his junior season his points per game totals went up by 11 points and his shooting percentages made a drastic improvement as well.
After shooting just 29 percent from three during his freshman season, Bridges brought that number up to 43.5 percent in his junior year. As Bridges' confidence with his outside jumper grew, so did his willingness to shoot from the perimiter, culminating during the 2017-18 season when Bridges attempted more shots from the outside (239) than his first two seasons combined (189).
Bridges' 3-point shot was not the only aspect of his game that he elevated, as he also developed into one of the best defenders in all of college basketball.
Bridges was honored as the Big East CO-Defensive Player of the Year with former teammate Josh Hart and former Creighton guard Khyri Thomas for the 2016-17 season and was a First-Team All-Big East and Third-Team All-American for 2017-18.
As a two-time national champion, Bridges is a proven winner and as a guy who legitimately got better in each of his seasons at Villanova. His age may deter some general managers, after spending four years in college, but that same experience is what makes him a desirable NBA prospect.
There is no such thing as a surefire pick and anyone that hears his name called Thursday night will have some risk, but Bridges is an experienced basketball player wit the potential to make an impact the moment he steps into an NBA locker room. He is also a perfect fit for the Denver Nuggets.
After three strong seasons with a college basketball powerhouse, Bridges is a top 10 prospect and as a guy that is projected to make a lasting impact at the next level. If the Nuggets decide to make a move up in the draft, Bridges is a player that should be highly considered.
Strength
Three-and-D nightmare
We've already touched on it a little, but Bridges is a warrior on both ends of the court and has the ability to shoot the lights out of the gym. Not to mention, his length on the defensive end of the court is a matchup nightmare for opponents as Bridges has all the tools to be an elite defender at the next level.
When you think of prototypical three-and-D type of players the names that come to mind are Kris Middleton, Klay Thompson, and Trevor Ariza. When you watch Bridges its almost impossible to not see Middleton in his game and the comparison is striking in terms of how they both shoot the ball. Just like Middleton, Bridges has a phenomenal ability to shoot the ball over almost any length of defender.
Bridges quick release was on full display above as was his ability to get out and score the ball in transition. According to Synergy, Bridges scored 139 points on 104 transition possessions last season and ranked in the 90th percentile as a scorer in transition.
As solid an Bridges is in transition, it isn't even the best aspect of his game as he gets most of his points in spot up situations. These can be situations where Bridges is either already behind the arc or in situation where he's coming off screens, catching the ball, and showcasing his quick release to get a crisp and clean shot up.
During his junior season, Bridges scored an obscene 238 points on spot ups in just 178 possessions while shooting 47.6 percent with a lot of those coming from behind the three-point line.
In this case, Bridges shows off his ability to find the soft spot in the defense and makes them pay with a dagger of a three to start the second half in Villanova's second round NCAA Tournament victory over Alabama. Finishing the game with 23 points, and going 5-8 from downtown, Bridges didn't just showcase his ability to shoot the ball, but his defense was on full display as well.
Bridges had no problem guarding the Colin Sexton as he showed an incredible ability to stick with a smaller player while also having the awareness as a weak-side defender to block the shot at the rim.
The best part of Bridges defensive game is when he is either guarding his man on spot-up shots or in pick-n-roll situation, he is able to use his basketball IQ and instincts to stymie whatever is thrown his way
When Bridges was defending the pick-n-roll last season, he allowed just 59 points on 100 possessions and ranked in the 84th percentile. Look at the video below at how Bridges uses his great hip agility and phenomenal lateral quickness to fight under the screen and ultimately force a tough shot at the rim.
Bridges uses his great hip agility and phenomenal lateral quickness to fight under the screen and ultimately force a tough shot at the rim. Forcing tough shots at the rim is not uncommon for Bridges either. He does a great job of being able to time his contest of the shot to actually protect the rim in ways that few wings can.
Bridges' defensive tenacity was on full display there and those are the plays that get you excited for his potential to be an elite defender at the next level.
The Nuggets are certainly a team that's looking for help on the wing, and there might not be a better fit in this draft than Bridges. His ability to be a dominating force on both ends of the floor could potentially make him the piece that gets the Nuggets over the hump.
Offensvie arsenal
As a scorer, Bridges is more than just a three-point shooter. During his three seasons with the Wildcats, Bridges never shot below 51 percent from the field. Even as Bridges shot totals went up, his percentage stayed the same, which shows a pattern of consistency that you don't always get with college scorers.
During his three collegiate seasons, Bridges also was an efficient free-throw shooter. Over his three-year career, Bridges shot 84.5 percent from the free-throw line over 265 total attempts. The only big change in Bridges free throw numbers is how many times he got to the charity stripe as his career wore on. During his first two seasons, Bridges shot just just under two free-throws per game, but eventually found a way to bump that number up to 3.4 after his junior season. That number saw a drastic rise as Bridges confidence continued to grow and as he grew more willing to drive to the basket and finish through contact.
Finishing through contact has been a huge growth in Bridges' game, and it's something he's shown he can handle more frequently. Last season, Bridges scored 60 points on 61 possessions as the pick-n-roll ball handler and showcased a great feel for the game and great control of his body and athleticism.
Bridges also showcased his ability to rise up and shoot over the defender which is a big reason as to why he's such a prolific scorer.
The final part of Bridges offensive game we're going to touch on his ability to score the ball off screens and in the pick and pop. Off screens, Bridges scored 40 points in 31 possessions, which lands him in the 91st percentile. Even though Bridges wasn't asked to do it a lot in college, he still showcased the ability to be just as deadly off the screen as he is with any other part of his game.
In summation, Bridges is a prolific scorer who has the ability to score anywhere on the court. His offense has developed each season at Villanova and looks poised to take the next step into being an scoring dynamo at the next level. As a team that would certainly welcome more offense to their rotation and the Nuggets seem like a great landing spot for Bridges as he embarks on the start of his professional career.
Winning pedigree
As a two-time national champion, Bridges knows what it takes to get the job done and has shown the ability to perform well in big basketball games. That experience will only help him at the next level considering he's already played the best of the best in the collegiate ranks. A winning pedigree is something that not many of the players coming out of Thursdays draft have, well except if your from Villanova, and that drive to be great is something that could be infectious into whatever organization Bridges gets drafted too.
Bridges winning pedigree was on full display during this years NCAA Tournament as he showed a passion and tenacity to devour anyone who attempted to get in his way. Voted onto the All-Tournament team, Bridges was one of Villanova's biggest contributors in the national championship game scoring 19 points on 7-12 from the field, 4-5 from behind the three-point line.
Bridges played like a beast during Villanova's championship run and his mentality and will to win would bring a breath of fresh air to whomever ends up with him on draft night. In summary, not only does Bridges posses incredible offensive and defensive tools, but it's also an added bonus that he's a winner. For a franchise that hasn't experienced a postseason birth for five years, the Nuggets could use a guy with a killer mind set, and that's certainly something they'll get if they select Mikal Bridges on Thursday night.
Weaknesses
Both of these weaknesses are going to be very nit picky as Bridges is one of the most polished prospects in this years draft. No draft pick is ever a sure thing though and there are some potential worries that teams may have with the former Villanova star.
Age 
The first weakness for Bridges is his age. As a guy who spent three years in college, Bridges is much older than a lot of this years one-and-done prospects. Players such as Michael Porter Jr., Marvin Bagley, Wendall Carter, Kevin Knox, and Jaren Jackson Jr. all have a huge advantage in terms of age.
Being 21-years-old, teams may be leery of Bridges upside and ability to get better at the next level. Teams often draft based off upside and that's something every player listed above has over Bridges. When it's all said and done, Bridges has the potential to be better than every name listed above, but teams love to reach on prospects who are younger.
The age debate is something that comes around every draft season and its often the older and more polished players that suffer from it. The Nuggets should hope and pray that teams to allow Bridges to slide into their lap with at the 14th pick. With a couple fresh mock drafts coming out on Wednesday, the most interesting one might have came from The Ringer, as they pegged Bridges to fall and go to the Nuggets.
That would be a dream scenario for the Nuggets. So much so that they may break the record for quickest draft selection. If Bridges is there at 14, the Nuggets should take him with the chance at grabbing one of the best players in the draft, regardless of what his age might be.
Turnover prone
Again, this it being picky as Bridges offensive game might be the most polished in the draft, but if there's one area he's shown weakness at it is with his dribble. Now, Bridges' offensive Synergy stats are very solid all around, but if there's one spot that's his weakest it is in isolation. Bridges is still a solid player with his iso game scoring 25 points in 27 possessions last season, but it's a part of his game that can still improve. When Bridges struggles with his dribble it often happens when he's attempting to create for himself and create room for a jump shot.
When Bridges gets loose with his dribble his shot tends to suffer because of how frantic he is and off balance his body is in relationship to the basket.
Another part of Bridges ball handling that gets him into trouble is when he takes that one extra dribble forcing him into taking a much tougher shot than he originally had.
As deadly as Bridges can be when he catches and shoots, his dribble often just gets him into trouble and forces him to take a lower percentage shot than what he originally had.
All in all, this should be an easy fix for Bridges and should be something we don't see a lot of at the next level. If Bridges is able to clean up his dribbling miscues, he has the potential to be an even bigger offensive nightmare that could dominate the NBA for many years to come.
Overview
When you say the phrase 'perfect prospects for the Denver Nuggets in this years draft,' Mikal Bridges' name is certainly near the top of the list. Guys like Luka Doncic, Marvin Bagley, and Jaren Jackson Jr. would all look great in the Nuggets new uniforms, but Bridges currently seems like the most realistic possibility from that list. If they can get him, the Nuggets would be getting one of the most polished prospects in the draft and as close to a sure thing as you can get.
With the potential Bridges has, we could be looking at the next Kris Middleton or, to take that a step further, the next Klay Thompson. With almost no flaws in Bridges' game, he seems poised to take the NBA by storm. So, whether its by trade or just by the luck of sitting and waiting, if the Nuggets walk away with Mikal Bridges on Thursday night, the draft will very likely be a massive success.