A busy run of sports betting action continues as the month of February begins and the best Caesars Sportsbook promo code will get you all of the top promos and bonuses available during a busy new year of sports, one highlighted by the upcoming Super Bowl 57 matchup between the Philadelphia Eagles and Kansas City Chiefs.
Those who register and use Caesars Sportsbook Promo Code MHSXLFULL will get the Full Caesar offer, a number of bonus bets, boosts, and other outstanding offers.
OH only. 21+. New users and first wager only. Must register with eligible promo code. Bet amount of qualifying wager returned only if wager is settled as a loss. Maximum bet credit $1,500; must be used within 14 days of receipt. See caesars.com/promos for full terms. Void where prohibited. Know When To Stop Before You Start.® Gambling problem? Call 1-800-GAMBLER
Perhaps no online sportsbook operator has been more aggressive with its player incentives than Caesars Sportsbook, and that aggressive run of offers continues throughout a stretch headlined by Super Bowl 57. The Chiefs opened as a one-point favorite, but professional bettors jumped on the first point spread and quickly made the Eagles a 1.5-point favorite. Over the coming days, Caesars Sportsbook will take bets on the spread, moneyline, game total, player props, and more.
Meanwhile, also ahead is daily NBA, NHL, college hoops, and plenty of other action. Not only can new players grab a $1,250 first bet on the app in most states ($1,500 in Ohio and Maryland) with the current bonus offer, but they can also lock in and grab Caesars Rewards.
In available states, this bonus structure is comprised of two parts: 1,000 Reward Credits and 1,000 Tier Credits. These credits create one of legal sports betting's best overall loyalty programs, incentivizing users with not only bonus bets but also discounts on hotels, restaurants, and entertainment options across the company's physical retail locations.
| Caesars Sportsbook Promo Code Specials | Details |
| --- | --- |
| Code for most states | MHSXLFULL |
| Code for Maryland | MHSXLPICS |
| Code for Ohio | MHSXL1BET |
| Odds boosts | Score game and player prop boosts on select NFL, NBA, NHL, and college basketball games. |
| Other specials | Bet and gets, profit boosts, referral programs |
Click the links above or below and use Caesars Sportsbook promo code MHSXLFULL to get the Full Caesars special among other big bonuses in all states.
The Best Caesars Sportsbook Promo Code This Weekend
If you're looking to bet on Super Bowl 57, NHL, NBA, and college basketball games as February begins, then you're in the right spot. With Caesars Sportsbook promo code MHSXLFULL, you can hop in and bet on a variety of markets by using awesome odds boosts, and, of course, a $1,250 first bet on Caesars. With this new promo, bettors will get full insurance on their first wager, all the way up to $1,250, while also grabbing significant points for the brand's rewards programs.
In other words, new players can make this first wager, and receive a full site credit refund if it doesn't win.
Notably, given the recent launches of Caesars in Ohio and Maryland, players in those two markets will alternatively have access to a $1,500 first bet insurance. For full market context, this offer represents the most aggressive first bet insurance offered by any mobile sports betting app.
While the Eagles and Chiefs will go head-to-head in Super Bowl 57 on Feb. 12, there's still plenty of action in play across other sports. What is arguably the best time of the year for sports fans is now here. Non-stop football, NBA, NHL, soccer, and more will fill up the schedule. Over the coming days and weeks, one headlined by a steady run of sports, Caesars will provide bettors with competitive odds located within the confines of an aesthetically and functionally-strong app experience.
To bet on any of the markets with the Full Caesar promotion, or check out a variety of other awesome offers available in the app, using our Caesars Sportsbook promo code is the best way to do it.
| Caesars Sportsbook Promo Code | MHSXLFULL |
| --- | --- |
| States Available | Illinois, New York, Louisiana, New Jersey, Virginia, West Virginia, Tennessee, Indiana, Colorado, Iowa, Michigan, Wyoming, Arizona, Kansas, Pennsylvania, Maryland, Ohio |
| Signup Bonus | Up to $1,250 on Caesars ($1,500 in MD and OH), plus 1000 Rewards and 1000 Tier Credits |
| Odds Boosts | Dozens of current boosts across MLB, NFL postseason, college football, golf, soccer, and more |
| Featured odds boosts | Lock in specials like the "Kenny Mayne Boost" for enhanced payouts on certain markets. |
| NFL Futures Bet and Get | Bet on the Super Bowl 57 winner between now and Monday to receive a $20 bet credit. |
| Emperor's Pick | Select the players who you think will rack up the most yards each weekend |
| Profit Boosts | Grab profit boosts on select action |
Use Caesars Sportsbook

in

Arizona to Bet on Super Bowl 57
This year's big game will take place at State Farm Stadium in Glendale, Arizona. It is expected that visitors from around the country, particularly those from the Philadelphia and Kansas City markets, will be touching down out west in the days leading up to kickoff. It is worth noting that online legal sports betting is permitted in Arizona and that Caesars Sportsbook has been up and running since the state first went live back in September of 2021. In other words, those who travel to Arizona who are looking to bet on the Super Bowl will be able to do so with the Caesars app.
Caesars App Arrives in Ohio
The Caesars Sportsbook app has rapidly expanded its reach into a number of new markets over the past year.
Bettors in New York, Louisiana, Illinois, Pennsylvania, Kansas, Ontario, and Maryland all watched the app go live during the 2022 calendar year, and the very first day of 2023 saw Caesars go live with the start of sports betting in Ohio. Each of these markets can grab the aggressive specials, ones that dominate competitors.
Perhaps the biggest update to the Caesars Sportsbook app is that it entered the Ohio market at 12:00 a.m. local time on Jan. 1, marking the official launch of mobile online sports betting there. Now live, players will be able to bet on the action immediately, including games involving local-market teams like the Blue Jackets, Cavaliers, Bengals, Ohio State, and more.
Those in Ohio can now register here for $1,500 first bet insurance with the long-awaited launch that will finally be arriving. Here's a look at the sign-up bonus and specials available within the app to all players this week.
Caesars Sportsbook Promos This Weekend
The first thing you'll see when you open the Caesars app is the daily Super Boost which provides outstanding odds on a featured market. On Friday, bettors can lock in a variety of odds boosts and specials that enhance potential wins. These specials will also diminish the sting of potential losses.
For instance, get the All-Star Parlay Boost on Damian Lillard, Jayson Tatum, and Joel Embiid over 29.5 points at enhanced +240 odds. Over in college basketball, check out the Friday parlay boost on Boise State, UNLV, Akron, and Nevada all to win at +850 odds. Moreover, bettors can grab special bet credits and other specials this week. Get a variety of different multi-game and same-game parlay boosts across college basketball, the NBA, and the NFL. Profits for the People provides SGP tokens on these leagues. Right now, players can grab a bet credit giveaway by opting-in and betting the Super Bowl. By doing so, you can potentially score a $57,000 bet credit. Also available is a 25% profit boost on NBA Same-Game Parlays.
In short, if you're looking to bet on a wide range of events in the coming days, then using this bonus code at Caesars is the best way to enhance profits and cut down the risk of losses.
It is worth noting that Caesars Sportsbook promo code MHSXLFULL will net the Full Caesars that features a $1,250 bet on the app, 1,000 Caesar Reward credits, and 1,000 Tier Credits. Best of all, the full insurance on the first wager comes in addition to all the other aforementioned specials.
As noted above, there are many games ahead this weekend that spans multiple sports. As the betting handle relates to each league, there's no question that Super Bowl 56 will drive a significant majority of the betting activity. Here's a quick look at the matchups ahead:
Sunday, Feb. 12, 6:20 pm – Philadelphia Eagles (-1.5) vs. Kansas City Chiefs; Over/Under 50 points
It is quite a compelling setup to this year's NFL championship. The Eagles ran past the Giants, 38-7, and the 49ers, 31-7. With two dominant performances, the Eagles have arrived at the Super Bowl as a small favorite. The Chiefs, meanwhile, withstood an injury to Patrick Mahomes' ankle to knock off the Jaguars before ousting the Bengals in a 23-20 thriller.
The excitement of the Super Bowl is coming to a screen near you, and with Caesars Sportsbook, you'll have ample opportunity to turn your picks into profit.
Caesars Sportsbook Promo Code Scores Super Bowl Boosts
Some of the highlight boosts were mentioned above, and we have our first look at some highlight boosts for Eagles vs. Chiefs:
Jalen Hurts to win MVP (+125)
Patrick Mahomes (+130)
Eagles win by 13-18 points (+800)
Chiefs score offensive touchdown on first drive (+425)
How to Sign-Up Using a Promo Code at Caesars
If you're looking to jump into the mix and bet with these strong specials in states such as the newly-launched Ohio, New York, Louisiana, Illinois, New Jersey, Virginia, Colorado, Tennessee, Michigan, Iowa, Arizona, Wyoming, Kansas, Pennsylvania, Illinois, and Maryland, here's how to get started.
Prospective users should note there are base requirements in order to be eligible to register for a new Caesars Sportsbook account. First and foremost, you will need to be a legal U.S. citizen and must be at least 21 years of age in order to be eligible for a Caesars sports betting account.
In addition to proof of age, Caesars Sportsbook users will need to produce the following information when signing up for a new sports betting account
Full legal name
Email address
Residential address
Date of birth (must be at least 21 years old)
Last 4 digits of your social security number
Phone number
To register for a Caesars Sportsbook account and opt into a generous sign-up offer, follow these simple steps:
1. Follow this link to the Caesars Sportsbook sign-up page. Bettors in Maryland can click here instead.
2. After selecting your state, enter your email address as well as the promo code MHSXLFULL. Maryland users will already have their promo code applied by using the link above.
3. Next you will be required to enter security information including a password and your phone number.
4. After verifying you are at least 21 years of age, deposit at least $10 into your newly created Caesars account. Though it would be recommended to make a larger deposit to make more of your promo code (unlocks up to $1,250 on Caesars).
5. Now you're ready to wager, place a qualifying bet and enjoy the game knowing you've just unlocked up to $1,250 in Caesars Sportsbook bonus bets.
Do note that users can also apply additional odds boosts and select bonuses once they are logged in on the Caesars Sportsbook app.
Caesars Sportsbook App Review
The following is MileHighSports' detailed review of Caesars Sportsbook.
User Interface
Now an established name in the world of legal sports betting, Caesars has long been involved with the traditional casino and gaming scene. One of the reasons for maintaining such an impressive standing among regular bettors is the convenience and capability of the Caesars Sportsbook mobile app. The Caesars Sportsbook app can be downloaded from the Apple and Google Play stores and is compatible with iOS and Android devices. Additionally, the Caesars online sportsbook can be accessed via traditional web browsers.
When firing up the Caesars mobile betting app, a login/sign-up icon will be located in the top right corner to get started. Do note that users will also be required to enable the location services on their access devices when using Caesars Sportsbook (mobile app or website). This is so that Caesars can ensure users are within legal sports betting borders for their respective states. Users outside of legalized betting states will still be able to access the Caesars Sportsbook and view betting lines, however, they will not be able to place wagers.
Just below the login/sign-up button, a host of quick-access icons for different sports and professional leagues can be found on a scrolling menu. There are also icons for Live (featuring active live betting game lines) and Boosts (featuring active odds boosts for betting lines). The four buttons located at the bottom of the screen (Home, Promos, Bets, All Sports) will be paramount for any Caesars Sportsbook user when navigating the app.
Sportsbook Features
There are a number of distinguishing features that help to make Caesars Sportsbook one of the most user-friendly options in the industry.
Live Betting
One of the most important Caesars Sportsbook features to have an understanding of is live betting. Using live betting, users can place wagers on games that have already commenced. Missed the kickoff or opening tip? Don't worry, just click on the Live icon (top left corner in the Caesars Sportsbook app) to instantly pull up all the available live betting lines.
Live betting lines can be some of the best value-plays in all of sports betting, as the opening sequence of a game can radically change the live odds. One of the true luxuries of live betting on Caesars Sportsbook is the ability to parlay live lines. Some sportsbooks only allow users to bet on live betting lines as single tickets, while Caesars allows for live lines to be added to parlays.
Early Cash-Out
Another fan-favorite feature on Caesars Sportsbook is early cash-out. Using early cash-out, users can protect their winning tickets and pull out their profits (finalizing the ticket) before the conclusion of the game they have wagered on. This can be an especially beneficial feature when things start taking a bad turn in a game you bet on, as you'll be able to cash out early.
Early cash-out is particularly helpful for parlay bets, in case you're feeling uneasy about the final leg on your betting ticket. Rather than watch one bad pick blow your whole bet, hit the early cash-out and make sure you walk away with winnings. The early cash-out feature is also great to have in case of accidental bets. Simply scroll over to your bet slip to cash out your ticket before the game starts instead of having to sit through something you don't want to watch.
Deposit Methods
Caesars Sportsbook currently provides bettors with a host of different options to safely deposit funds into their sportsbook accounts. The current deposit methods include:
Online banking
Credit or debit card
eCheck
PayPal
Caesars Sportsbook prepaid play+ card
Caesars Rewards Visa credit card
PayNearMe
Withdrawal Methods
Caesars Sportsbook users can also withdraw funds from their sports betting accounts using a variety of different methods as listed below:
Online banking
eCheck
Caesars Sportsbook prepaid play+ card
Users should also note that there can be allotted processing times with the aforementioned withdrawal methods.
Caesars Sportsbook Customer Support
There are a number of different methods that Caesars Sportsbook bettors can use to contact the Customer Support department.
Live Chat
To message back and forth instantly with a Caesars Sportsbook customer service representative, scroll down to the bottom of the page on the Caesars website or mobile app. There you will find a Live Chat button, click this and it will open a secondary messaging window in your internet browser or mobile device. Users will be prompted to enter the state they are in, as well as their full name and email address, before beginning a live dialogue with a Caesars Sportsbook customer support agent.
Contact Us
In a similar location at the bottom of the page, users can click on Contact Us for additional methods to reach the Caesars Sportsbook customer service team. Just like the Live Chat button, the Contact Us tool will require users to input some information to better streamline the request. Additionally, the Contact Us button will provide users with the Caesars Sportsbook customer support email address: [email protected].
Help
In addition to the aforementioned contact methods to reach the Caesars Sportsbook support team, users can also find a general Help section at the bottom of the page. After clicking on the Help button, Caesars' users will have the option to scroll through all the sportsbook rules and regulations, as well as tutorials and standard sports betting information.
FAQs
What is the best Caesars Sportsbook promo code to use?
Use promo code MHSXLFULL to unlock the best available offer from Caesars Sportsbook: Those who sign-up using this promo code will unlock a number of bonus bets, odds boosts, and additional perks.
Where is Caesars Sportsbook legal?
NV, NJ, PA, DE, RI, WV, MS, NM, NY, AR, OR, MT, IA, IN, TN, IL, NH, NC, CO, MI, AZ, MD: There are currently a number of states throughout the country where Caesars Sportsbook is already live and launched.
How to bet at Caesars Sportsbook?
After signing up using the Caesars Sportsbook promo code MHSXLFULL deposit funds into your sports betting account and get started betting on a number of different sports and leagues: Caesars Sportsbook users can place a variety of different bet types including moneylines, point spreads, over/under totals, player props, parlays, and more.
Does Caesars have a sportsbook app?
Yes, the Caesars Sportsbook app is available on both iOS and Android devices: Download the Caesars Sportsbook mobile app from the Apple or Google Play store to get started.
How to withdraw money from the Caesars Sportsbook app?
Ceasars Sportsbook allows users to withdraw funds from their sports betting accounts using a number of different methods: Click on the account icon in the top right corner of the screen to pull up the Withdraw button and pay-out your winnings.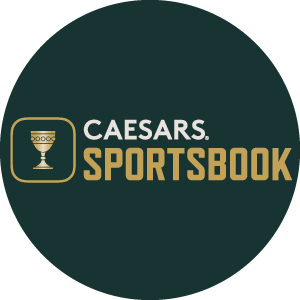 SIGNUP BONUS
UP TO $1,250


+1K REWARD & 1K TIER CREDITS
BET NOW