Caesars Sportsbook Colorado and has officially arrived with thunderous applause for its overall experience and promo offerings. The moment Caesars Entertainment acquired popular William Hill for a cool $4 billion was the instant the online sports betting world changed.
Immediately, a gambling monster turned into an online sports wagering machine for years to come, with incredible Caesars Promo Codes for new bettors. Now, Colorado online sports betting is chock-full of options for veteran and novice players—with Caesars Sportsbook near the top of the list. Moreover, hopping on the train as quickly as possible comes with a wide array of benefits that simply cannot be matched by any negatives.
Get started today with Caesars Sportsbook's Full Caesar offer to get a $1,250 bet on the app, 1,000 Reward Credits, and 1,000 Tier Credits.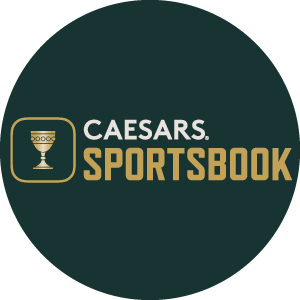 Caesars Sportsbook
STATES: NY, NJ, CT, AZ, CO, DC, IA, IL, IN, LA, MI, NV, TN, VA, WV
GET THE APP
SIGNUP BONUS
UP TO $1,250


+1K REWARD & 1K TIER CREDITS
BET NOW
What Caesars Sportsbook Colorado Looks Like
Caesars Sportsbook Colorado's platform is fast and easy to navigate.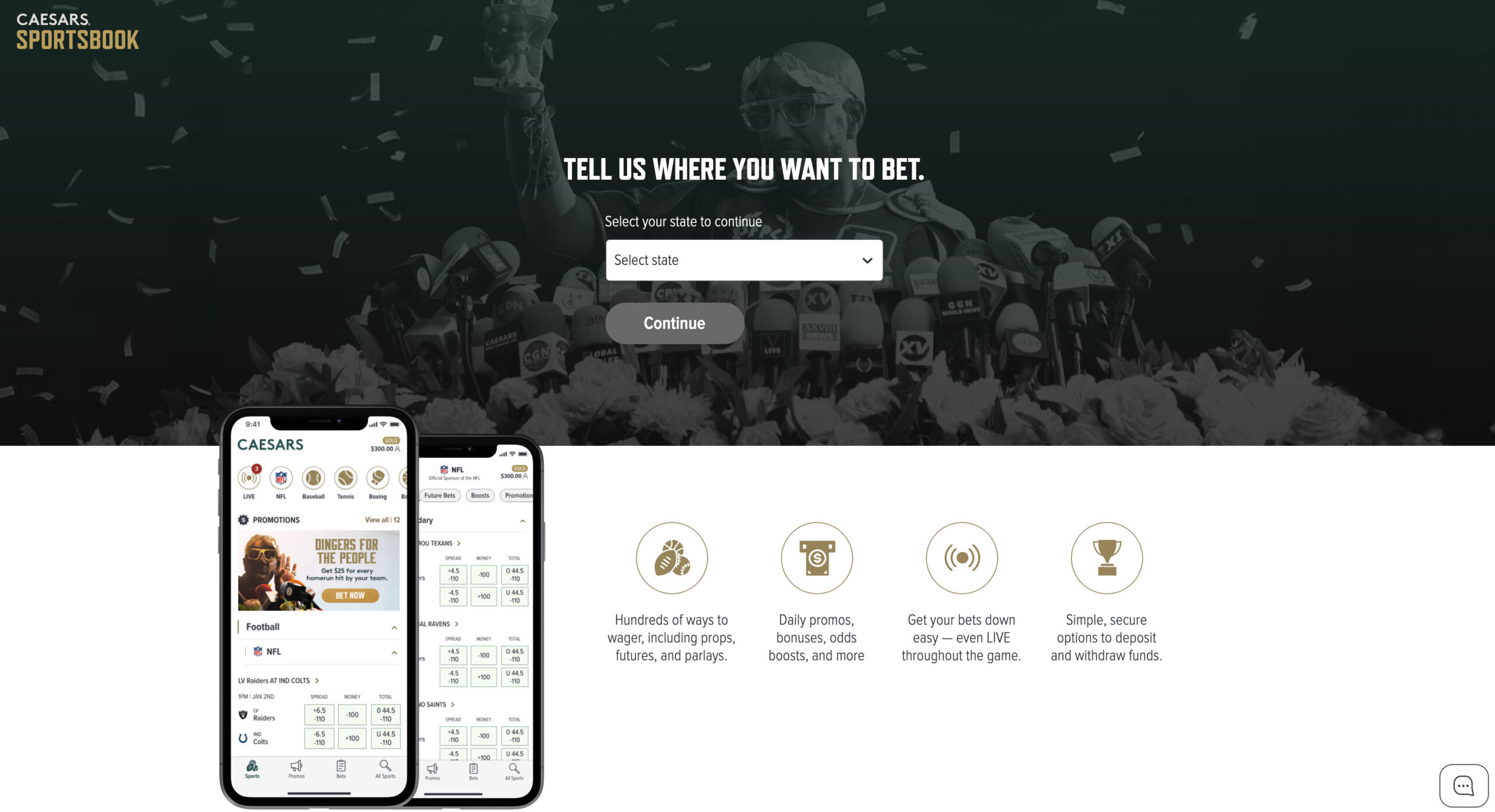 The online sports gambler will be greeted by a familiar face upon entrance: none other than the man forced to balance out Larry David on Curb Your Enthusiasm. J.B. Smoove is the current face of Caesars Sportsbook and he's getting the party started right.
Caesars Colorado Facts
| | |
| --- | --- |
| Caesars Sportsbook Colorado promo | Click for your Caesars Sportsbook new-user bonus of up to $1,250 |
| Deposit match | Up to $1,250 on Caesars |
| Promo valid | March, 2023 |
| Promo eligibility | Located in the state of Colorado, must be 21 or over. |
| Caesars Sportsbook states | CO, NY, NJ, AZ, DC, IA, IL, IN, LA, MI, NV, TN, VA, WV |
| Sports offered | Football (NFL), Basketball (NBA), Baseball (MLB), Ice Hockey (NHL), College Football (NCAA), College Basketball (NCAA), Boxing, MMA (UFC), Soccer, Golf, Tennis, Auto Racing, Cricket, Cycling, Darts, Australian Rules, Table Tennis, Rugby (Union, League) |
Caesars Bonuses and Promos Review: 4.5
New players to Caesars Sportsbook Colorado can take advantage of the Full Caesar special with the best Caesars Sportsbook Promo Code available. (Sports gamblers in other legal online sports betting states can take advantage of the same offer.) Caesars' strongest quality is its new-user offer and its overall brand. Caesars Entertainment has been a trusted name in the gambling and betting industry since 1937. As is the industry standard, if the bet loses, you get your money back in the form of site credit. In other words, the money must be available and used in a sports wager that wins in order to withdraw it from
your account.
Caesars Sports Betting App and Features Review: 4.5
Where Available: App Store (iOS), Google Play (Android), Web Browser
States Available: CO, IA, IN, MI, NJ, TN, VA, WV, IL, AZ
App Store Average Rating: 4.5 (5K total ratings)
Google Play Average Rating: 4.4 (225 total ratings)
App Store Listed As: Caesars Sportsbook
Google Play Listed As: Caesars Sportsbook
Owned By: Caesars Entertainment
Caesars sports betting app is one of the best in the business. The mobile app's design is nice and overall functionality worthy of mention, but at
times, it'll glitch or freeze (not totally distinct from other apps in the market).
Caesars Odds vs. Competitors Review: 4.5
Caesars Sportsbook offers an amazing package of promos and features. In addition to its $1,250 first bet on Caesars, the app brings tremendous offers to the table.
Caesars Deposit and Cashout Review: 4.5
Caesars Sportsbook's deposit methods and cashout speed can be described as "industry standard." The online sports bettor can use PayPal, e-check,
etc. It also obviously accepts most major credit cards (VISA, Mastercard, Discover).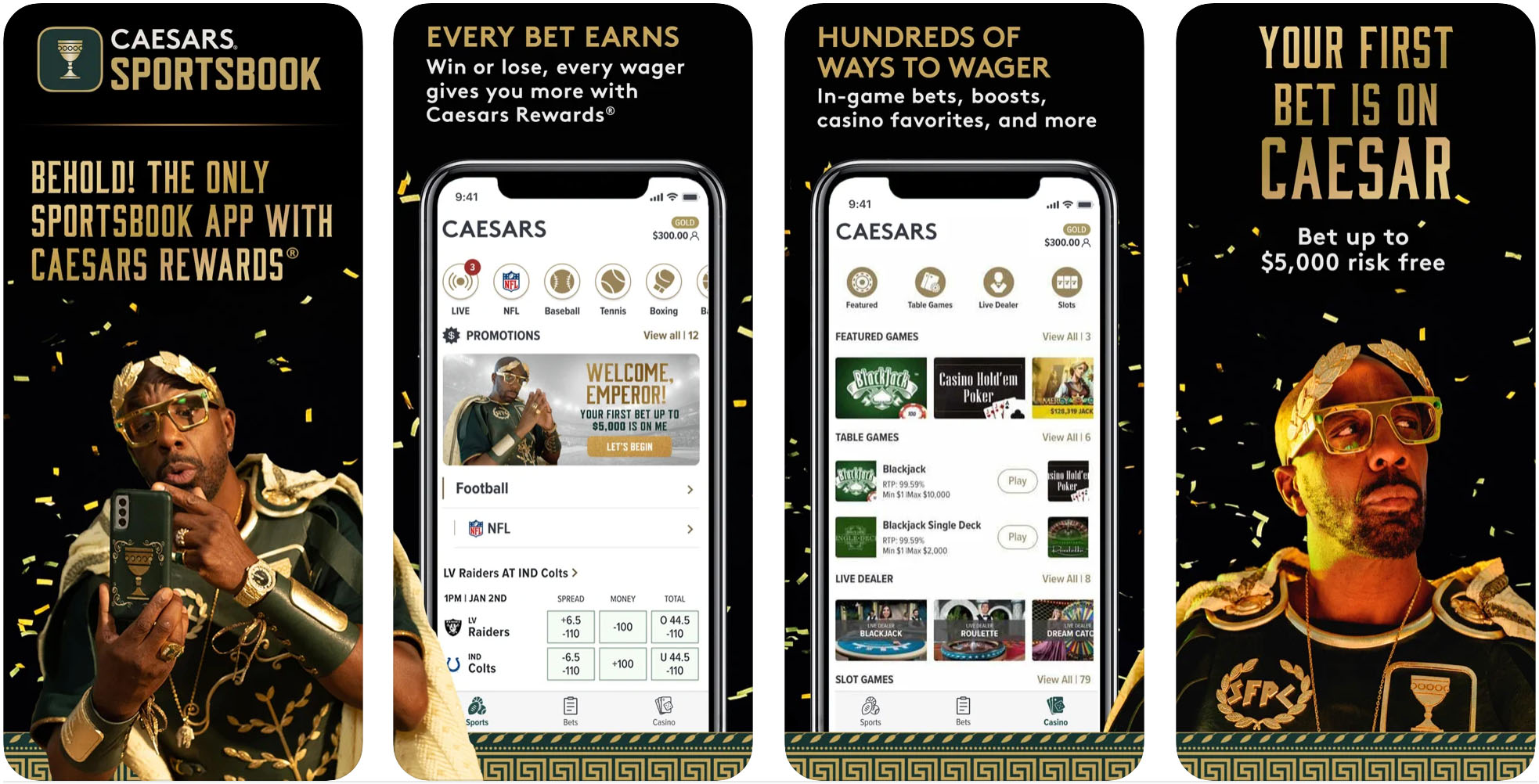 Colorado Professional Sports Teams
Caesars Sportsbook Colorado enters a state that features a host of excellent professional sports franchises. Better yet, Colorado houses some of the most rabid fans in the nation.
As one of the original AFL teams, the Denver Broncos represent a traditional NFL powerhouse. The Broncos have won three championships as well as appearing in the Super Bowl a grand total of eight times. From John Elway to Peyton Manning, old Mile High Stadium hosted some of the greatest games in NFL history.
Much like the Denver Broncos, the city's basketball team also started from an upstart league. As part of the original ABA, the Denver Nuggets have enjoyed fine moments in the NBA over the last several decades. Now, equipped with NBA MVP Nikola Jokic, the Nuggets are looking to build upon an excellent season.
Chicks dig the longball. Oftentimes, online sports bettors love the home run as well. The Colorado Rockies are currently in the midst of a rebuild, but some of the team's young stars are putting together a pretty good season.
The young Colorado Avalanche almost got it done this past season. Unfortunately, they fell a little short. A brand-new season brings hope and optimism to a franchise that immediately started winning once the organization moved from Quebec over two decades ago.
How We Got Here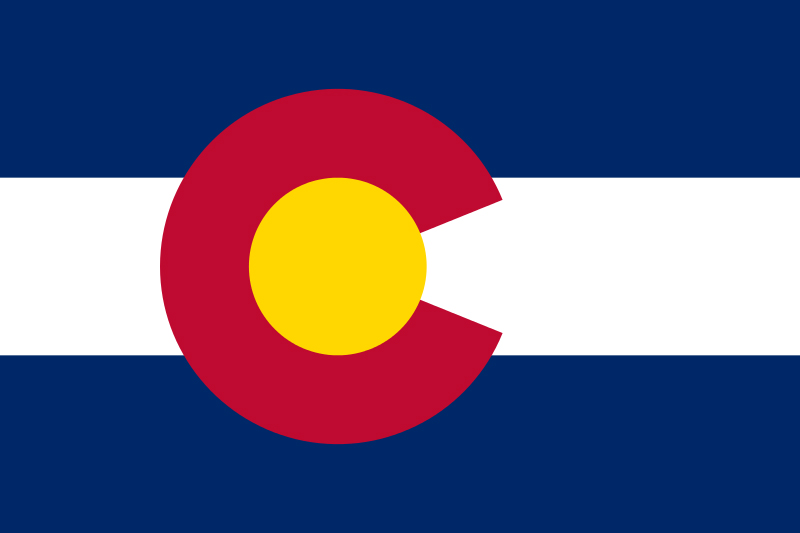 Caesars Sportsbook entered the Colorado online sports betting market in partnership with the Isle Casino Hotel in Black Hawk. Colorado became the 10th state the UK-branded sportsbook has officially entered. In May 2018, the United States Supreme Court repealed the Professional and Amateur Sports Protection Act, giving states the independent ability to legalize and begin operating sportsbooks. Colorado wasn't among the states to go live in the initial waves, but state lawmakers worked diligently to bring sports betting west. A sports betting bill, HB19-1327, largely received support from Republicans and Democrats, leading to the inclusion of Proposition DD on the state's November 2019 general election ballot. The referendum passed, subsequently making it legal to wager on sports both in-person and online in the state of Colorado.
Caesars Sportsbook Colorado News
Caesars Sportsbook FAQs
Which deposit methods can I use with Caesars?
Caesars Sportsbook offers a wide variety of deposit methods including credit and debit cards, echeck, online banking, Play+, PlayNearMe.
Is it safe to place my sports wagers with Caesars?
Caesars Sportsbook is a trusted and regulated U.S. sportsbook. So yes, your personal information, up to and including back information, will be safe and secure with Caesars.
Can I cancel a bet on Caesars Sportsbook?
You will not have the ability to cancel a wager on Caesars Sportsbook, per its terms and conditions. Always make sure any one specific sports bet is what you want before you officially place the wager.
Colorado Sports Betting FAQ
Is sports betting legal in Colorado?
Sports betting is legal in Colorado. Following the 2019 passing of HB19-1327, Proposition DD was approved by the state's voters in November 2019, meaning retail and online sports betting commenced in-state on May 1.
Where can I bet on sports in Colorado?
The short answer is everywhere—if done via a mobile device. Colorado is permitting 33 of its nearly 40 retail casinos to apply for a master sports-betting license, which allows such operations to partner with one land and one online sportsbook—though not all of these casinos will offer sports betting. Colorado's retail casino locations are located in one of three towns: Black Hawk, Central City and Cripple Creek. Black Hawk and Central City, which are located only a mile apart, tend to draw players from the greater Denver area, while Cripple Creek draws from the Colorado Springs region. Additionally, there are two casinos owned and operated by Native American tribes in the southwest corner of the state (Ignacio and Towaoc).
What sports can I bet on in Colorado?
Currently, wagering on national and international professional sports, major college sports, motor racing and sanctioned video game sports are permitted. Within that context, straight win/loss bets, prop bets, total betting and other popular forms will be legal. Colorado lawmakers are expected to provide further clarification on which markets will be offered upon launch.
Is online sports betting legal in Colorado?
Yes. Colorado's sports betting bill allows 33 of its nearly 40 casinos to partner with online sportsbook operators, permitting anyone that is physically present within state limits to wager via desktop, laptop, or mobile device.
When did sports betting go live in Colorado?
Legislation passed by Colorado lawmakers stipulates that legal sports betting can begin on May 1, 2020.
Will I have to be in Colorado to bet?
Yes. Colorado law states that in order in order to participate in legal online sports betting, one must be physically present within the confines of the state.
Do I have to have a Colorado address to bet?
No. It is not required that the sports gambler resides in Colorado to place online wagers. Rather, a person must simply be physically present within state limits.
How old must I be in order to bet in Colorado?
As is the case in all states where sports betting is legal, bettors must be at least 21 years of age.
What types of bets can I make in Colorado?
Casino sportsbook locations offer spread bets, moneyline bets, totals bets, futures bets, parlays, in-game betting and other traditional wager types. However, New York sports bettors are not permitted to bet on college or amateur teams within the state.
What are Colorado sports betting tax rates?
Colorado legal sports betting is expected to thrive because of several advantageous factors. Among them is the extremely favorable 10% tax rate paid of sports betting profits by casinos and online sportsbook operators. The 10% rate is among the most favorable in states where sports betting is legal, meaning the state should be an extremely attractive landing spot for some of the industry's top players. By way of comparison, New Jersey offers an 8.5% tax rate for in-person sports wagering and a 13% online tax, while Pennsylvania holds a much higher 36% rate.
Where will the 10% tax revenue be spent?
One of the reasons sports betting drew bipartisan support from lawmakers is because the tax revenue would go toward the Colorado Water Plan, which includes irrigation, water storage and other related projects to help deal with future climate change and expansion.
Can I bet on high school sports in Colorado?
No. Under the state's sports betting laws, wagering on high school sports is prohibited.
Lady Luck, Isle Of Capri Casino
Caesars Sportsbook's brick-and-mortar partner in Colorado is the Lady Luck, Isles Or Capri Casino.
Address: 4067 National Pike, Farmington, PA 15437
Phone: +17243297500
Top Colorado Competitors
Getting Started With Caesars Sportsbook Colorado
Getting started with Caesars Sportsbook Colorado will only take a moment. It's a simple process well worth the minimal time and effort it takes.
Get started today with Caesars
Sportsbook's incredible Full Caesar special:

Participating states only. 21+. New users and first wager only. Must register with eligible promo code. Bet amount of qualifying wager returned only if wager is settled as a loss. Maximum bet credit $1,500; must be used within 14 days of receipt. See caesars.com/promos for full terms. Void where prohibited. Know When To Stop Before You Start.® Gambling problem? Call 1-800-GAMBLER. In MA, please call 1-800-327-5050 or visit gamblinghelplinema.org for 24/7 support.