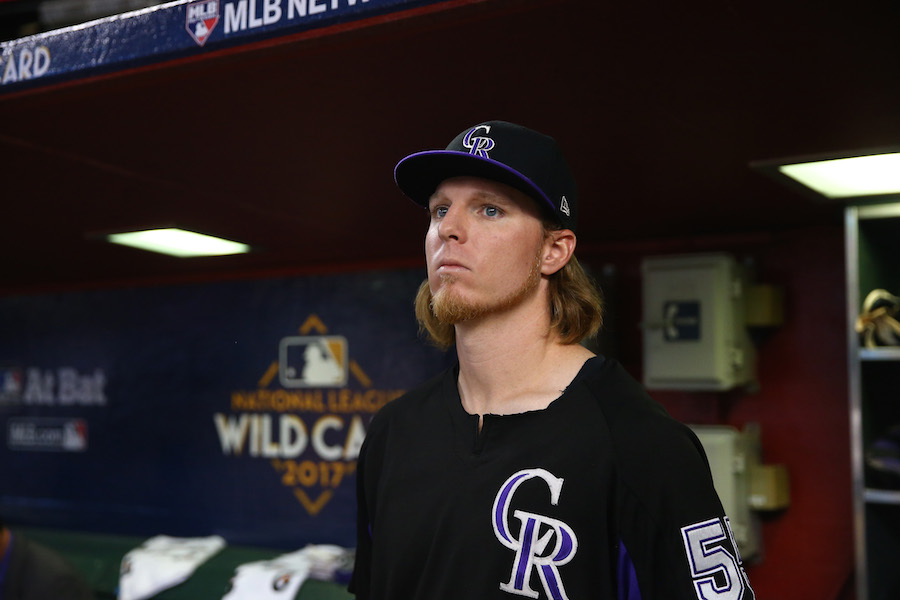 If the 2018 Colorado Rockies are going to take home the franchise's first World Series title, they should look to their expansion brethren for inspiration.
No, not the current Miami Marlins, whose new ownership this year has chopped down the roster to spare parts that would make a 1991 Yugo jealous.
If the Colorado Rockies are to raise their first Commissioner's Trophy, it will be because they've matched a feat that only the Florida Marlins have completed this century.
Since the year 2000, the 2003 Marlins are the only team to a World Series with a primary starting rotation made up of 20-somethings.
In fact, only three of the 36 World Series participants since the start of the 21st century have claimed a starting group all under the age of 30: Florida ('03), Tampa Bay ('08) and Detroit ('12). Colorado hopes to be the fourth.
The Rockies enter 2018 with a starting five whose average age* will be 26.20 for the season. That would rank third behind the '08 Rays (24.6) and the '03 Marlins (25.00).
*See chart below. Ages calculated based on a pitcher's "playing year age" (age on Opening Day).
Jon Gray (26), Tyler Anderson (28), German Marquez (23), Chad Bettis (29) and Kyle Freeland (25) comprise the five starting pitchers Rockies Manager Bud Black will roll out to open the 2018 season.
Antonio Senzatela (23) and Jeff Hoffman (25), who logged 20 and 16 big-league starts last year, respectively, may also factor into the starting rotation and could drive that "average age" even lower.
Should Anderson and/or Bettis not reach their expected start totals, and Senzatela and/or Hoffman step up again as a result, Colorado could rival the youth of those '03 Marlins, who clocked in at an even 25 years old average age.
The '03 Marlins starters not only put forth solid performances throughout the regular season, they shocked the sports world by upsetting the New York Yankees in the World Series. Coincidentally, those 2003 Yankees claim the oldest average age (34.20) among starting World Series rotations since 2000 (chart below).
At 29 years old, Mark Redman was the senior member of that Miami starting staff. He spun 14 of his 29 starts into victories that year, including a team-high three complete games. His 3.59 ERA over 190.2 innings was dead middle of the pack with his fellow fish starters. Redman started and lost Game 2 against Yankees lefty Andy Pettitte.
27-year-old Carl Pavano was the only Marlins starter that season to finish below .500. He pitched a team-high 201 innings, finishing 12-13. Pavano earned a no-decision in Game 4 of the '03 World Series, a game the Marlins won on a leadoff, walk-off home run in the 12th inning by Alex Gonzalez.
Brad Penny, who was 25 that season, went 14-10, tying Redman for the most Marlins starts with 32. Penny took Game 1 from David Wells — in New York, no less. He followed that with a victory in Game 4, which Wells also started but had to turn over to Jose Contreras after just one inning due to back spasms.
The lowest ERA for a Marlins starter that year went to Josh Beckett, then 23 (the same number of starts he made). His 3.04 ERA was equally as impressive as his 9.6 strikeouts per nine innings. Beckett pitched a complete-game, five-hit shutout in the decisive Game 6 in New York, handing Pettitte his first loss of that postseason. Beckett allowed just two runs in his two starts (16.1 innings), striking out 19 and earning MVP honors.
Rookie Dontrelle Willis, 21, tied Redman and Penny with 14 wins that year. His 14-6 record was the best on the staff, but his young age and an innings count relegated him to bullpen duty during the World Series. The jubilant lefty with one of the more unorthodox deliveries in baseball history appeared in Games 1, 3 and 5, including a scoreless eighth inning in a Game 5 victory.
There are similarities to the '03 Marlins starters in the pitching profiles of each starter in the 2018 Rockies rotation.
Like Beckett, Gray can overpower hitters and dominate games with a plus-fastball and solid breaking pitches.
Freeland and Marquez each have parallels to Willis. Freeland, being a lefty like Willis, has proven he can be both crafty when needed and practically un-hittable when his stuff is on. Marquez, the youngest of the bunch, has the benefit of youth (not to mention a devastating fastball-curveball combination) like Willis had.
Anderson, if he's fully recovered from his knee injury in 2017, can be a reliable left-hander as Redman was.
Bettis doesn't boast nearly the same ceiling as Pavano, who was an All-Star in 2004, but he also can be much more consistent, similar to Penny. Both of those players have at least a few inches on Bettis, height-wise, but there's no measuring the size of Bettis' heart and fighting spirit as he is now healthy after a nearly season-long cancer battle.
The '18 Rockies are also building on a better pitching foundation than the '03 Marlins.
Colorado in 2017 won 87 games and earned a NL Wild Card berth, powered by the same seven starters (including Senzatela and Hoffman) they will feature this year. The 2003 Marlins, by comparison, turned over three of their five starters from 2002; only Penny and Beckett contributed significantly that year.
These Rockies face long odds to unseat the Dodgers as NL West champs, let alone get to and win a World Series. But they do have one of the best lineups in baseball — better, by comparison, than the '03 Marlins.
Colorado's bullpen this year is set up to rival any other 'pen in the league — and also better, at least as it projects right now, than Florida's was when they won it all.
Those two pieces alone should have Colorado fighting for a playoff spot again.
It's the Rockies' young starting rotation, just like the 2003 Florida Marlins', that will hold the key to unlocking the biggest prize of all.
KEY: Green = World Series Winner; Purple = 2018 Rockies included for comparison
Stats via Baseball-Reference
| | | | | | |
| --- | --- | --- | --- | --- | --- |
| Year | League | Team | No. of Primary Starters | Starters' Average Age | No. of Starters Age 30+ |
| 2008 | AL | Tampa Bay | 5 | 24.60 | 0 |
| 2003 | NL | Florida | 5 | 25.00 | 0 |
| 2018 | NL | Colorado | 6 | 25.66 | 0 |
| 2012 | AL | Detroit | 6 | 26.33 | 0 |
| 2010 | NL | San Francisco | 6 | 26.83 | 2 |
| 2007 | NL | Colorado | 6 | 27.16 | 2 |
| 2011 | AL | Texas | 5 | 27.40 | 2 |
| 2006 | AL | Detroit | 5 | 27.80 | 1 |
| 2010 | AL | Texas | 6 | 28.00 | 2 |
| 2016 | AL | Cleveland | 5 | 28.20 | 2 |
| 2002 | NL | San Francisco | 5 | 28.20 | 1 |
| 2006 | NL | St. Louis | 6 | 28.33 | 2 |
| 2013 | NL | St. Louis | 4 | 28.50 | 2 |
| 2015 | NL | N.Y. Mets | 5 | 29.00 | 1 |
| 2012 | NL | San Francisco | 5 | 29.00 | 2 |
| 2002 | AL | Anaheim | 5 | 29.00 | 2 |
| 2014 | AL | Kansas City | 5 | 29.20 | 3 |
| 2017 | AL | Houston | 6 | 29.33 | 3 |
| 2008 | NL | Philadelphia | 6 | 29.33 | 2 |
| 2004 | NL | St. Louis | 5 | 29.80 | 1 |
| 2009 | AL | N.Y. Yankees | 4 | 30.00 | 3 |
| 2005 | NL | Houston | 6 | 30.00 | 2 |
| 2005 | AL | Chicago White Sox | 5 | 30.20 | 2 |
| 2000 | NL | N.Y. Mets | 5 | 30.20 | 3 |
| 2015 | AL | Kansas City | 6 | 30.33 | 3 |
| 2013 | AL | Boston | 5 | 30.40 | 2 |
| 2011 | NL | St. Louis | 5 | 30.40 | 3 |
| 2017 | NL | L.A. Dodgers | 6 | 30.66 | 3 |
| 2009 | NL | Philadelphia | 5 | 31.00 | 2 |
| 2016 | NL | Chicago Cubs | 5 | 31.60 | 4 |
| 2007 | AL | Boston | 6 | 31.60 | 3 |
| 2014 | NL | San Francisco | 6 | 31.66 | 4 |
| 2001 | AL | N.Y. Yankees | 5 | 31.80 | 3 |
| 2001 | NL | Arizona | 5 | 31.80 | 3 |
| 2004 | AL | Boston | 5 | 32.80 | 4 |
| 2000 | AL | N.Y. Yankees | 5 | 33.40 | 4 |
| 2003 | AL | N.Y. Yankees | 5 | 34.20 | 4 |