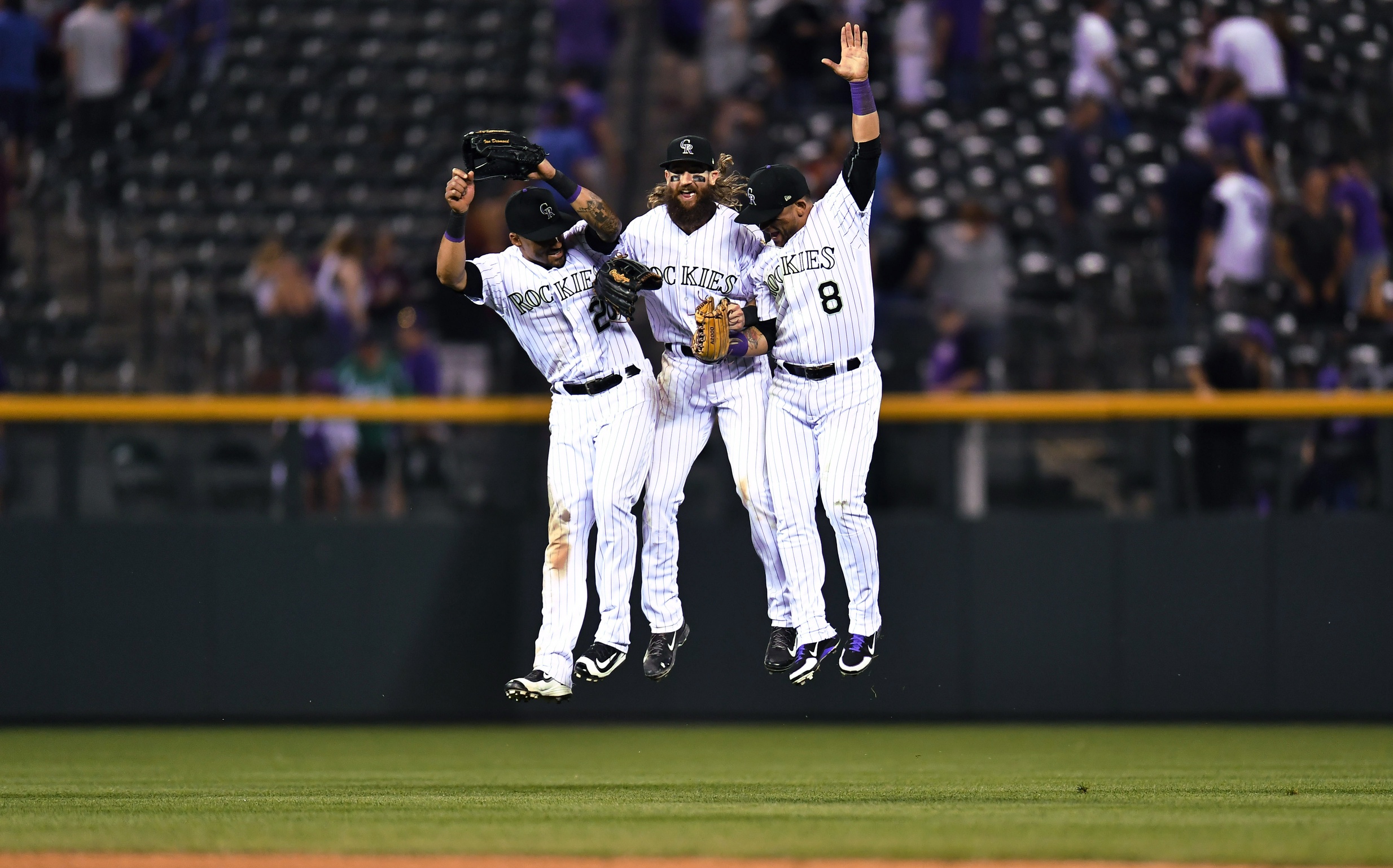 The Colorado Rockies turned heads last season with their impressive 87-75 record, returning to the postseason for the first time in eight years while establishing themselves as a perennial playoff threat for the foreseeable future.
After years filled with shortcomings and underachievement, general manager Jeff Bridich figured out a way to tap into the minds and wallets of the Monfort family, the Rockies ownership group, which until recently have often been branded as cheap and disinterested in winning. The Rockies currently claim the 14th-highest payroll with $123.64 million dedicated to the 25-man roster, which is a significant increase from 2017 ($105.03 million) and 2016 ($88,354,041).
The Rockies starting corner outfielders for the 2018 season will be decided during Spring Training
The Colorado Rockies have one of the best outfielders in the sport of baseball, Charlie Blackmon; however, outside of the dynamic leadoff hitter and centerfielder, the Rockies outfield situation is quite complex. Four players are gunning for two starting spots for the coming season.
2018 promises to be different for the Rockies as for the first time in a nearly a decade; there is an added pressure following the club's 2017 run to the postseason.
With that, a new season brings new challenges, situations, and teammates. Longstanding face of the franchise Carlos Gonzalez remains unsigned just days before Spring Training is set to kick off following his down 2017 season. Although there remains a slight possibility the Rockies and Gonzalez reunite for another season, the optics are shifting towards Colorado going in a different direction in right field, Gonzalez's position, in addition to left field where there is no concrete starter.
Ian Desmond, Gerardo Parra, David Dahl, and Raimel Tapia are the leading candidates to start for the Rockies at the corner outfield positions with each bringing a unique skill set that could benefit the club in different ways.
One thing that is known about Desmond is that he is going to play in 2018. After signing a whopping five-year, $70-million contract last offseason Desmond struggled in his first injury-riddled season at altitude. He hit .274 with 40 RBI and seven home runs in 95 games. Despite the down year, manager Bud Black has reassured that Desmond will be playing this coming season whether that be in left field or at first base. Desmond could add balance to the Rockies lineup if he were to return to the All-Star form that warranted his big contract. Desmond has knocked in 80-plus runs three times in his career and blasted 20-plus home runs four times. He's also a veteran and with Colorado banking on a lot of their young talent to produce this season a bounce-back year from the 32-year-old would help provide stability.
Following a down 2016, Parra rebounded in a big way for Colorado in 2017. He batted .309, the second time in his career he has registered a batting average above .300, while driving in 71 runs, which was a career high. In addition to his production at the plate, Parra is capable of playing both corner outfield spots which should bode well for him throughout the starting competition. Parra is also an excellent clubhouse presence. In his two seasons in Colorado, Parra has been instrumental in building a positive culture for the Rockies. The Rockies blast latin music after wins as the clubhouse oozes with excitement, which is something Parra has instilled since joining the franchise. Parra brought an undeniable flair to the clubhouse in 2017, which helped lead Colorado back to the postseason. If he can provide similar production on the field while remaining a strong leader in the clubhouse, Parra could have a big 2018 season. This is the final guaranteed year of the three-year, $27-million contract he signed a couple offseasons ago; he has a club option for 2019.
Dahl is perhaps the most intriguing option the Rockies have at the corner outfield positions. Dahl was called up to the big leagues midway through the 2016 season and impressed with a .315 batting average and 17-game hitting streak to kick off his big-league career; however, Dahl missed the entirety of the 2017 season with a rib injury that later compounded into a back injury. Injuries have always plagued Dahl in his career, but he's been a catalyst on offense in times when he's managed to stay healthy. Dahl owned a career batting average of .307 in the minor leagues to pair with an OPS of .865. Dahl has the potential to blossom into an everyday outfielder for the Rockies if he can stay healthy. With Blackmon and possibly Parra set to become free agents at the end of the season, and Desmond also having duties to man at first base, 2018 could be the year the Rockies begin to integrate Dahl into their day-to-day gameplan.
Tapia is enticing prospect to fill Colorado's outfield void as he brings an element that seems to have become forgotten in baseball recently — speed. A slap hitter, Tapia hits for a high average and is capable of speeding around the bases, which could be perfect for Colorado at the bottom of their lineup, or even the leadoff spot. Moving Blackmon's powerful bat down in the lineup might make sense with Tapia setting the table. Most of the opportunities Tapia has been given at the major league level have been unconventional, as he's mainly received playing time in the capacity of one-game starts and pinch hitting/running appearances which has prohibited him from reaching maximum output. However, at 24, Tapia has plenty of time to round his game. With a lifetime .322 batting average in the minor leagues, he will get his chance to stick in the bigs sooner or later.
With four quality options, it will be interesting to see how manager Bud Black opts to construct his outfield and lineup for the 2018 campaign — a season with expectations set sky high.