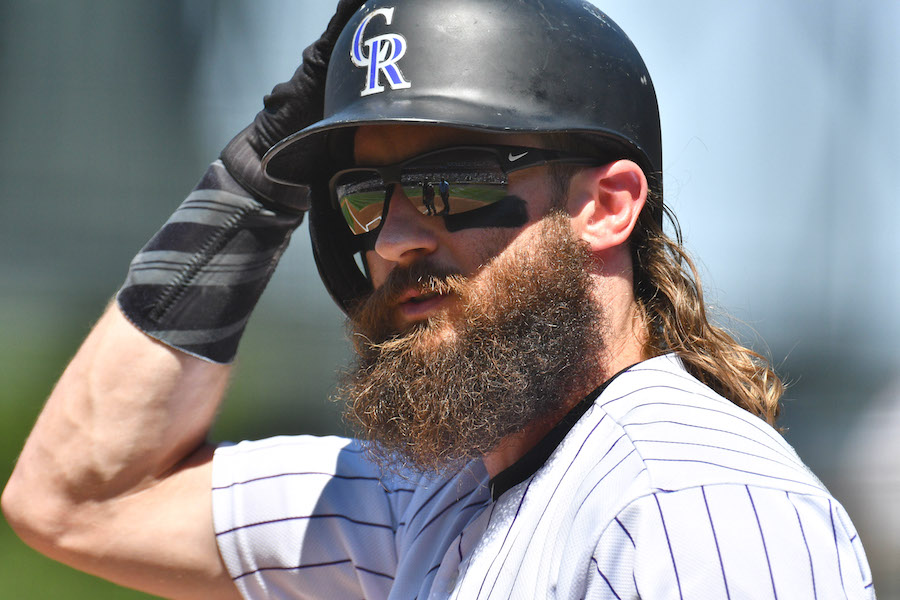 As Spring Training approaches for the Colorado Rockies, fans expectations are being set for an exciting year at 20th and Blake.
When it comes to centerfield, Rockies fans should also expect the same old Charlie Blackmon. The same quirky, unique, and historically good Charlie Blackmon.
Few words can truly describe the greatness of Blackmon's 2017 season. Blackmon set a MLB record for the most RBI by a leadoff hitter. In one of the most basic stats that tracks some of the greatest hitters in baseball history, Blackmon stands at atop MLB history for top-of-the-lineup hitters.
Blackmon's .329 batting average out of the leadoff spot in 156 games in 2017 was also outstanding (as in, NL batting title outstanding). Consider that the unquestioned greatest leadoff hitter in baseball history, Ricky Henderson, never averaged better than .327 in a single season. Blackmon became the first player in history to lead the major leagues in hits (213), runs scored (137), triples (14), and total bases (383) in the same season.
As the calendar has turned to 2018, nothing has changed for Blackmon. It's another year with the same routine, even down to his 2004 Jeep, which he drives daily ever since he was a teenager.
"I still like my Jeep, that's what I'm driving right now," Blackmon told the Denver media in January as the Rockies wrapped up their annual fan caravan.
Blackmon's offseason was exactly how you would expect. Unique. Much like Blackmon.
After all, it's not often the rare combination of power, speed and consistency are all wrapped up in one player.
"I've done lots of cool stuff," Blackmon said about his offseason. "I went to Costa Rica. I went to Arkansas — two very different places. I've done a lot of fishing right around the southeast, western North Carolina, Eastern Tennessee, North Georgia."
Blackmon was born in Dallas, raised in Georgia and played his college ball at Georgia Tech, but he is a fan of Colorado and won't let his impeding contract situation (he becomes an unrestricted free agent in 2019) affect his play this year.
"I really like playing here, its a great place to be," Blackmon said of Colorado. "I like the people. I like my teammates and I've also been on a one-year situation for the past three, four years, so it doesn't really change anything for me.
"I'm used to that 'go out and produce' mindset, and hopefully something happens. That would be great, but I don't plan to let that get in the way of me playing baseball. I don't plan to be thinking about that during the season. That's my time to work. I don't want to be distracted."
That "go out and produce" mindset Blackmon takes to the ballpark over and over again earned him his second All-Star nomination last year, as well as his second Silver Slugger award.
Blackmon set records and put himself in the top five in MVP voting in 2017, but he's been a consistent contributor atop the Rockies lineup for four years now. Since 2014, Blackmon has averaged 187 hits, 32 doubles, 26 home runs, 79 RBI and 26 stolen bases. His slash line over that time is .308/.366/.512 — comparable to last year's NL MVP, Giancarlo Stanton, over that same time (.271/.366/.573).
That's the kind of production the Rockies can expect again 2018, and they would love to have for years to come. But, locking up Blackmon long-term is a discussion for another day.
Appreciate, admire and enjoy in 2018 one of the most unique, incredible hitters the Rockies have ever called one of their own.