 Rockies ace Kyle Freeland was the best there was in 2018
The following article is from the December issue of Mile High Sports Magazine. Subscribe here!
Editor's Note: In 2018, there was no shortage of gaudy statistics, facts and figures. There were postseason runs galore, and even a title or two. But our annual selection of the Sportsperson of the Year runs deeper than that. The criteria? Who impacted the local sports landscape the most, or the most significantly?
So, rather than write stories and dissect the numbers, I asked those who followed Rockies baseball the closest this past summer to pen their own version of "why." Why was Kyle Freeland our choice? The answers follow.
The Clutch Gene by Doug Ottewill
I have been covering sports for the better part of 20 years now. Once a slave to the numbers, statistics don't wow me like they used to. Of course there are exceptions, but by and large, records are made to be broken. I find the longer I do this, the intangibles, the stories and the winning and losing hold my interest more than anything else.
Ask most anyone who actively follows baseball, and they easily tell you that Babe Ruth hit 714 home runs, and that Hank Aaron walloped 755. Ask them where Barry Bonds finished and they don't always know. It's 762, to be exact, but the thing they'll know most is that there's some kind of "asterisk" that follows whatever number Bonds posted.
The point is that the numbers alone don't tell the whole story. There's more to them. Ask those same folks who the greatest home run hitter of all time is and most would say either Ruth or Aaron – despite knowing that Bonds finished with superior marks. There's going to be a "Well…but…" before anyone answers the question.
Rockies lefty hurler Kyle Freeland had numbers that wowed in 2018. A baseball pitcher's statistics are what they are – comparable, both against opponents and history. And the numbers tied to Freeland – the ultimate local boy done good – are impressive. They're not numbers for the ages, certainly not unprecedented in the sport of baseball. But they are respectable across baseball. To point, Freeland finished the season in the NL's top-10 in all of the following categories: Wins Above Replacement-All (4th, 8.2); WAR-Pitchers (4th, 8.4); ERA (5th, 2.85); Wins (4th, 17); Winning Percentage (6th, .708) and Innings Pitched (5th, 202.1).
Not bad for a Rockies pitcher. So "not bad" in fact, that Freeland finished fourth in the Cy Young Award voting.
His numbers, when compared to those historically produced at Coors Field (generally thought of as a bad word amongst MLB pitchers), indicate he was arguably the best Rockies pitcher for a season, ever. His ERA of 2.85 is the best of all time. His 17 wins are second only to Ubaldo Jimenez's 19 in 2010.
But again, numbers bore me.
What was exciting was that Freeland captured the imagination of Rockies fans in ways that have never been done before. Freeland's start-to-finish season, where he truly got stronger as the season trudged on, was really unprecedented. The debate of which Rockies pitcher has had the greatest single season in team history is between Freeland's 2018 and Jimenez's 2010; they're the only two that really stake claim to "best ever."
Freeland was a bulldog down the stretch, though. From August, he only pitched less than six innings once. In his starts – all 12 of them – he never gave up more than three earned runs. During that same stretch, when he started, the Rockies were 10-2; his record was 8-1 with three no-decisions. By comparison, Jimenez got off to a hot start in 2010, but fizzled down the stretch. His August looked more like a slide. The team went 5-7 in his starts, and his personal record was worse, as he went 3-6 including losses in his final three starts. In 2018, the Rockies surged to an unlikely a Wild Card berth because of Freeland's intestinal fortitude. In 2010, the Rockies slid from contention largely because by season's end, Jimenez was not the same pitcher he was in April and May.
Freeland was gutty. And that's not a word used too often when referring to Rockies pitchers.
And then there's the one thing in sports I love above all else – clutch. It's what Michael Jordan and Kobe Bryant had. It's what Reggie Jackson and Mariano Rivera had. It's what Joe Montana and John Elway had.
They all had the clutch gene.
There is no stat or skill that can match clutch. If an athlete's competence is at or above his level of competition, the only thing that truly separates the good and the great is the clutch gene. It's that inexplicable quality that allows those athletes to excel on the biggest stage, in the biggest moments, when the game is in the balance. No matter the performance they've had leading up to that moment, clutch takes over when things matter most.
Kyle Freeland has the clutch gene.
His start against the Chicago Cubs at Wrigley Field in the NL Wild Card game was one for the ages. In reality, the deck was stacked against him. The Rockies had a brutal travel schedule to end the season; by the time they'd reached Chicago, they'd flown from Colorado to L.A. to Chicago in three consecutive days. The Cubs trotted out playoff-tested lefty Jon Lester. The "national" broadcast team had penciled in the Cubs to advance from their pregame notes.
Yet, Freeland stood tallest.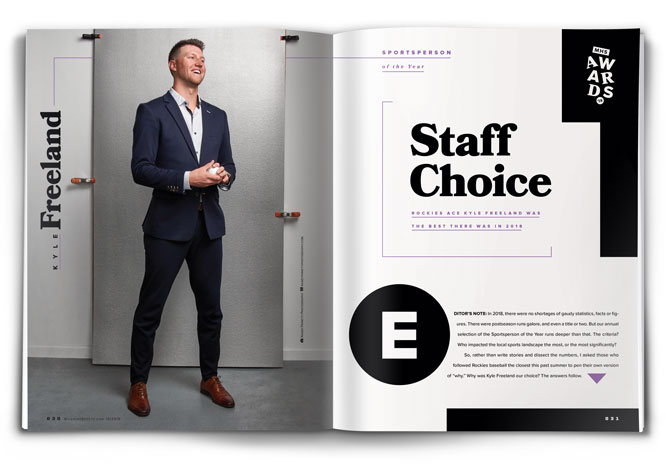 The Thomas Jefferson High School product delivered a gut-wrenching performance, allowing only four hits while surrendering no earned runs. And he had to be that good, as Lester seemingly matched him inning for inning, pitch for pitch. More than once Freeland was asked to get out a jam, and never did he fail. It was as clutch of a performance as has ever been seen by a Colorado Rockies pitcher. With the stakes the highest, Freeland was flawless.
But that's who he is. Whether he's starting his first game as a rookie at Coors Field and beating the Dodgers 2-1 in front of a sellout crowd, or nearly delivering the first no-hitter by a Rockies pitcher at Coors Field, he's clutch when it counts.
His numbers dazzled. But Freeland's ability to be his best when it counted, in a town starved for postseason baseball, dazzled me.
That's why he's my Colorado Sportsperson of the Year.
****
One of Us by Aniello Piro
Kyle Freeland was not supposed to be a pitcher.
Growing up, Freeland's father Don wanted to develop him into a middle infielder, like he was back in his days at Denver's John F. Kennedy High School. Kyle was the second brother of the family; the first, Colin, was already groomed to play up the middle. The pieces were in place for Don Freeland's dream of having a set of brothers play the middle infield positions to come true – except a very young Kyle had plans of his own.
Every time Don would attempt to place a ball in Kyle's right hand, he would switch it to his left. Being left-handed causes problems when playing the middle infield positions, so Kyle and his father had to adjust the plan. And the adjustment – nothing more than becoming a southpaw – ended up taking Kyle from being a Thomas Jefferson Spartan to the ace of the Colorado Rockies' starting rotation.
Are you a Kyle Freeland guy?
Just about all of Colorado baseball fans are, and I am, too. Freeland has emerged as the leader of the Rockies' rotation after only two seasons in the big leagues and serves a much larger purpose than baseball in the state of Colorado. He's one of us. Cheering on the hometown team is fun, but when the best player on that team is a homegrown product, it's something special.
Freeland was once just like you and me – a fan. A fan of the game. A fan of the Rockies. He recalls entering the confines of Coors Field at a young age to watch his favorite players, Larry Walker and Todd Helton. I'm sure he dreamed, as we all did as kids, about playing in the big leagues. I'm not so sure he thought that one day he would solidify the best season from a pitcher in Rockies history and pave a more precise way for the franchise to potentially capture its first championship.
Sitting back after what was a roller coaster of a season for the Colorado Rockies in 2018, one thing is for sure: The Rockies have their ace.
Other pitchers within the organization have flirted with the term in the past, but after a miraculous season in which Freeland received votes for the Cy Young award and set a single-season franchise record for ERA (2.85), it's fair to put him in the conversation with the best arms in the National League. Moreover, what makes him the de facto No. 1 arm in the Rockies' rotation is the confidence he instills within the club. Every fifth day, when Freeland takes the bump, the Rockies and their fans have the utmost confidence they can emerge victorious. Colorado lost only two games in Freeland's last 16 starts this season. Additionally, Freeland led the team in WAR with a mark of 8.2 and pitched to a 2.40 ERA at home, the lowest in franchise history.
Numbers never lie, but even some of the best pitchers statistically in the history of the game have faltered in prime-time. You either have what it takes, or you don't perform on the biggest stage. That said, the one postseason start of Freeland's career happened to be one that solidified him as the ace the Rockies have been looking for in their 25-year history.
After losing out on the division title, the Rockies squared off against the Chicago Cubs in the National League Wild Card game, their second consecutive appearance in the one-game playoff. After a disappointing performance the year before, Freeland was given the nod, and thus control, of the Rockies' destiny. Going up against a superior team, on the road, in your third city in as many days is by no means a walk in the park. However, Freeland made it appear to be just that.
Freeland outdueled three-time World Series champion Jon Lester and made the potent Cubs offense look silly by posting a line of 6 2/3 innings pitched, allowing four hits and one walk while striking out six batters en route to Colorado's thrilling, 13-inning victory. It was the first of hopefully many marquee outings for Freeland in his career, as he is hungry to keep his team in the title conversation.
"Having those mentalities and that drive to win, that drive to compete… You are extremely hungry for it." Freeland said.
For the first time in franchise history, the Rockies have a legitimate No.1 starter, a guy that can go out and get a win any day of the week, regardless of the weather, altitude, pressure or opponent. Being a Cy Young candidate and getting to the postseason for the second consecutive season for the first time in franchise history are excellent accomplishments, but Freeland plans to take his game, and the franchise, to the next level.
"It's a nice stepping stone for me, hopefully in the right direction, that I can continue to have the success that I had last year and keep my name in that mix of guys," Freeland said of his season. "Being in this mix of Cy Young, playoffs, World Series, all that."
Nationally, Freeland has helped change the view of the Rockies' organization. For the first time, Colorado has demonstrated an ability to not just hit at altitude, but pitch. Freeland has become the front man in changing the narrative that has been attached to the Colorado Rockies since their inception.
"We are going to start highlighting our pitchers and prove that we can win at Coors Field," said Freeland. "We can pitch at Coors Field, and we can have consistent success with it."
Colorado is dangerous entering 2019 and beyond. The Rockies are gearing up to put forth the greatest era of baseball the franchise has ever seen, led by the hometown kid and potential hometown hero. The future is a very bright one at 20th and Blake.
As Freeland puts it, "We are looking to go out there and hit somebody in the mouth; shock the world."
With Kyle Freeland, a local product who was supposed to be a middle infielder, the Rockies' future is on pace to be the brightest it's ever been.
I'm a Kyle Freeland guy.
****
Attitude over Altitude by Shawn Drotar
On May 14, 1993, the Colorado Rockies played only the 35th game in team history; Major League Baseball's newest team in baseball was bludgeoned on the road by its oldest in a 13-5 loss to Cincinnati. Starting pitcher Andy Ashby took the loss that night to fall to 0-3; the eight runs he allowed in only 2-2/3 innings doomed the purple-clad newcomers in a game that was over early.
Little did anyone know that the Rockies' evolution from a bumbling, expansion curiosity to a full-fledged, Major League contender began that day.
Back in Denver, little Kyle Richard Freeland came into the world; eventually growing up in a Colorado that had always had a Major League baseball team. For Freeland, unlike every other native older than 25, the Rockies have always been part of the Colorado sports landscape. For Freeland, they're no different than the Nuggets or Broncos; teams founded in the 1960's and so completely integrated into the state's tapestry that it's impossible to unwind them.
Consider: in 1993, John Elway was entering his 11th season as the Broncos' quarterback. Wade Phillips was the head coach of a team still trying to repair their national reputation after being embarrassed in an ever-worsening trio of Super Bowl losses over the seven previous seasons. The Nuggets had just finished another moribund season of their own; sitting out the NBA playoffs that May for the third straight year. Their famous rainbow uniforms weren't retro-cool yet… because they were still wearing them.
That was the Colorado sports world that Freeland was born into; one where the newborn Rockies had as many world championships as the Broncos or the Avalanche — who were still years away from even existing; they were too busy thriving as the Quebec Nordiques in the old Adams Division. A world in which the Rockies' possibilities were as promising as any others in the Centennial State.
That's the way Freeland pitches, by the way — like the Rockies were any other Major League club, rather than an anomalous group of beer-league softball mashers playing in a ridiculous place. Around the slow-to-change baseball world, that's still how the Rockies are perceived; as a fluke, a one-off in a place where baseball shouldn't ever be played, anyway. Rockies fans share a righteous indignation for the treatment of Larry Walker, Todd Helton and Nolan Arenado; all Hall-of-Fame-caliber players whose careers are too often derided as a creation of Denver's thin air; their bona fides discounted, dissected and spread to the warm summer winds.
It's easier to hit in Denver. There's no way to sugarcoat it. That's why it's much harder for the baseball cognoscenti to ignore the man who's never seen the Rockies that way; they're not just another team – since he was born, they've always been Kyle Freeland's team.
When you're just a kid, tossing baseballs with a grade-school chum at recess, you're not thinking about how the altitude affects spin rate – you're imagining yourself waving to Mom and Dad as you finish off Game 7 of the World Series. Those dreams drive young players; they're not yet thinking about how to win – they're just thinking about winning.
Freeland's numbers as a member of the Rockies leap off the page, of course, but his success isn't about statistics; it's a mindset that makes the second-year hurler into one of the franchise's best-ever pitchers. No, it's not too soon to say that, because what Freeland has brought to the Rockies will outlast his entire career, no matter how long it turns out to be.
Freeland isn't the best player on the team – that lofty title still belongs to the sterling Arenado. The lanky lefty doesn't have the best fastball in the Rockies' young rotation – that belongs to wayward, erstwhile "ace" Jon Gray. His breaking stuff isn't, either – ask anyone who's looked foolish striking out against teammate German Márquez; there are plenty to choose from. What Freeland brings is attitude; a never-back-down mentality that forces teammates to keep up… to believe.
His gritty, gutty performance in October's wild-card defeat of the mighty, big-budget Cubs was due more to willpower than firepower; the Rockies' bats went silent in a 13-inning affair, but that didn't deter Freeland. In his first postseason appearance, and on short rest, Freeland outlasted and outdueled the Cubs' Jon Lester (who was making his 26th, mind you) and shut down the Cubs for 6-2/3 thrilling, high-wire innings.
Freeland didn't get to pitch in the National League Division Series loss to the Brewers – the offense that seamheads habitually take for granted went AWOL – but the ripples from his phenomenal 2018 season will be felt for years to come. The Thomas Jefferson High School product has smashed all the preconceptions about pitching in Denver, and will enter 2019 as not only the Rockies' ace, but as a Cy Young contender on a team with postseason expectations.
Just like he always imagined as a boy growing up in the shadow of the Rocky Mountains. Kyle Freeland, Colorado's native son, is Mile High Sports' Sportsperson of the Year. Purple majesty, indeed.
***
*For more from Mile High Sports Magazine, subscribe here!