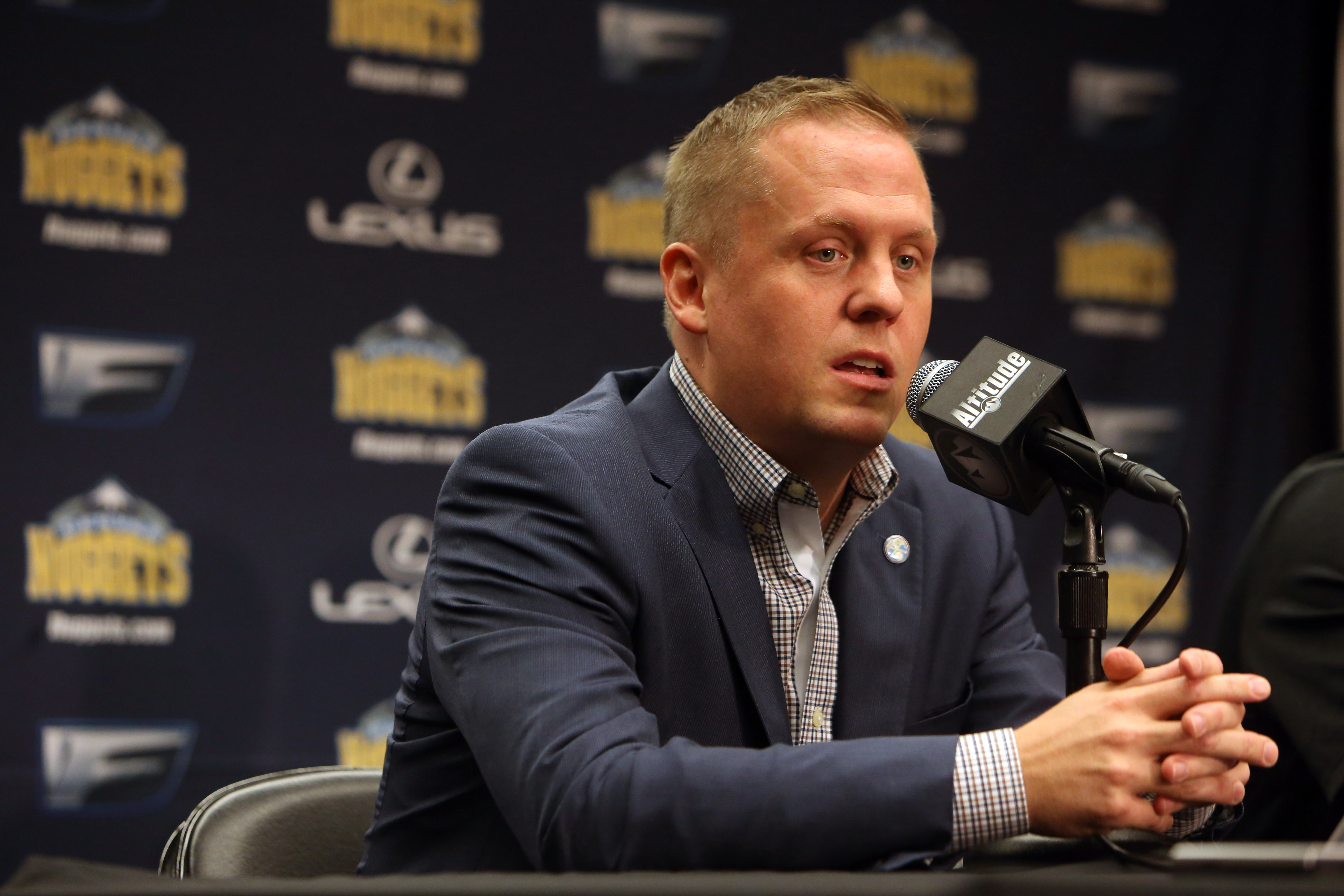 The 2020 NBA Draft has concluded and the Denver Nuggets have made yet another splash.
Instead of just standing pat and selecting a player with the 22nd pick that they entered the draft armed with, the elected to also trade a future first round pick in order to get back into the first round of the 2020 draft.
By the time the dust had settled, the Nuggets had drafted Zeke Nnaji with the 22nd pick, RJ Hampton with the 24th pick and then added a cherry on top by signing Markus Howard to a two-way contract after he went undrafted.
So without further ado, here are the grades for each selection.
Denver used their 22nd to select versatile big man Zeke Nnaji 
The first decision made by the Nuggets on draft night was to select Zeke Nnaji out of the University of Arizona.
Sources have indicated that the Nuggets entered the draft wanting to find a big who had the potential to help right away. Their first couple options — Jalen Smith and Isaiah Stewart — came off the board way sooner than anyone anticipated. That left Denver waiting to see which big would remain once their 22nd selection was finally on the clock. As the night continued, more and more of the bigs that the Nuggets liked were being taken prior to Denver's 22nd pick. After Smith went 10th and Stewart went 16th, Denver then also watched Aleksej Pokusevski get selected with the 17th pick and Precious Achiuwa get taken with the 20th pick. Suddenly their hopes of finding a big man were dwindling, but there was one more name remaining; Zeke Nnaji.
Denver selected Nnaji with their 22nd pick and did so with a smile on their faces. No, Nnaji is not one of the most glamorous selections in the draft, but that is precisely what makes him such a great fit into the Nuggets culture on and off the court.
Offensively, he uses his size well. He stands 6'11 and boasts a 7'1 wingspan while also weighing in at 240 pounds. So despite being light on his feet on offense and mobile end to end, he still carries a fair amount of weight with him allowing him to be more impactful on the glass and down low. Nnaji also is a strong finisher around the rim converting creative layups as well as playing above the rim, but his offensive game does not end there. He can also hit jumpers out to about 17 feet with regularity. He still has not stretched his shooting out to three-point range with any kind of consistency, but many scouts around the league believe he has the ability to eventually become an impact shooter from deep.
On defense, there are more questions than answers, but his effort and motor are guaranteed. He fights down low for positioning, does his best to slide on the perimeter when switched onto smaller guards, and is slowly learning the nuances of protecting the rim. He has consistently improved as a defender over the years, but has a ways to go before being a positive on that end at the NBA level.
Overall, Nnaji's defensive upside and lack of a three-point shot are his biggest issues, but both have steadily improved which has the Nuggets excited with what he could become in time.
Grade: B
Denver trades into the first round to select hyper-athletic guard RJ Hampton with the 24th pick
Well, this was unexpected.
Wednesday morning, sources indicated that Denver was preparing for as many possibilities as they could entering the draft. They had plans to trade up, trade back, trade out, or even find a second first-round pick which was what they eventually did. With so much unpredictability, Denver wanted to be ready to take advantage of whatever opportunity presented itself.
That is exactly what the Nuggets did when they found a way to trade for the 24th pick to select RJ Hampton — who many believe should have been chosen by a team in the lottery — and all it took was a future first round pick which is lottery protected.
According to league sources, Denver sent a 2023 first round pick which is lottery protected. If that pick did not convey in 2023, it would remain lottery protected in 2024 and 2025. That is a small price to pay to obtain a chance to draft a player like Hampton.
Hampton is one of the most explosive guards in the draft. He is 6'5 and has a 6'7 wingspan, but pairs that with a lightning-quick first step and plenty of shake with the ball in his hands. He is still far from refined as a shooter, finisher, ball handler and playmaker, but he has the physical gifts and foundation to develop into a relentlessly threatening lead guard in time. Plus, his offensive capabilities go beyond playing with the ball in his hands. He is becoming a more instinctual cutter as he gets more repetitions and is learning the nuances of shooting off the catch.
On defense, he is very much so a work in progress. He has many bad defensive habits to break, has yet to figure out how to use his athletic ability to his benefit when defending, and still fails to get into a defensive stance from time to time.
Hampton was chosen entirely based on his upside and because he was falling in the draft which makes the parallels between the choice to draft Michael Porter Jr. and Bol Bol impossible to ignore. Denver knows it will be a while before Hampton is ready to contribute to a contending team on a regular basis, but the Nuggets have the benefit of time and a roster with four guards already locked into the rotation.
Denver gets an A- for this trade and selection because it costed them very little to select a player who could end up being a top-five player from this draft in the next few years. That is a great gamble by Connelly.
Grade: A-
Denver signs undrafted bucket-getter Markus Howard to a two-way contract
Pretty much right after the second round of the draft had finished, a source confirmed that the Nuggets were already agreeing to a deal in principle with Marquette's Markus Howard to join the Nuggets on a two-way contract. Harrison Wind of DNVR was first on the report. The deal cannot be completed until free agency begins, but it has been agreed to by both parties.
Howard is a volume scorer through and through. He finished his four-year college career as Marquette's all-time leading scorer while also leading the nation in scoring as a senior with an incredible 27.8 points per game. He is a fearless shooter who averaged over 10 three-point attempts per game while making 41.2% of those looks.
The biggest issue with Howard is that he is only 5'11 and struggles to contribute outside of scoring. Over his four years of collegiate basketball, Howard amassed 392 assists, but turned the ball over 380 times and consistently posted a near-1:1 assist-to-turnover ratio. Plus, his lack of size immediately makes him a problematic defender.
Still, getting a bucket-getter like Howard as an undrafted two-way contract player is a gigantic win for a Nuggets team that is entering the 2020-21 season without much rest. Howard has the capabilities to give the Nuggets a scoring lift in an emergency and still has plenty of skills to work on giving him more upside than most seniors.
His size is why he was not drafted, but his skill level may allow him to build himself a decent career in the NBA. Because of those that and the fact that he is on a two-way contract, the Nuggets get another solid grade.
Grade: B-