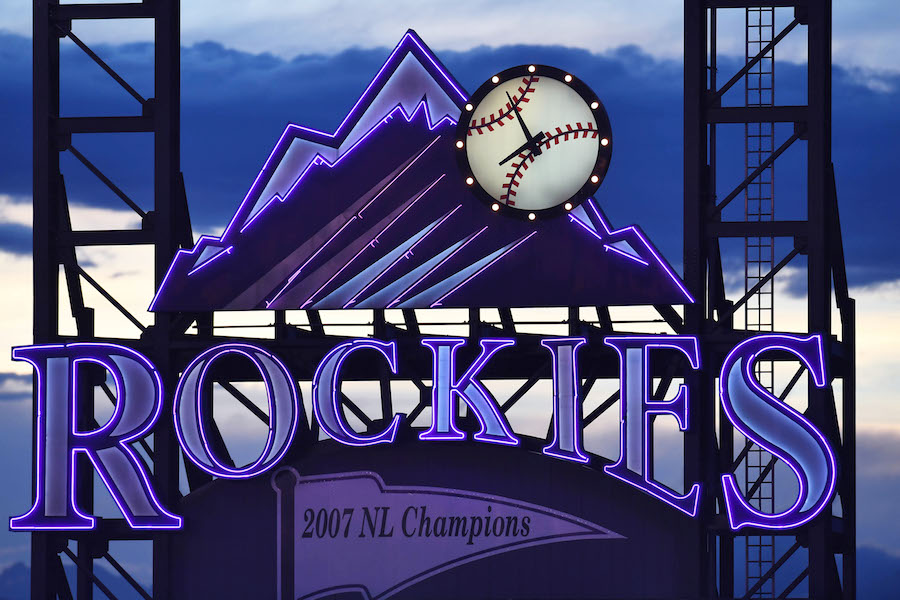 The Colorado Rockies in 2018 are celebrating 25 years of Major League Baseball in the Mile High City. (It's actually their 26th MLB season, but I won't split hairs.)
For some fans it doesn't seem that long ago that Eric Young blasted a 3-2 pitch from Kent Bottenfield over the left-centerfield fence at the original Mile High Stadium to welcome big-league baseball to Denver. A younger generation, meanwhile, just witnessed the return of Rocktober™ for the first time in nearly a decade. For the youngest fans, last year was the first time the Rockies had posted a winning record in their lifetime.
None of them, of course, have ever watched the Rockies win a division title. Entering their 26th season, the Colorado Rockies are still on the hunt for their elusive first National League West crown.
The NL West, which sent three teams to the postseason in 2017 including the Rockies, figures to be one of the best in baseball again.
The oddsmakers don't believe it can be done. With +800 odds to win the division Colorado is ahead of only the Padres (+4000) to claim the division, according to Bovada (via OddsShark).
The good news is that the Rockies are much closer to the Giants (+550) and Diamondbacks (+600) this year than they are the Padres. The Dodgers, now seeking their sixth-consecutive NL West title, are the prohibitive favorites (-260).
Colorado has a tall task in unseating a Dodgers team that at one point last season was on pace to set MLB's all-time wins record and (minus a preseason hand injury to Justin Turner seem) show no signs of slowing down. The Giants reloaded, but suffered a big blow last week learning that their No. 1 and No. 3 starters, Madison Bumgarner and Jeff Samardzija, will miss significant time to start the season. The Diamondbacks lost J.D. Martinez to free agency (and have added a humidor), but they remain a team that can sneak up and bite the Rockies at any time.
It's going to take a complete effort from players one through 25 on the Opening Day roster (and contributions from others on the 40-man) for the Rockies to make their 25th Anniversary season the first division title in club history.
Here are 25 stats that need to happen for the Rockies to earn NL West title No. 1 in 2018.
The Starting 8
Charlie Blackmon: .415
No, this isn't to suggest Charlie Blackmon needs to be the first National League player since Bill Terry in 1930 or the first major leaguer since Ted Williams in 1941 to hit above the mythical .400 mark. But after winning the NL batting title with a .331 average in 2017, Blackmon may see less opportunities for base hits this year. The .415 number represents an ideal on-base percentage for Blackmon.
"Chuck Nazty" will prove nasty to deal with for opposing pitchers if he's on base more than 40 percent of the time this year.
DJ LeMahieu: 190
What does DJ LeMahieu have in common with legendary Rockies hitters Larry Walker, Todd Helton and Vinny Castilla? They've all posted at least three consecutive seasons batting .300 or better. (Nolan Arenado, Charlie Blackmon and Troy Tulowitzki can't say that.) LeMahieu is quietly one of the top-10 all-purpose hitters in the league, and with Blackmon and Arenado surrounding him in the lineup there's reason to expect a fourth year above .300 for the 2016 NL batting champ.
LeMahieu recorded 192 hits en route to the batting title in 2016. He recorded 189 last year. Even if he doesn't win a batting crown, 190 hits should be the goal.
Nolan Arenado: 130
In each of the past three seasons Nolan Arenado has produced least 130 runs batted. Ryan Howard (2006-10) was the last National League player with 130-plus RBIs for that many seasons. It's no coincidence the Phillies won three division titles (and a World Series) during that stretch.
The players ahead of him in the lineup (Charlie Blackmon and DJ LeMahieu) will do their part to get on base. It's up to Arenado to keep driving them in.
Trevor Story: 150
No player in the National League struck out more times than Trevor Story with his 191. And while strikeouts aren't frowned upon in baseball nearly as much as they have been in years past, there's no denying Story needs to put the ball in play more often.
Cubs third baseman Kris Bryant struck out an NL-high 199 times in 2015 (and still won Rookie of the Year). The following season he cut that number down to 158 (en route to an NL MVP). Story may not contend for the league's top individual honor, but he'll increase his value greatly if he can trim those strikeout numbers to around 150.
Carlos Gonzalez: .275
There's no denying that Carlos Gonzalez is a slow starter. His lowest career batting average split comes in the month of April (.271). Last year was particularly bad, with Gonzalez hitting just .216 in April and then .172 in June.
Where Gonazlez's average sits come the All-Star break will be a good indicator as to how close the Rockies are to making a run for the division in the second half. If "CarGo" isn't hitting at least .275 by the break, Colorado could be in trouble.
Ian Desmond: 1,173
After signing the most lucrative per-year contract the Rockies have ever handed out, Ian Desmond broke his hand in Spring Training last year and watched as Mark Reynolds took his starting first base gig and never let go. At the plate Reynolds was sensational to start, but cooled down the stretch; his defense was stellar all year. Desmond doesn't need to wow anyone this season; he just needs to be consistent, both at the plate and in the field.
First base is a relatively new position for the converted shortstop/outfielder, but the Rockies need him to equal Reynolds' 1,173 innings played at first last year. The options at first base behind Desmond are slim.
Gerardo Parra: 120
Gerardo Parra doesn't get nearly the credit he deserves for his role with the 2017 Rockies. As Carlos Gonzalez struggled at the plate and the club struggled to find a consistent place for Ian Desmond, Parra quietly posted the best batting average (.309) of his career. Expanded playing time had much to do with that.
Parra played 115 games in 2017 after being limited by injury in 2016 and playing just 102 games (87 starts). Parra can be a disruptive force no matter where he hits in the lineup; seeing him in it 120 times this year would mean good things for the rest of the Rockies.
Chris Iannetta: 4.50
Last year with the Diamondbacks, Chris Iannetta posted a 4.03 catcher's earned run average. Coincidentally, that was the same number Ryan Hanigan posted for Colorado — their best CERA by far. The difference is that Iannetta did it over more than twice as many games for the D-Backs. Tony Wolters, who started just six fewer games (66 to 70) than Iannetta in 2017 came in at 5.07.
No one expects Iannetta to work miracles at Coors Field, but if he can keep his CERA around 4.50 over his expected 80-plus starts the Rockies starting rotation should be sitting pretty.
The Rotation
Jon Gray: 200
Jon Gray stated earlier this spring that his goal is to reach 200 innings pitched. If he reaches that goal, he will become the first Rockies pitcher to do so since Ubaldo Jimenez in 2010. While the 200-inning plateau is an important one, reaching 200 strikeouts might actually be a more important benchmark.
Whether or not Gray reaches 200 innings, if he can strike out 200 hitters it means he'll be keeping the ball out of play — the most important thing a pitcher can do at Coors Field.
Tyler Anderson: 30
The Rockies had high hopes for Tyler Anderson in 2017 after a promising rookie campaign that saw him post a 3.54 ERA over 114.1 innings and 19 starts. A knee injury caused him to struggle early last season and ultimately limited him to just 15 starts. Now fully healthy, Anderson's goal should be to start 30 games this season.
With youngsters like Jeff Hoffman, Antonio Senzatela and Sam Howard all fighting to get into the rotation, Anderson has to lock down his spot — 30 starts would do that.
German Marquez: 15
No one expected German Marquez to lead the Rockies in starts, wins and innings pitched last season, but injuries to Jon Gray and Tyler Anderson, and Chad Bettis' cancer treatment, thrust the rookie into the spotlight. Marquez spun 11 of his 29 starts into victories, tying Kyle Freeland for the team lead. Adding another four wins should be well within his grasp.
Marquez has front-of-the-rotation stuff, so 15 wins could be even a modest goal for the 23-year-old.
Chad Bettis: 4.75
Chad Bettis brings a bulldog mentality to the bottom of the rotation and can steal some games for Rockies Manager Bud Black. Bettis also has a propensity to blow up and have short starts that balloon his ERA. For his career, Bettis' ERA is 5.01. It was 4.79 in 2016, his only season as a full-time starter.
Bettis is stronger both mentally and physically after his cancer battle. There's every reason to believe a 4.75 ERA in 2017 is well within his grasp.
Kyle Freeland: 3.1
Kyle Freeland tied for the Rockies lead in wins last season, but he also matched his 11 wins with 11 losses. Rather than focusing on the win-loss column, Freeland this year is zeroing in on the stats that produced those results. Specifically, Freeland has keyed in on cutting down his walk totals. In 2017 he allowed 3.6 base on balls per nine innings (BB/9), tied with Jeff Hoffman for second-most among the starters. He also had the lowest strikeout rate with 6.2 K/9.
Shaving a half a walk every nine innings off his number from last year doesn't sound like much, but it would be a huge step in helping Freeland finish the year above .500.
Antonio Senzatela: 165
Antonio Senzatela pitched almost 100 innings more in 2017 than he did in 2016, when a shoulder injury cut short his Double-A season. He handled the leap to the majors just fine, finishing the year with 10 wins, but his workload had to be reduced dramatically in the second half.
Senzatela, Bud Black's "sixth man," will be in and out of the starting rotation based on health and performances above him on the depth chart, but a good goal for Senzatela is 165 total innings pitched between Triple-A and the majors.
The Bench
Pat Valaika: 60
Believe it or not, Pat Valaika played in more games in 2017 than Ian Desmond. The pinch-hitting specialist in his 110 games helped Colorado compile 47 pinch-hits. Coincidentally, Valaika had 47 hits (overall) on the season, 19 of the pinch-hit variety. His eight home runs and eight doubles as a pinch-hitter often came in clutch moments, cementing the "Patty Barrels" nickname.
Bud Black could lean on Valaika even more in 2018, meaning 60 hits should be his goal. That number should also be the team goal for total pinch hits this year.
Tony Wolters: 20
The Rockies know they can't expect much pop out of Tony Wolters' bat, but they need to expect more than they got in 2017. Wolters last year came to the plate 36 more times than he did as a rookie, but he produced less than half as many extra-base hits. Wolters doesn't need to start swinging for the fences, but the Rockies need him to produce more than nine extra-base hits this year. He had 20 in 2016, which seems like a fair number to strive for this season.
Wolters has competition breathing down his neck in Tom Murphy, so adding more punch to the lineup when he's in it will be critical.
Outfielder No. 4: <1,000
The Rockies have three players who will all be in the mix this year as depth outfielders: Mike Tauchman, who should get the Opening Day nod; Raimel Tapia, who could steal the final roster spot from Ryan McMahon; and David Dahl, whom the Rockies are eager to get back into the big leagues. (Ian Desmond could even factor into the outfield if he struggles at first base.) Reserve outfielders played more than 1,000 innings for the Rockies last year. As good as that young trio can be, if they're logging that many innings it could be the result of something going wrong elsewhere on the diamond.
Nothing against Tauchman, Tapia and Dahl, but the odds of winning the NL West are better in the hands of Blackmon, Parra and Gonzalez.
Ryan McMahon (and Co.): .296
Bud Black won't have a "Swiss Army knife" on the bench like he did last year in Alexi Amarista. (At least to start.) That will likely open up a spot for Ryan McMahon, who can play both corner infield positions, but it also means McMahon has to produce when his limited chances arrive. Amarista posted a .269 on-base percentage last season in 176 plate appearances. McMahon's will need to be closer to .300 if he wants to keep a spot on the big-league roster.
McMahon, or whoever takes that fourth and final bench spot, should aim to flip the last two digits in that OPB and register a .296 if he wants a permanent spot on Black's bench.
The Bullpen
Wade Davis: 33
Greg Holland surprised everyone in 2017 by tying the Rockies' franchise record with 41 saves (especially doing so coming off a missed year due to Tommy John Surgery). Wade Davis signed a monster contract in the offseason to take over the Rox closing duties, but he shouldn't be expected to one-up Holland's spectacular year last year. Hopefully the Rockies need him less often (especially early in the season), and Bud Black can rely on several other pitchers in the bullpen capable of closing if needed.
The Rockies need Davis to be at his best down the stretch, so something in the 33-save range would be ideal.
Bryan Shaw: 8.0
No MLB relief pitcher has logged more innings than Bryan Shaw over the past five years, which was a big draw in signing him. With an average of 71.2 IP over that stretch, the Rockies have a bona fide iron man in the pen. Shaw is also stingy, allowing a career average of 8.0 hits per nine innings. Now pitching with the cavernous outfield of Coors Field behind him, Shaw could be prone to giving up more hits.
As the presumed eighth-inning man, it would be a victory if Shaw can keep his H9 below 8.0.
Jake McGee: .208
Jake McGee isn't considered a left-on-left specialist out of the bullpen (that job goes to Mike Dunn), but it does seem a little surprising that McGee's career numbers are better against right-handed hitters than lefties. In fact, left-handers bat a full 31 points higher against McGee. As the Rockies' bullpen got deeper with the addition of Wade Davis and Bryan Shaw, now Bud Black can be a little more selective with how he deploys his 'pen.
If Jake McGee can drive his left-on-left average down into the .208 range (where he ranks against right-handers), Black will have even more options late in games.
Chris Rusin: 3.00
Since joining the Rockies in 2015, Chris Rusin has very quietly been the most consistent pitcher on the staff. His cumulative ERA is 4.13 over those three years, punctuated by a 2.65 mark last year in 85.0 innings pitched. It might be unrealistic to expect a similar performance in 2018.
If Rusin can deliver a 3.00 ERA or better the Rockies will once again be getting more than their money's worth.
Team Stats
Batting: 550
The Rockies in 2017 registered 523 extra-base hits, tied with Minnesota for 10th in baseball. Of the nine teams above Colorado, only Oakland and the New York Mets did not make the playoffs. Houston, the World Series champs, led baseball with 604. Reaching 550 XBH should be well within reach, given Colorado's stacked lineup and the fact they play half their games in the biggest outfield in baseball
An increase in those numbers would very likely mean an increase in runs scored, where the Rockies ranked third in baseball last season. No. 1? The Houston Astros.
Starting Pitching: 68
Wins and losses aren't everything when it comes to pitching, but they are when it comes to which team gets to call themselves "division champs." The Rockies can't claim their first division crown if the starting pitchers don't deliver an improved performance on 2017. Colorado's top six starters in terms of innings pitched tallied 56 of the team's 87 wins last season. That group (even if it's not the same six bodies) needs to add at least a dozen wins to that total if the Rockies are going to even think about competing with the Dodgers. That's only two more victories per starter, which seems well within reach for this bunch.
Bullpen: 75%
The Rockies last year converted saves at a 77.05 percent clip, second only to the Cleveland Indians. Trailing Colorado are those same Dodgers, whose name has surfaced so often in this article, at 76.12. It may be unrealistic to expect Wade Davis to find the same lightning in a bottle that Greg Holland did last year, but the combination of Davis, Bryan Shaw and Jake McGee (not to mention other Rockies pitchers with closing experience like Carlos Estevez) have to keep pace with Los Angeles on the back end.
Wins and Losses
That's what it all comes down to in the end, right? Last year the Dodgers ran away with the division with 104 wins. They needed just 91 to win it in 2016 and 92 the year before that. Given the depth in the NL West, it could take 95 wins to claim this year's title.
The Rockies have never won more than 92 games in their history. But if Colorado can deliver on the 25 stats above, they might just eclipse that win total and deliver their first NL West crown.