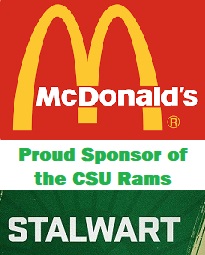 Colorado State Rams football kicks off their season in two weeks, hosting Washington State (Sept. 2, 5 p.m. MT), and CSU boasts multiple star players like Jack Howell and Tory Horton.
Both Horton and Howell—among a few other elite players—are a big reason why Jay Norvell explained recently, "And I think we're better at every position."
Last year, Norvell's first with the team, was a struggle. "We kinda had to take our lumps and bite our lip last year, and take our medicine," Norvell said. "But, we're much better [this year]."
Not only will Howell lead the defense, and Horton lead the offense, but all the players around those two are prepared to step their game up thanks to experience last season.
That's how Colorado State hopes to get over the 3-9 record and get back to a bowl game for the first time in six seasons.
Of course, Horton and Howell will be crucial to the Rams success. And both of them are on three award watch lists each this preseason.
Tory Horton on Biletnikoff Award Watch List among others
Simply, Tory Horton is the best wide receiver in the Group of 5 Conferences.
While there's been consistent growth from Horton over his first three years, last year put him on the map nationally. He enjoyed 71 receptions for 1,131 receiving yards and 8 touchdowns. That ranked him 30th in receptions, 12th in yards, and his 15.9 yards per catch was 32nd among players with 40-plus receptions.
What makes it all the more special is the fact that Colorado State was arguably the worst offense in the nation, at 16.9 points per game, which ranked them 129th of 131 teams. Horton was far and away the Rams' best threat, and yet he still was able to put up those sensational numbers.
Clay Millen was a redshirt freshman last year, and he undoubtedly set himself up for success this year after gaining all that experience last season. He'll be a better passer this year, especially with the improved offensive line blocking for him, and that should mean even better numbers for Horton.
The senior receiver is on the Biletnikoff Award Watch List, which is awarded to the top receiver in the nation, with 49 others. Notably, former Ram Rashard Higgins came in second for the Biletnikoff Award in 2014. He's also on the Hornung Award and Maxwell Award watch lists. The Hornung Award is given to the top player who contributes at multiple positions, and Maxwell Award is for the best player in college football. Besides catching the ball, Horton threw it twice and ran twice last year, in case you're wondering about the multiple positions part of the Hornung Award.
Jack Howell on Bednarik Award Watch List, two more
Howell's a remarkable safety and the junior is also coming off a superb season. Last year, he was named First-Team All-Mountain West by the league and Pro Football Focus, and led the entire nation's defensive backs with 108 total tackles. Howell also intercepted three passes, broke up three, forced a fumble and had 0.5 a sack.
"I think we're going to have one of the best defenses in the Mountain West Conference," Norvell proclaimed last week.
"We're taller in our secondary. We added some tall corners with length," he continued. "I think we've got the best secondary in the league. I think we have the best safeties in the league."
Howell's watch lists include the Bronko Nagurski Trophy, Chuck Bednarik Award, and Jim Thorpe Award. The Nagurski Trophy is voted on by the Pro Football Writers Association of America and awarded to the nation's best defender. The Chuck Bednarik Award is also for the nation's best defender, voted on by the Maxwell Football Club. And the Jim Thorpe Award goes to the best defensive back in the nation.
Kobe Johnson lands on Doak Walker Award Watch List
Kobe Johnson is likely a new name to Colorado State fans, but he's certainly one to keep an eye on. Johnson is a graduate student transfer from North Dakota State University where he rushed for 2,500 yards and 18 touchdowns during his career there.
Last year alone, Johnson rushed for 926 yards and nine touchdowns, which is a great season for a back. He's on the Doak Walker Award Watch List which is given to the top running back in the nation.
Paddy Turner on Ray Guy list
Colorado State has long been home to phenomenal punters, like Ryan Stonehouse and Tom Rouen, and Paddy Turner is getting some love in the preseason. He's on the Ray Guy Award Watch List, which is awarded to the best punter in the country.
Turner averaged 39 yards per punt on his 65 boots last year, including a 56-yarder as his season-long.