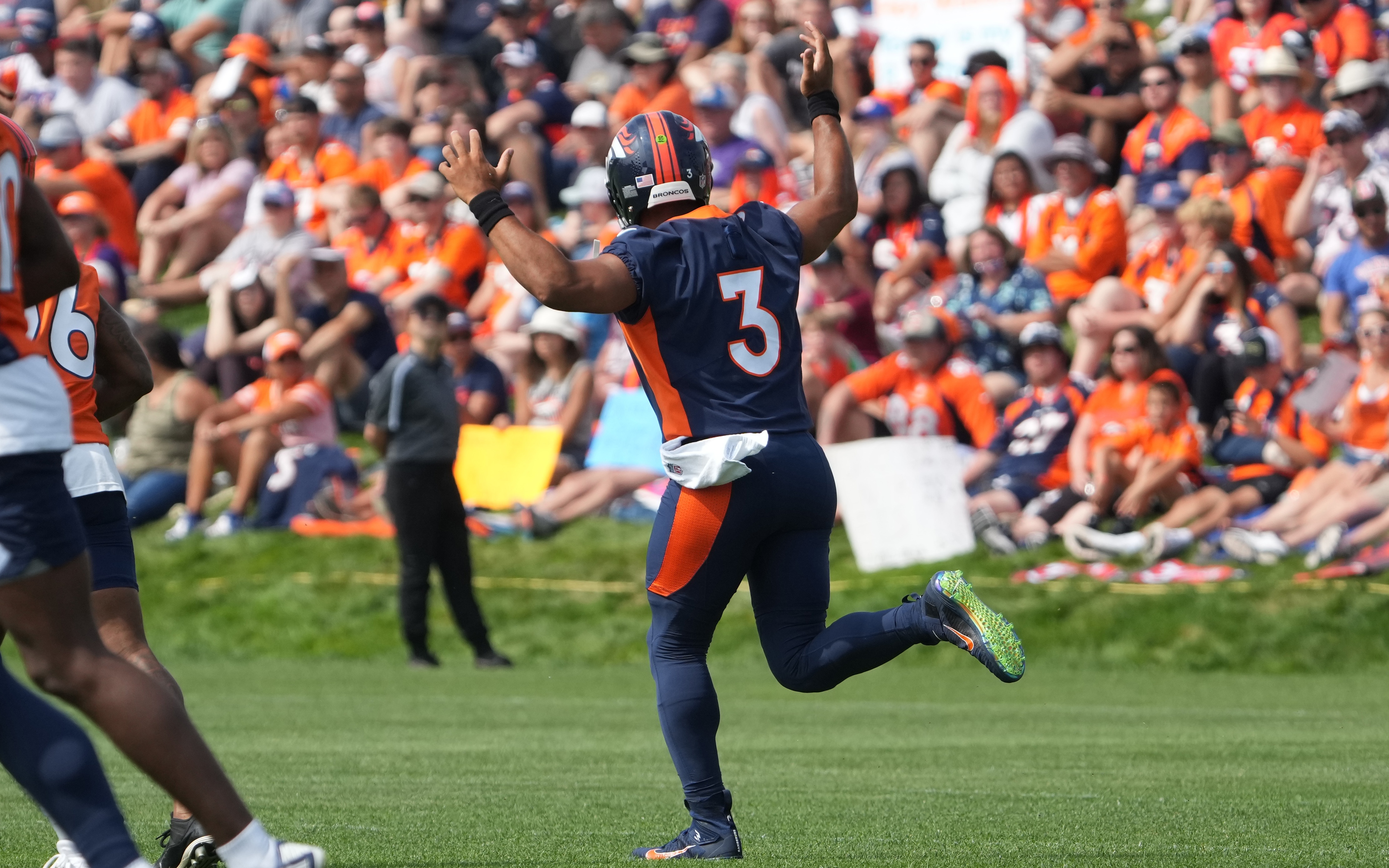 Adding Russell Wilson to their roster this offseason presents a mixed bag for George Paton and the Denver Broncos.
On one hand, he's been a top-10 quarterback for his entire 10-year career with the Seattle Seahawks and more like top-3 when it comes to his deep ball.
On the other, Wilson will be 34 years old when the regular season kicks off, and he's coming off one of his worst seasons. That's due to the fractured finger he sustained on his throwing hand when it came into contact with Aaron Donald's hand during a Week 5 loss to the Rams.
Some Seahawks fans — clearly upset with Wilson being traded away — are taking to Twitter to say he's "washed." There's evidence the injury certainly hurt his production last year, too; he struggled in his first two games back, and then again versus the eventual Super Bowl champion Rams.
However, he did close the season out strong, leaving Broncos fans appropriately hopeful going into this year.
And how can Denver fans not be excited? Since Peyton Manning retired and the team won Super Bowl 50, their quarterback play has been mediocre-to-awful while they've missed the playoffs the last six straight seasons.
For a visual on how bad the Broncos quarterbacking has been, this tweet shows touchdown pass totals as well as TD/INT ratio from 2015-2021. The Broncos ranked dead last in the NFL with a mere 134 passing touchdowns over the span, and their TD/INT ratio was second-worst at 1.16 per contest.

Meanwhile, Wilson's Seahawks had the second-most touchdowns (227) and second-best TD/INT ratio per game (3.20) only to the Packers. Of course, that's even better news considering former Packers offensive coordinator Nathaniel Hackett will be calling the plays for Russ this year.

So, how exactly can Wilson help the Broncos offense this year? Let's dive in:
Passer rating
OK, we get it. Passer rating isn't really the best indicator of how well a quarterback plays. But, we'll get into more advanced stats in just a second.
As far as passer rating is concerned, those of us who were watching football 25 years ago remember it as the standard for measuring a quarterback's success back in the day. The way football is evaluated has evolved a lot over time, but passer rating can still give us some sort of indicator of a QB's production.
While passer rating goes from 0-158.3, 100-or-better is the benchmark and "DangeRuss" is the best in the NFL over the last five years:
Most games with a 100+ QB Rating over the last 5 seasons

Russell Wilson 45
Tom Brady 42
Aaron Rodgers 40
Kirk Cousins 40 pic.twitter.com/suNjW39VFF

— NFL on CBS 🏈 (@NFLonCBS) July 25, 2022
Big time throw percentage
Now on how those stats have matured over time.
Pro Football Focus, the leader in analytics for the NFL, helped re-evaluate passer rating by adding in big time throw percentage as well as turnover worthy throws (that's up next!).
Per PFF's 2022 QB Annual, Wilson's Big time throw percentage was third-best in the NFL last year, even with his injury.
What exactly is a big time throw? PFF explains:
"In its simplest terms, a big-time throw is on the highest end of both difficulty and value. While the value is easy to see statistically, the difficulty has more to do with passes that have a lower completion percentage the further the ball is thrown down the field. Therefore, the big-time throw is best described as a pass with excellent ball location and timing, generally thrown further down the field and/or into a tighter window."
It's no secret that Wilson has been one of the best deep passers in the league for a long time. In fact, if there were a weakness in his game, it would be the shorter passes across the middle of the field, which are usually some of the easiest ones to complete.
When you look at that QB annual, Pro Football Focus has Wilson as the third-best passer when it comes to big time throws. And that's crucial because Denver's offense has been missing that quick-strike ability — with consistency — for years.
Turnover worthy throw percentage
The other key metric in how PFF evaluates quarterback play is their turnover worthy throw percentage.
From Pro Football Focus:
"For quarterbacks, there are two ways to achieve a turnover-worthy play: Throw a pass that has a high percentage chance to be intercepted or do a poor job of taking care of the ball and fumbling."
Broncos Country knows all about that sort of play, especially of late with Teddy Bridgewater and Drew Lock at the helm of the offense. Bridgewater was 21st in the league last year, while Lock was 31st in 2020.
In 2021, Wilson's turnover worthy % was sixth-best in the NFL:

Turnovers are drive-killers, momentum-stealers and they simply contribute to losses more often than not. There's a reason why NFL game previews usually highlight "ball control" as a key to winning a game: Nothing is more indicative of wins and losses in the NFL than turnovers.
Luckily for the Broncos, Wilson protects the ball among the best in the world. He's not going to force a pass into a covered receiver, or toss up a 50-50 ball very often. In fact, PFF shows even his inaccurate passes are catchable:

Big time throw rate vs. Turnover-worthy play rate
Now, when we put it all together, Wilson is again among the best in the league when plotting big time throw percentage versus turnover worthy plays.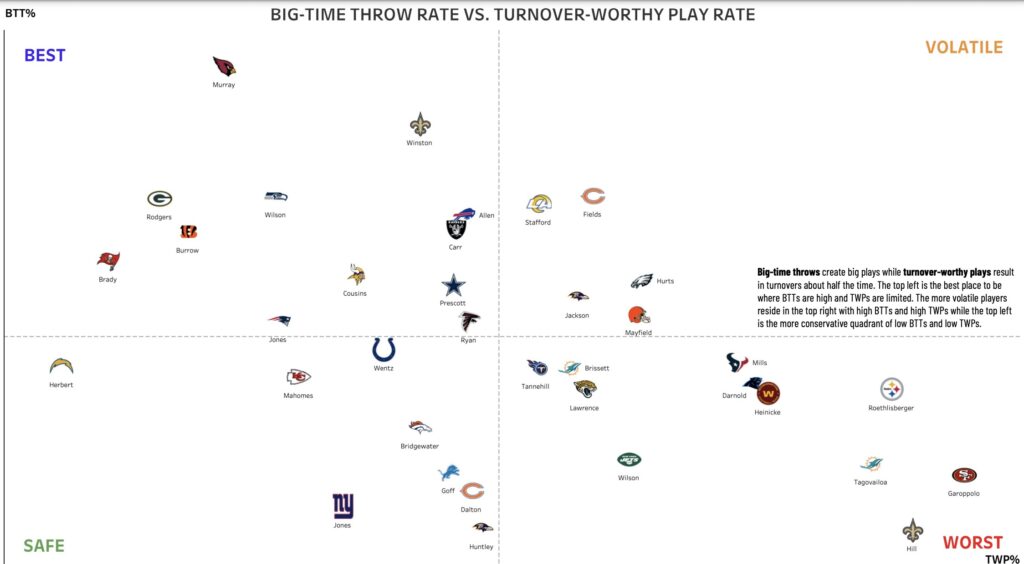 Keep in mind these are Wilson's numbers from 2021, when he fractured a finger on this throwing hand, which is arguably the worst kind of injury a QB can sustain.
If we look back to 2020, his last fully healthy season, the superstar QB was No. 1 in the league in big time throw % and he was No. 5 in turnover worthy play %. He and Aaron Rodgers were tied as the best QBs in the league that year.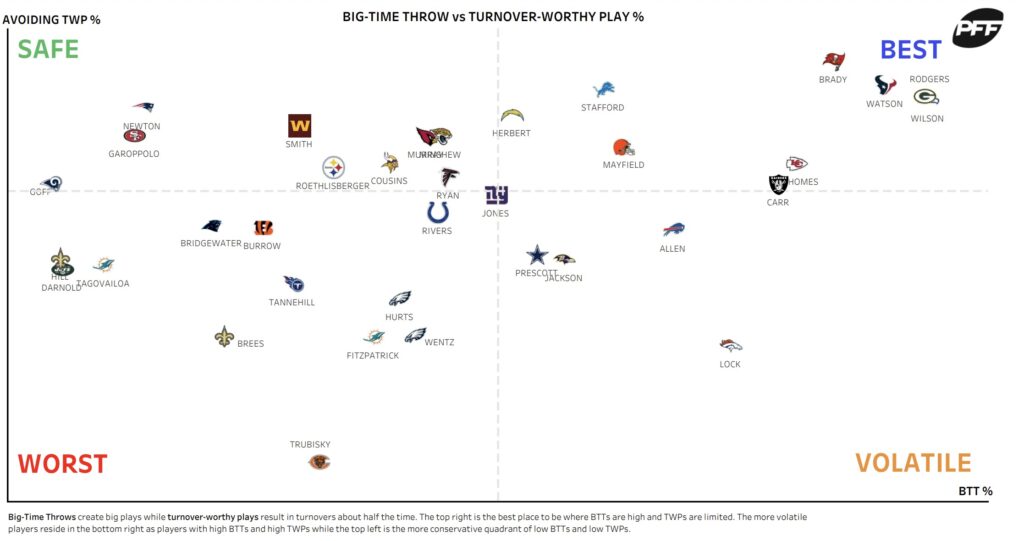 What does it all mean?
Wilson is going to be a massive upgrade over Lock and Bridgewater and the rest of the recent QBs. We already knew that, but this defines just how.
His passing will be an improvement in big time throws — which can break games wide open — while simultaneously being much better than others in turnover-worthy plays, too.
What's even more encouraging is the fact he was so dynamite last year, even during an injury-disrupted season.
Wilson and the Broncos kick off their regular season on Monday, Sept. 12 in Seattle against his former team, the Seahawks, on Monday Night Football.