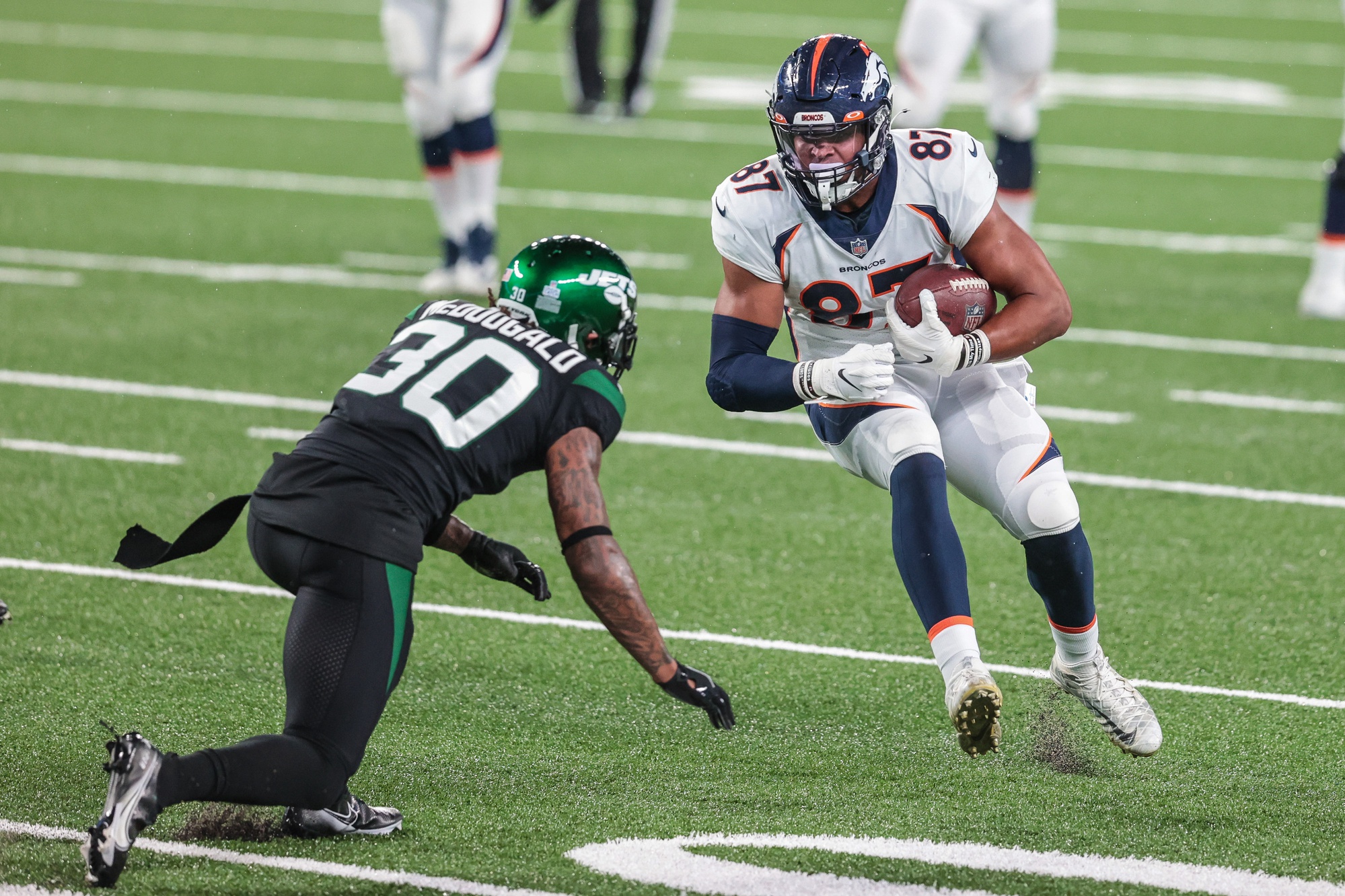 What are we going to do about the Broncos?
Well, you aren't going to do anything other than sit on your couch and take it. And take it you shall, week after week of watching an injury riddled team get hammered further down the rankings.
This has to be the most trauma filled season in the entire history of the Broncos, and because of that you just have to throw your hands up and wonder when the suffering will end. They may have won this week, but it was against an even more horrendous Jets team that they should have beaten regardless, even with all of these injuries.
It's a shame all of these talented players are out for the season, but it's not that bad for the fans. Bear with me here.
The outcome was probably going to be the same whether they were healthy or not. Missing the playoffs while their AFC West counterparts make their usual runs into the postseason was a given. Now at least there was a concrete reason for the Broncos failures and if you give me the option of just missing the playoffs or missing the playoffs but getting top three pick, I'm going to take the latter.
The Broncos were still at least a year or two away from really making noise in the NFL, so faltering this season makes no difference at all. Of course you don't want your team to suck, but the Broncos weren't going to be great this year. You were going to be disappointed down the stretch anyway, so this is fast forwarding through all of that pain to a dejected state you were already going to be in early January regardless. A fully healthy Broncos team might have pushed for a playoff spot, but there was no way they were getting past the Ravens, Chiefs or the Bills. The Bills? Yes, the Bills.
I was really stunned that we could have been a week away from seeing Blake Bortles play QB for the Broncos (insert horrendous QB carousel graphic from MNF) before Brett Rypien's solid but up and down performance. Bortles, even though mostly horrible, could still probably play, but when you're banking on him to keep things afloat while your young, talented QB heals up, it doesn't really boost fan morale. Rypien was a nice surprise but he won't have the same success next week against the Pats like he did against the hapless Jets.
If this was a season where the Broncos were in a contending window, you could go ahead and be sad, but instead this is just pretty damn funny when you think about it. In a year with so much suck, this is the perfect conclusion for a Denver sports team and makes you say "oh of course, 2020." And I'm certainly not in for any of this tanking business. As many people have pointed out, players don't tank. They are playing for their next contract and won't take it easy for draft placement on a team they may not even be on next season. No, they're just going to be bad and that's fine. Like going to the Post Office and being upset there is a line, you knew what was coming, take it in stride.
The Broncos will be beaten and beaten often this season, but you shouldn't do the same to yourself. The victory over the Jets was exhilarating but there won't be much of that this year. This season is OVER so there's no reason to fret. It's not how we wanted it to go, but there's a bit of that going around already. So suck it up, 2021 and a grand Broncos future is just around the corner.
Worship at the feet of you lord, Gamblor this weekend with these picks:
Dallas -4.5 v the Browns
The Browns are going to Browns. Sure they've looked decent but the Cowboys are one freaky onside kick from being 0-3 and they are not as bad at the Browns. Dallas gets back on track big time this weekend.
Bears v Colts Moneyline (+115)
If you think the Bears will win outright like I do, then take the ML bet because it pays more than the meager -110 taking the spread.
Jags v Bengals Moneyline (+138)
Same deal, I think the Jags win this and the ML bet pays far bette than the spread which is +3.
Seattle, Jags, Raven parlay
I think the Ravens win big but betting on them doesn't win you much, so that's why I'm parlaying them with the Seahawks and the Jags which could turn your measly dollar into $3.69. Nice.