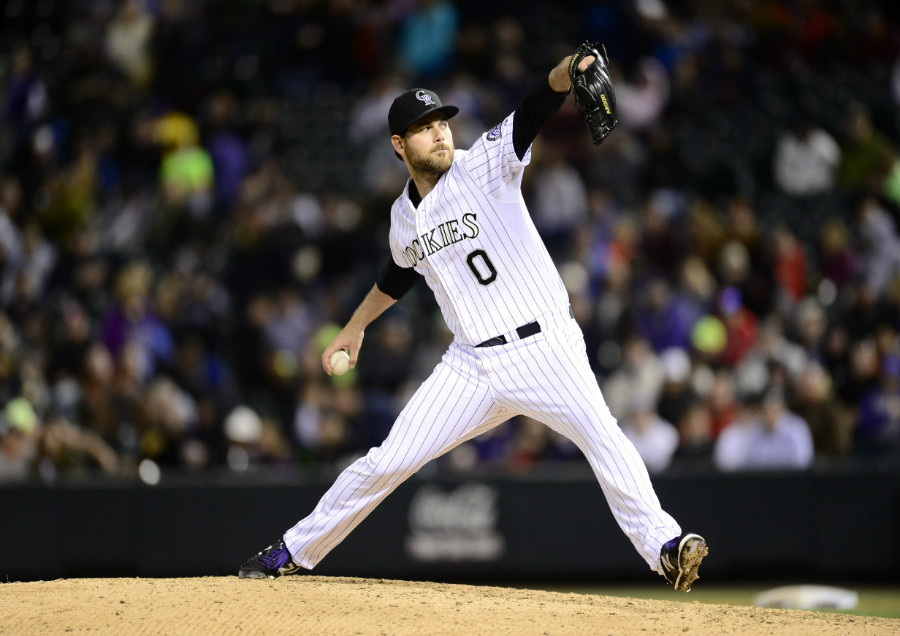 Colorado Rockies reliever Adam Ottavino threw live batting practice for the first time on his road to recovery from Tommy John surgery, and the results were as expected.
"I felt good. It was cool," he said. "I haven't seen a hitter in there in a while. It was nice to be able to gauge where to throw my pitches a little better. I had fun."
Ottavino threw 21 pitches to bullpen catchers and Rockies legend Vinny Castilla; while his pitches were effective Ottavino made it known that he was doing it against lesser competition.
"It's nice, but I'm facing a bullpen catcher and a coach," Ottavino said smiling. "I threw everything the way I would've thrown it in a game. I was pleased. I just try to make pitches."
Overall, manager Walt Weiss was pleased with the way Ottavino performed on the mound.
"I commend him for getting in there." said Weiss "He was throwing hard. There was a lot of life. Looked pretty much like it always has."
Weiss said Ottavino would probably throw a couple more live batting practice sessions before the next phase of the plan is put into play.
Ottavino is a proven arm with a career ERA of 3.88 that will help lock down a bullpen now filled with seasoned veterans and impressive youngsters.
When Ottavino returns he will join Miguel Castro, Jake McGee, and Jason Motte in the back part of the bullpen.
"It's just a matter of time now. I just need a little more practice," he said I'm not worried about my elbow. I just need to practice to get as sharp as I can so, when I do come back, I can pitch well."