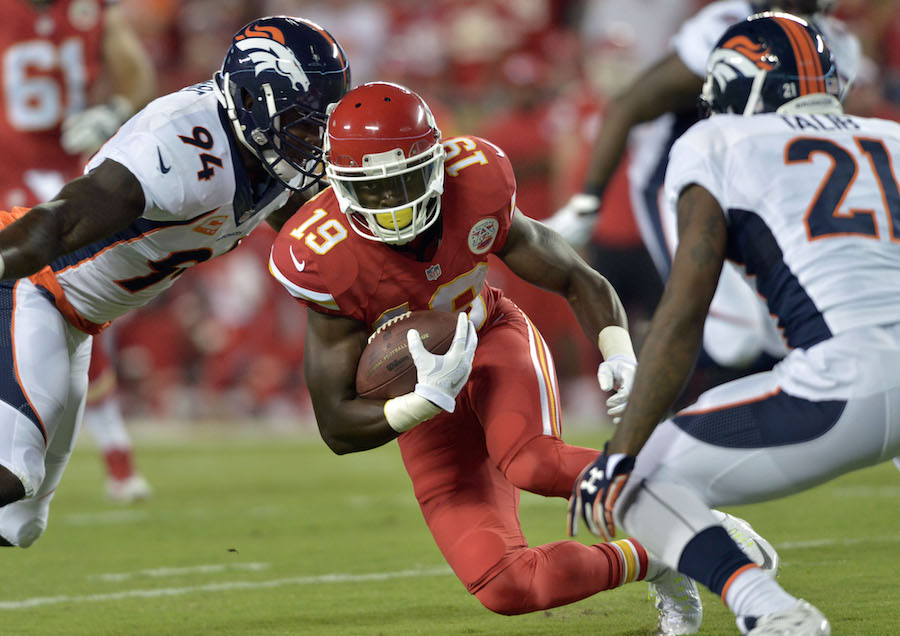 I'm going to confess upfront: With the Denver Broncos down by a touchdown to Kansas City in the waning seconds on Thursday night, I had an (almost) completely different column ready to send in. Then, the amazing happened.
Maybe it's not that amazing that Peyton Manning led a last-second, game-tying drive. Even after the Broncos offense had produced some of the ugliest three-and-outs in team history. Even in one of the most hostile environments in the NFL, when he could barely hear the plays being sent in and everything looked stacked against him. He's done that sort of stuff before. But that, followed just nine seconds later by another defensive score for the suddenly ball-hawking, turnover-producing Denver defense, was every bit of amazing. This is a Denver defense that was, frankly, horrible at creating turnovers the past few seasons. Suddenly, even with most of the same players back, a new scheme and new attitude has transformed this outfit into kind of unit that wins Super Bowls.
The fact that Denver found such an improbable way to steal another divisional road game will cover up, at least for the time being, some warts still obvious on offense. Denver's running game remains anemic, and the pass protection is spotty. Much of that can be attributed to all the new faces along the offensive line, and some of it, – let's be honest here – is because Denver doesn't have a standout running back.
C.J. Anderson is a nice story. Undrafted free agent and all that. (Defaulted into the) Pro Bowl last season. Tireless worker who squeezes every ounce of ability he has out of his 5-foot-8, 224-pound frame and leaves everything on the field. It's hard not to love guys like that, and you want them on your team. But just not as the guy. And while Ronnie Hillman was a high draft pick who is just now starting to live up to that, he too, is limited. This was supposed to be the year when another high draft pick, Montee Ball, stepped up and became Denver's go-to ball carrier. That obviously isn't going to happen. So now, absent a supremely talented ball carrier, Denver's run-heavy offense often looks just heavy … at least until Manning is allowed to click into "hurry up" mode and the city of Omaha begins getting a lot of free publicity again.
Still, most experts agree that the "hurry hurry" offense isn't how to win the Super Bowl. During an era where the running back has been deemphasized around the NFL, the Broncos have brought back a system where the running back is emphasized – specifically because they believe that's how they can win The Big Game with Manning. So at some point they have to find the next great Broncos tailback, because he's not on this roster.
The missed draft pick on Ball notwithstanding, the clutch play of Manning (who looked both over-the-hill and Pro Bowl caliber at different times in the same game) and the spectacular play of the defense that produced five turnovers (after going +1 last week in the win over Baltimore, Denver is now +5 in turnover margin after two games) is enough to have Denver at 2-0 heading into a nine-day break. Perhaps the o-line gets some additional practice time together and the unit begins to jell. It might take most of the season for that to happen. For this year at least, Denver will have to make due with ordinary running backs playing in a scheme designed to highlight the position.
Maybe they can because of this spectacular defense. We might as well ride this wave as long as it goes, right? It's been awhile since the Orange Crush defense was taking the ball away from the opponents at key times, setting up an opportunistic offense to close out big wins. Back then they were making miracles happen (and recording songs about it) and no one fussed about the struggles of the running game.
I'm not big on nicknames, but what about "Agent Orange" as a moniker for this destructive unit? (In today's PC world, maybe that's in poor taste?) Regardless, what we do know is that Wade Phillips' defense is definitely an agent for change, a change that should make the growing pains of the new offensive scheme much easier to handle.
Listen to Mark Knudson and Michael Klahr, Saturday mornings 8a-10a on Sports Stampede Radio on Mile High Sports AM 1340.