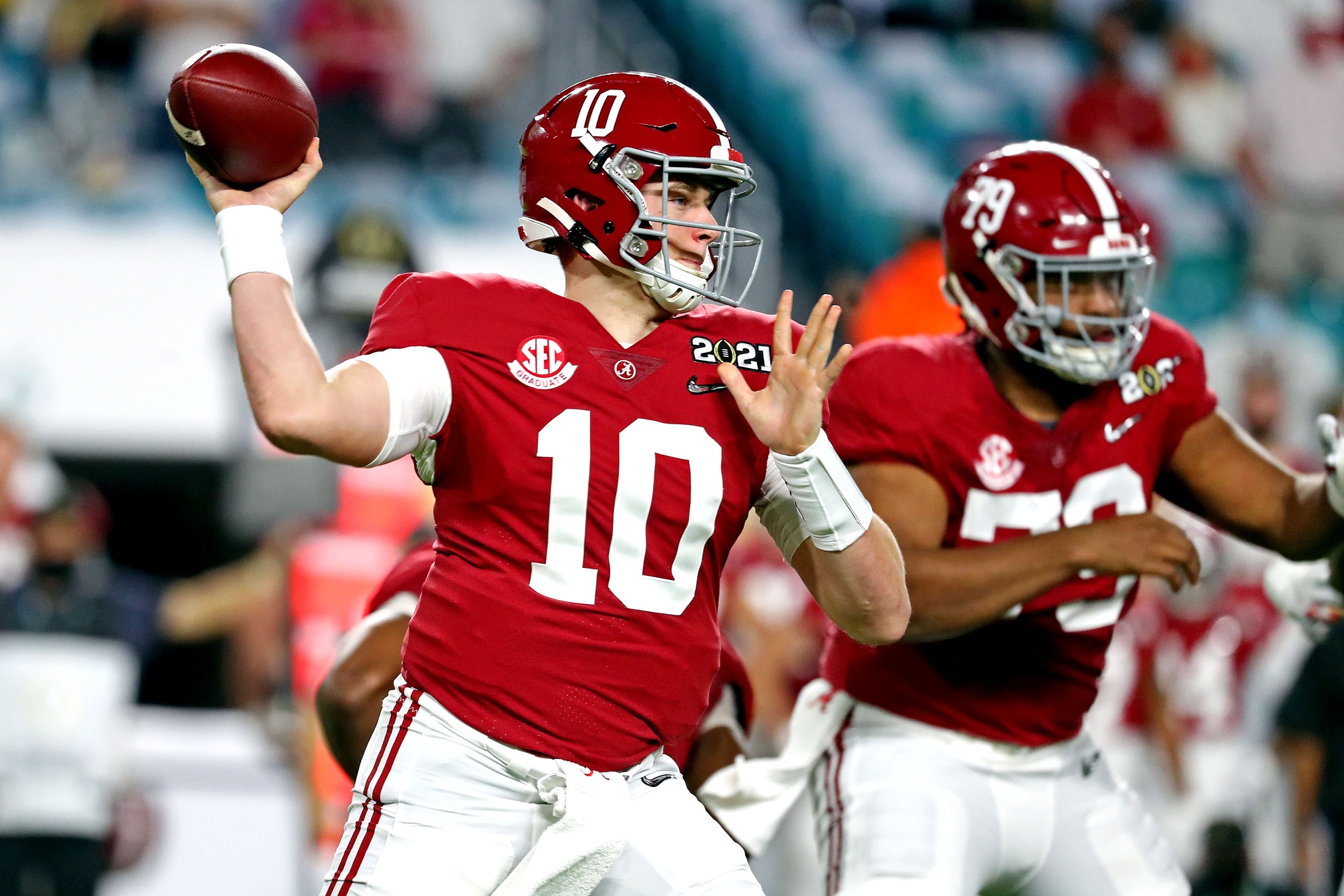 It's a big ask.
Then again, the Broncos – and their new general manager George Paton – have big work to do.
Six years. Many, many millions. This, George Paton, is what you're paid to do. Perhaps more than anyone – any owner, any previous Broncos player or executive, any trustee – this is your team. To some extent, you're currently the most secure Bronco there is.
Missing the playoffs in Denver? It's not cool. This matter of a practice squad secondary? So unnecessary. And in a title town like Denver, Colorado – built and built upon by the likes of John Elway and Peyton Manning? Well, you can't afford to enter too many seasons without the guy at the quarterback position. This is nothing new; all of it should have been covered in the interview process.
So, General Paton, want to slip those keys to the city away from Sherriff Elway and into your very own pocket? Pull off this miracle: Alabama quarterback Mac Jones and Alabama cornerback Patrick Surtain II.
The Broncos biggest and most-discussed needs? They start with cornerback (no team in the NFL was decimated at the cornerback position more than the Denver Broncos) and end with quarterback (no matter what you think of Drew Lock, he's not a lock). The Broncos won't be able to draft Clemson's Trevor Lawrence or Ohio State's Justin Fields, but there are plenty of mock drafts that have Surtain drafted ninth (where the Broncos pick) or later. And you won't find a mock draft that has Jones higher than 15th – and you probably won't find one that has him rated higher than BYU's Zach Wilson.
Surtain should be the Broncos first, first-round selection. They're slotted high enough and Surtain is the kind of player that would be hard to pass up. He checks the box in the "best player available" and "player of need" categories. Nabbing Surtain in the first round should be a no-brainer, can't-lose, obviously-obvious selection.
First first-rounder, though?
That's right. Look, General (manager) Paton, you, sir, could sure use two first round picks. And it's not impossible. Drafting Surtain at No. 9, or perhaps even lower, and then somehow finagling your way into the top-15-to-20 with another pick should be doable. How, exactly, yours truly isn't sure, but surely there are enough assets in Denver to make that happen. Again, this is why you got that six-year deal. Work your magic.
What happens in rounds 2-through-6 isn't inconsequential – they're important, too. But the Broncos have become all too good at finding fill-in guys. That's what any good GM can find in round 3 or after or via free agency. The Broncos need franchise guys. Surtain seems like one of those guys.
Jones? He may or may not be. Actually, that can be said of Drew Lock, too. It's a coin flip as to which guy becomes (or never becomes) a franchise quarterback.
Consider this though: Jones might be the biggest sleeper to come through the draft in years. In a normal year, Jones might have stolen some of the thunder from Lawrence or Fields. But in 2020, he flew beneath the radar. Until, that is, he shined in the national semifinal and final. Jones' 77.4 percent completion rate is an NCAA single season record. Meanwhile, his 203.6 passer efficiency rating is better than Joe Burrow's 201.96 record set a year ago.
And it's not like Jones played a watered-down, six-game, pandemic schedule – like, oh, let's say, Ohio State. No, no. Jones' Alabama team was practically pandemic proof – playing a full slate of 13 games, mostly against SEC opponents or in the College Football Playoff. And who cares what he looks like shirtless?
"He makes his living with his arm, not his athleticism," said Gil Whiteley, accurately, on Mile High Sports Radio yesterday.
Know who else doesn't look great in a Speed-O?
The Broncos absolutely need a cornerback. They may or may not need a quarterback. They probably need a franchisequarterback. Surtain is a lock-down corner. Jones isn't a lock, but he's every bit the lock that Lock is. There's upide there that doesn't come around too often. Besides, both Surtain and Jones know a thing or two about winning at the highest level.
Is asking for both too much?
Sure, it's not likely. Drafting twice in the top-20 is a tall order; two times in the top-15 is even taller. But, the Broncos have some things – draft picks, aging Pro Bowlers with trade friendly contracts, depth in some positions and not others. Landing one of 'Bama's stars is extremely doable. Getting both is a possibility that will require some fancy maneuvering
As luck would have it, the Broncos now have a new general manager.
What do you say, George Paton? Land a corner and a quarter from the national champs, and define Broncos football for the next six years in just one draft.
Make a splash.