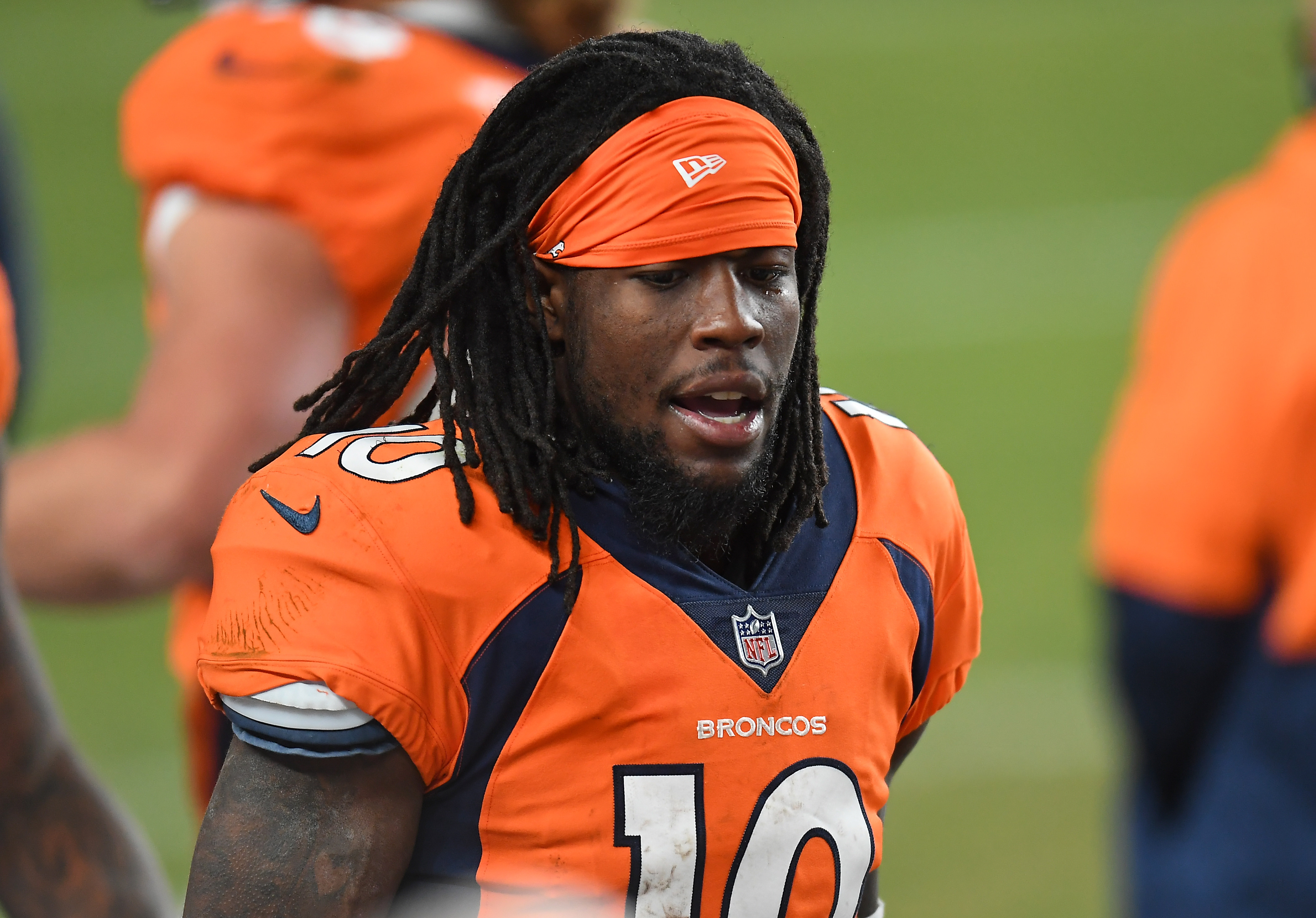 On Tuesday, ahead of a scheduled hearing in Arapahoe County, CO, an Arapahoe County judge has dropped all charges against Denver Broncos' wide receiver Jerry Jeudy, stemming from an arrest earlier this month. 
The Arapahoe County district attorney's office filed a motion to have all charges dropped early Tuesday morning, which was quickly approved.
Judge has signed motion to dismiss so charges against Jeudy officially dropped. He's still subject to possible NFL discipline under its personal conduct policy but suspension not expected given circumstances of case and dismissal. #9sports https://t.co/nV7iETAZp4

— Mike Klis (@mikeklis) May 31, 2022
District Attorney John Kellner explained the decision, saying, "The People believe probable cause existed for the arrest of the Defendant, and that law enforcement's decision to arrest the Defendant was legally correct. However, in deciding whether to pursue a case, the People are bound by the higher ethical standard of reasonable probability of success at trial and the legal standard of proof beyond a reasonable doubt."
In response to the news, Jeudy's attorney, Harvey Steinberg, told ESPN, "After reviewing the evidence, I always believed that no crime had been committed and all charges would be dismissed."
Jeudy was taken into custody on May 12 and was charged with second-degree criminal tampering with a domestic violence enhancer, a misdemeanor. Jeudy did have to spend that night in jail but was released after a court appearance and a paid $1,500 personal recognizance bond the next day.
According to records, the victim, the mother of Jeudy's recent newborn, reported that Jeudy had locked her wallet, a car seat, and their child's medical papers in his car and would not give her access. She told officers that she was trying to leave their home and wanted her property back, but he would not give her access to them.
Jeudy told police the woman had taken one of his phones. In a court hearing the day after the incident, the woman told a judge she did not want charges to be filed.
Per Colorado law, the domestic violence enhancer was added to the charge because the altercation involved the property of the mother of Jeudy's daughter. Also, per state law, anyone charged with domestic violence or a domestic violence enhancer must be held without bond until they appear in front of a judge.
At the time of the incident, Arapahoe County Sheriff Tyler Brown made it clear that no physical contact was made during the incident, saying, "It solely involved property, and there was no damage to property."
With the scheduled hearing canceled, Jeudy is available and can attend the team's Tuesday OTAs. 
While it seems unlikely the team will dish out a suspension, according to NFL's Tom Pelissero, league disciplinary action is not off the table.
While #Broncos WR Jerry Jeudy won't face criminal charges, it's still possible Jeudy could face NFL discipline.

From a league spokesman: "We've been closely monitoring all aspects of the matter, which remains under review of the personal conduct policy."

— Tom Pelissero (@TomPelissero) May 31, 2022
Despite a disappointing first two seasons, with the recent trade addition of Russell Wilson, Jeudy is expected to have a breakout year in 2022.