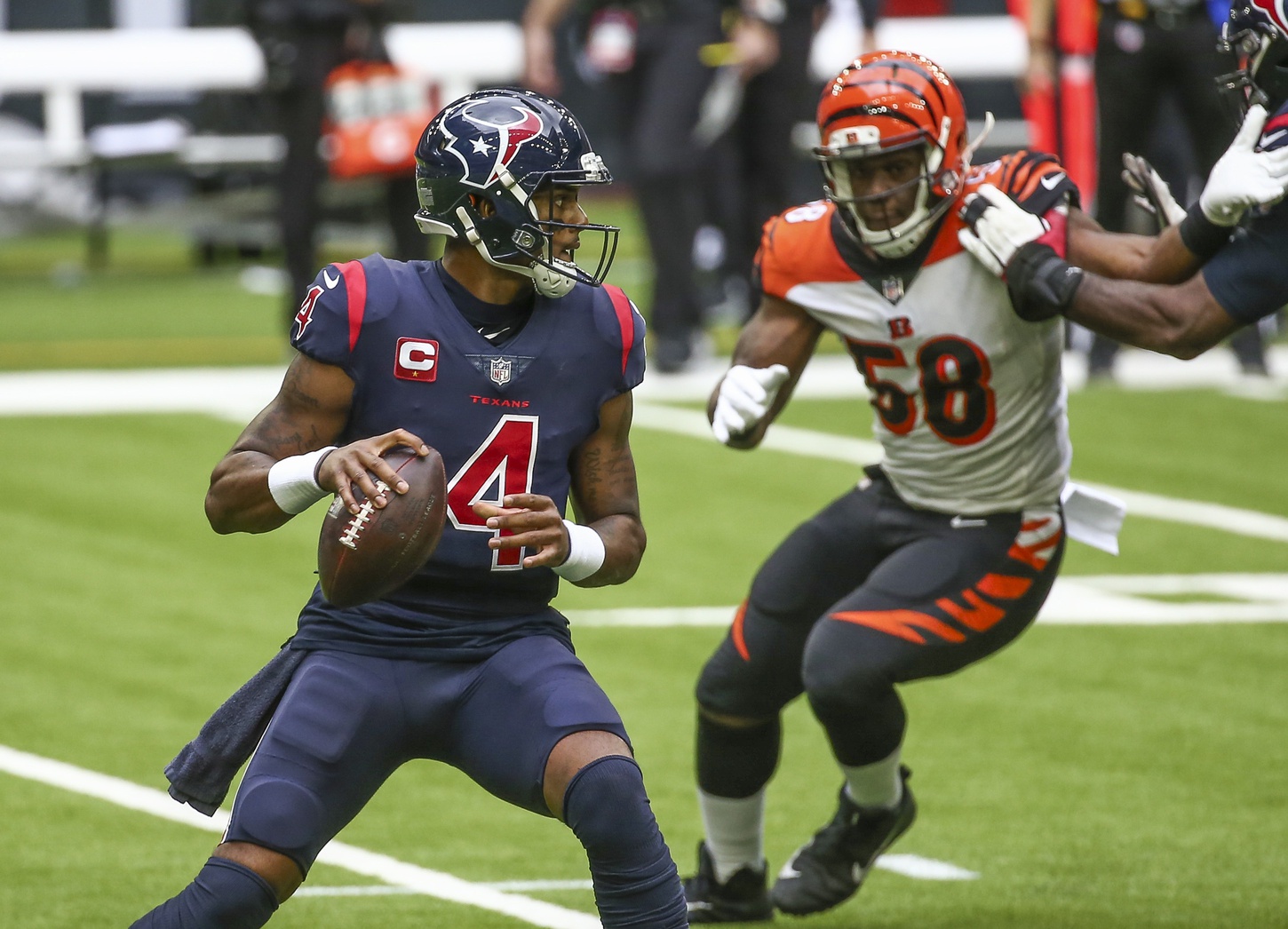 adjective; of, relating to, or having the character of an imitation : SIMULATED, FEIGNED
Ah, it's that time of year again. Time for everyone's least favorite sports "news" – the mock draft. If the origin of "mock" is mockery, then these silly lists are aptly named. Anyone can create a mock draft without thought or consequence. And there are literally thousands of them, none of which actually matter.
But, we do them – and read them – anyway.
Case in point: Yours truly thinks the practice of creating the might-be, should-be, won't-be order in which the newest NFL draft class is selected is utterly ridiculous. Yet, I was just baited by the ultimate in click bait: This one.
Those damn headlines can really getcha, and this one hit me in the soft spot.
"Broncos acquire Deshaun Watson…"
Like a Largemouth Bass on one-a-dem Sunday mornin' fishin' shows, I bit.
After watching the post-Manning Broncos for five, painful seasons now, I – like practically everyone in Broncos Country – would love to see a legitimate quarterback back under center for the Broncos. And with Watson, that's essentially a lock (no pun intended). But this particular article isn't about why Watson is a great fit in Denver – we already know that. Instead, it's about how new general manager George Paton can both learn from history and become the most popular man in Denver, all in one fell swoop.
And, by the way, price be damned.
According to our mock-drafting friends at Pro Football Focus, Denver could (will?) trade out of the 9th pick of the draft with Houston. The Texans, obviously, will send Watson to Denver in exchange for, not only the 9th pick this year, but also a 2021 second-rounder, a 2022 first-rounder, a 2022 second-rounder and a 2023 first-rounder.
Sounds like a lot of draft capital. Actually, it is a lot of draft capital.
So, where does George Paton sign?
Before Paton says, "No thanks" (and I'm not saying he will or won't), history should be considered. Some key facts:
The Broncos have never won a Super Bowl without a Hall of Fame quarterback.
The only Super Bowl the Broncos ever even went to without one was in 1977, a different era, but also an outlying season in which Denver had one of the premier defenses in the NFL in the Orange Crush. They went on to lose that same Super Bowl to, you guessed it, a team quarterbacked by a future Hall of Famer.
As a general rule of thumb, when the Broncos have been quarterbacked by either John Elway or Peyton Manning, they've been "good" (even if they don't win a Super Bowl). In their 20 combined seasons, the personal QB records held by Elway and Manning in Denver only show two losing campaigns (Elway's rookie season in '83, and in 1990, one season after getting pummeled by the 49ers in the Super Bowl).
Point being, it doesn't take a great team to have a respectable season – only a great quarterback.
For those who remember many of Elway's supporting casts, the word "great" doesn't come to mind very often. Perhaps the only "great" teams Elway quarterbacked were the '97 and '98 iterations, both of which won Super Bowls. Elway took a lot of very mediocre teams and made them highly competitive. How? Easy. He was a great quarterback, and that's of utmost importance.
Manning might have had better teams top to bottom while here in Denver, but he too lifted a team that had just overachieved with Tim Tebow (or underachieved with Kyle Orton) and made them a force. Even the team that won Super Bowl 50 had a makeshift offensive line and a stuck-in-the-mud offensive gameplan that worked primarily because it was being run by a Hall of Fame signal caller (Trevor Siemian didn't have the same luck with the same system just one season removed).
If George Paton understands this – the concept that great quartebacks practically guarantee good teams, even if the rest of the roster is just "okay" – then there's no price too high for Watson.
And if he understands it and makes it happen, he'll suddenly be the most popular man in Denver. Who cares if the Broncos don't have future draft picks? That's a problem for later and for lesser GMs. Paton can fill in most gaps creatively, but a quarterback either is or isn't good enough. Watson is undeniably good enough and Broncos fans will undeniably be excited about a team quarterbacked by him next season. If Paton trots out Drew Lock, fans will be cautiously optimistic. When Lock throws that first pick or losses that first game, they'll be wishing all those draft picks had been sent to Houston.
Plus, Watson has a lot of football left, so there's plenty of time to build up a roster around him – even if you don't have a few high draft picks to work with.
Whether George Paton is trying to win the court of public opinion or the Super Bowl, the only step in either process is finding a bona fide quarterback. Because if you don't have that, you've got nothing.
If I'm reading my Pro Football Mock Draft correctly, the Broncos should do exactly what author Anthony Treash is suggesting (or maybe more): Get Watson, and get back to being the Denver Broncos we know and love.
Go all in, or go into 2021 without much hope.