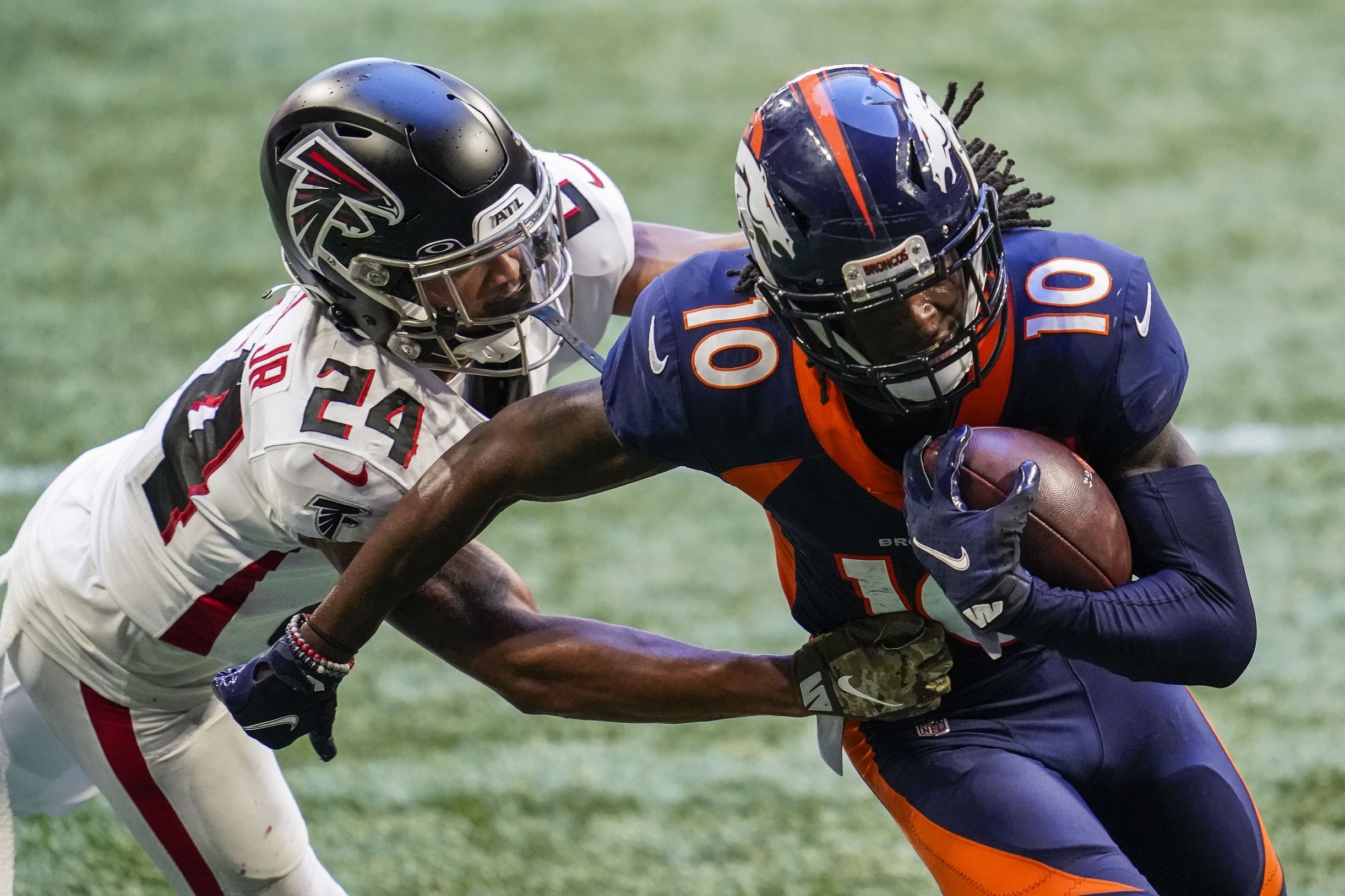 It happened again.
After an exciting come-from-behind win against the Los Angeles Chargers in Week 8, the Broncos found themselves trailing at the half once again. This time it was against one of the NFL's worst teams, the Atlanta Falcons. Denver's offense was nowhere to be found before the break, trailing 20-3 on the road.
It was the third straight week that the Broncos entered the second half not only trailing but down by double digits.
"We definitely have to get it remedied, that's for sure," Broncos coach Vic Fangio said.
Two weeks ago, Denver trailed 24-9 against the fly-flying Kansas City Chiefs, led by superstar quarterback Patrick Mahomes. Surprisingly, that was the best offensive output it had in this three-game stretch. Against the Chargers last week, the Broncos trailed 14-3 at halftime before mounting a 31-30 comeback. But it was too little too late against the Falcons.
Quarterback Drew Lock and his Denver offense had another three-touchdown fourth quarter but fell 34-27 after a three-and-out in the final drive in the last minute of the game.
"When one side of the ball is struggling, the other side has to pick it up and we weren't able to do that this week," Fangio said. "We definitely have to start better on offense, start better on defense. When you're on the road — although the road is not the same this year — you're struggling on offense to score and the score is 10-nothing at halftime, nine-nothing, 13-three, it got way out of whack the way it was today."
Seven of Denver's eight touchdowns over the past three games have come in the fourth quarter. This was the second straight week the Broncos offense put 21 points on the board in the final 15 minutes of the game.
Whatever the Broncos are doing in the fourth is working. But it doesn't seem to be enough to keep the optimism flowing from week to week.
"A loss is a loss — you get to use the excuse of a win is a win when you come back in the fourth quarter last week," Lock said. "Sure, we ran some good plays, but not a lot to take from, from a loss, in my mind. Especially when you hear that four or five times."
A bright spot in an otherwise forgettable Sunday for Denver is the effort of its most recent first-round draft pick, Jerry Jeudy. The 21-year-old wide receiver recorded his first 100-yard game in the NFL.
"Jerry is hitting his stride. He's asserting himself in that wide receiver room and in the NFL," Lock said of his teammate. "Maybe earlier in the year, yeah, he runs some pretty crisp and some pretty clean routes, but Jerry is getting physical. He's doing his job extremely well right now and he's playing really, really hard. That's one thing you'll see when you watch his film is that Jerry plays extremely hard. It's one of those things where if he does make a mistake, it's never not at 100 miles per hour and 100%. I'm proud of him."