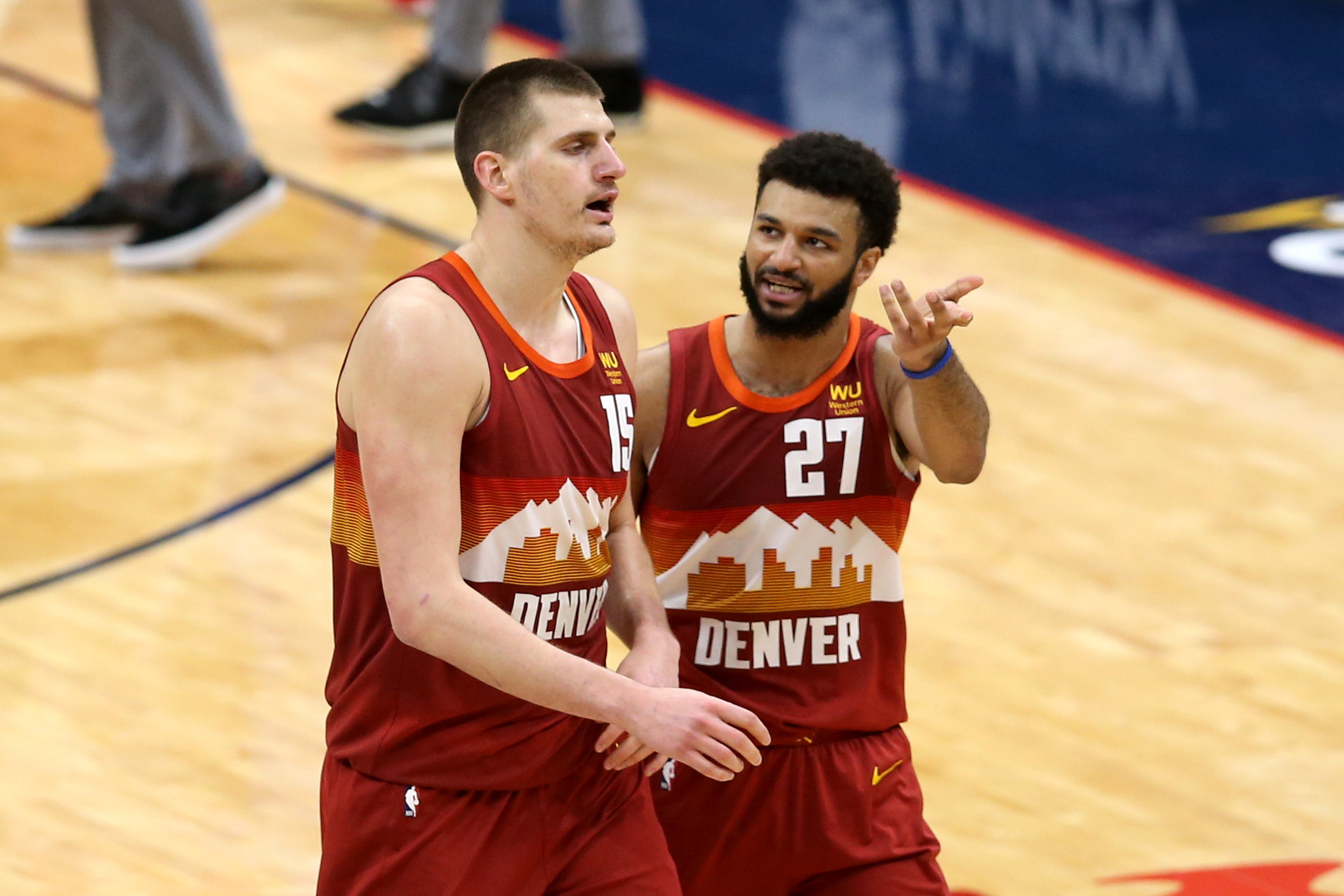 While there are still some big name players that could change teams before the season begins, it appears that the Western Conference is nearly done with the transaction game. Most teams are in the deep offseason, taking a brief hiatus before returning to town some time in the next few weeks. There, they will begin the long process of the 2022-23 NBA season.
Some teams look drastically different. Some look more or less the same. For the Denver Nuggets, both old and new faces will get together for open runs shortly. Jamal Murray and Michael Porter Jr. should be ready to go for camp, while Kentavious Caldwell-Pope and Bruce Brown will get used to their new team. Along with Nikola Jokić, Aaron Gordon, and Bones Hyland, this appears to be the most talented team in Nuggets franchise history. They will compete for their first title opportunity in the coming months.
But just how talented are the Nuggets in comparison to other Western Conference teams? It can be difficult to say, given that "talent" is a fairly subjective word. Karl-Anthony Towns and Draymond Green are both talented in their own unique ways, but they each generate around the same level of impact. At least, according to The Athletic's Seth Partnow.
Seth states explicitly in his Tier List article series that he hates player rankings. Every player fits their team in a unique way, and it can be difficult to quantify just how valuable a player is to their team in the context of the entire league. That's why Seth uses tiers, and Seth's tier lists are what I'm going to be using to quantify how much "talent" each Western Conference team has entering the 2022-23 season.
In a brief summary, Seth breaks his list into five tiers. There are sub-tiers within each tier that I'm not going to focus on. Instead, I will prescribe a point system for each player within a specific tier that looks like this:
Tier 1 – 10 points
Tier 2 – 7 points
Tier 3 – 5 points
Tier 4 – 3 points
Tier 5 – 1 point
For a full explanation of Seth's tier list. click here (though a subscription to The Athletic is necessary).
Where will the Denver Nuggets rank? Let's find out:
---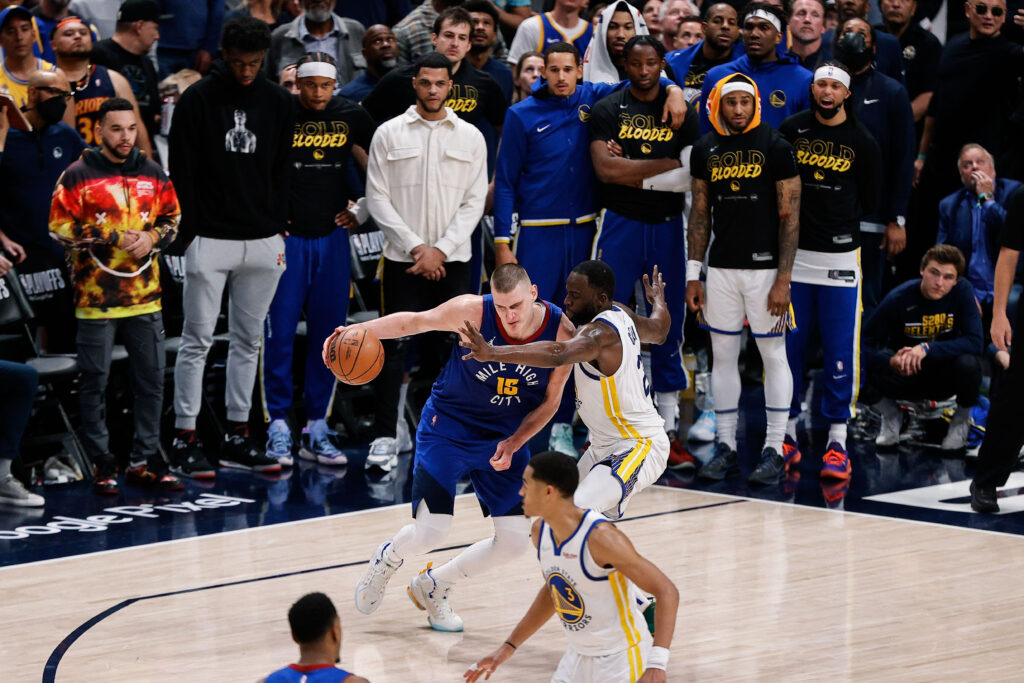 Contenders
1. Golden State Warriors – 27 points
Tier 1 – Stephen Curry
Tier 2 – N/A
Tier 3 – Draymond Green, Klay Thompson
Tier 4 – Andrew Wiggins, Jordan Poole
Tier 5 – Kevon Looney
It's unsurprising to see the Golden State Warriors leading the pack. They did with the 2021-22 title after all. Stephen Curry is one of the most singularly dominant forces in the NBA with his ability to instill fear in the opposition anywhere inside halfcourt.
Draymond Green's defensive value cannot be overstated, and he's such a smart offensive player that he pairs well with Golden State's perimeter shooting. Klay Thompson might be ranked a touch highly, but it's possible that he looks more like the best version of himself after a season of shaking the rust off.
Andrew Wiggins, Jordan Poole, and Kevon Looney each had their own important moments during Golden State's title run. Wiggins was great in the Finals, Poole was great against Denver, and Looney was fantastic against Memphis and Dallas. All three proved useful, and all three are still young.
As long as the Warriors have limited drop-off from their top tier players, they will have a great chance to defend their title.
2a. Phoenix Suns – 22 points
Tier 1 – N/A
Tier 2 – Chris Paul, Devin Booker
Tier 3 – N/A
Tier 4 – Deandre Ayton, Mikal Bridges
Tier 5 – Jae Crowder, Cam Johnson
There isn't a great explanation for why the Phoenix Suns completely melted in Game 7 of the second round against the Dallas Mavericks. They did though, and it left many to dismiss them as true title contenders in the upcoming season.
That completely discounts their level of talent though. Chris Paul and Devin Booker are legitimate difference makers anchoring what was a 64-win team. Deandre Ayton and Mikal Bridges supported the duo well, and since both were drafted in 2018, it's difficult to see them regressing. Both Jae Crowder and Cam Johnson played supporting roles too, and while Crowder may be on the downside of his career, Johnson should get better in his fourth season.
It's fun to dismiss the Suns, but they will probably still be in the mix come playoff time.
2b. Denver Nuggets – 22 points
Tier 1 – Nikola Jokić
Tier 2 – N/A
Tier 3 – Jamal Murray
Tier 4 – Michael Porter Jr., Aaron Gordon
Tier 5 – Kentavious Caldwell-Pope
Now for the Denver Nuggets. They rank 2b and not 2a due to the health uncertainty for both Jamal Murray and Michael Porter Jr., which is fair. They still have Nikola Jokić though, who might be the best player in the league, let alone Tier 1.
Aaron Gordon was Denver's second best player heading into the 2022 playoffs. The Nuggets are hoping he's their fourth best player the next time around. Kentavious Caldwell-Pope rounds out the starting five (neither Monte Morris nor Will Barton made the list) and should provide excellent role player skills around Denver's core. Seth Partnow also mentioned in a recent podcast that Bruce Brown was the very last cut from the top 125 list, so he's a borderline contributor as well. Bones Hyland didn't make the cut, but he could easily make the list next season if he remains productive and efficiency in a high usage role.
Denver's spot near the top of this list is justified in terms of talent. How that talent fits together is the bigger deal, and whether that talent can stay on the floor is most important of all. If Murray and Porter are both close to the best versions of themselves come playoff time, the Nuggets can match up with anybody talent wise. Whether they execute at a high enough level remains to be seen.
4. Los Angeles Clippers – 21 points
Tier 1 – Kawhi Leonard
Tier 2 – Paul George
Tier 3 – N/A
Tier 4 – N/A
Tier 5 – Reggie Jackson, Norman Powell, Marcus Morris, Robert Covington
Another team marred by injuries, the Los Angeles Clippers appear ready to return to the contender tier. Both Kawhi Leonard and Paul George are excellent, and if they're fully healthy entering the playoffs, this ranking feels justified. The Clippers were also the team with the most Tier 5 players, and they probably could have had up to three more in Nicolas Batum, Ivica Zubac, and Terance Mann. This team is loaded with talent, but unless they get the best out of Leonard and George, it won't matter.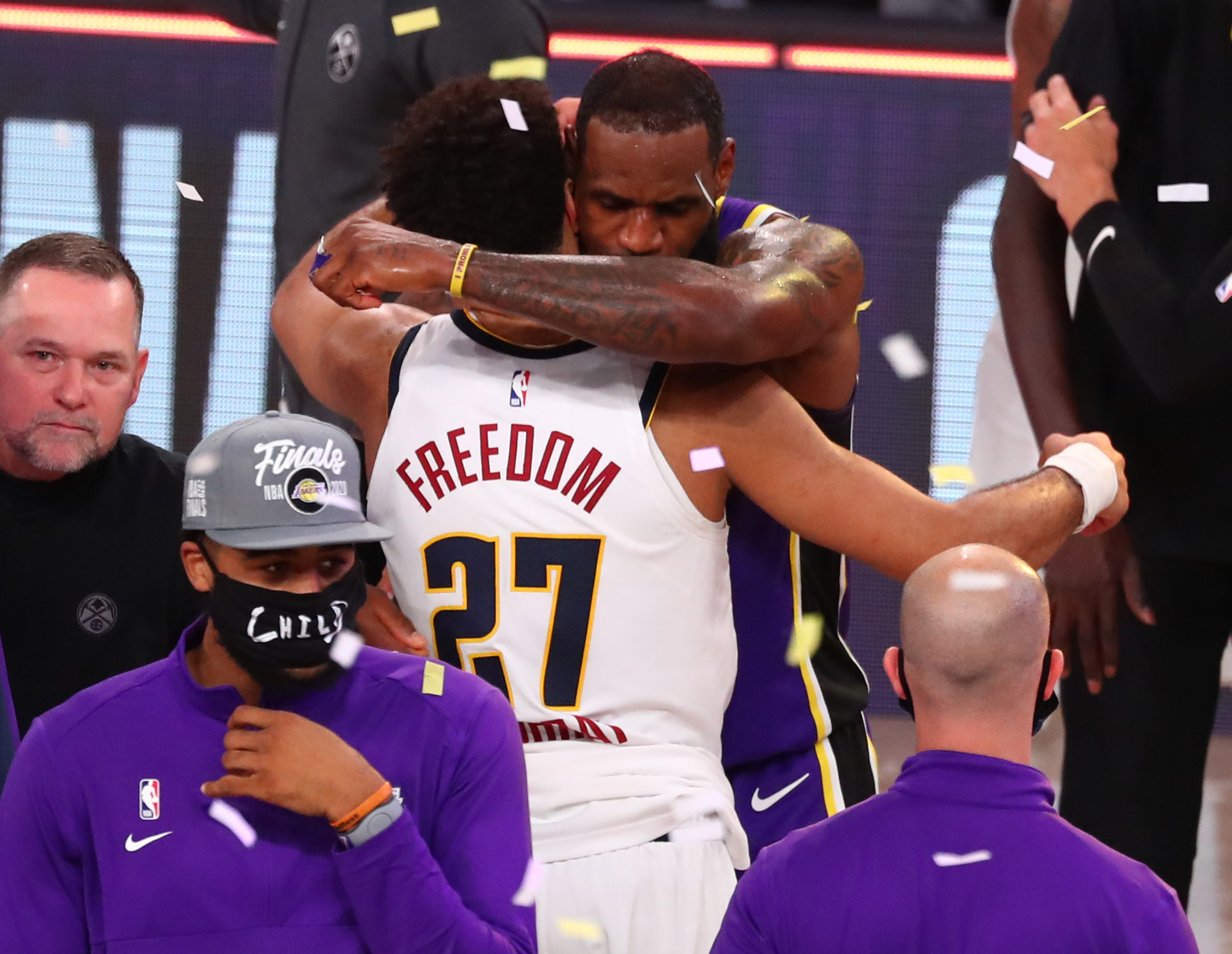 Playoff Caliber
5. New Orleans Pelicans – 19 points
Tier 1 – N/A
Tier 2 – N/A
Tier 3 – CJ McCollum, Zion Williamson
Tier 4 – Brandon Ingram, Jonas Valanciunas, Herb Jones
Tier 5 – N/A
The New Orleans Pelicans sneak into the top five with the return of Zion Williamson to the fold. How reliable he will be, nobody knows. There's no question about the talent though. He made All-NBA during the 2020-21 season and didn't play a single minute last year. What's in store for 2022-23? You could tell me "Tier 1 caliber" or "Tier 5 caliber" and they're both reasonable.
While I would personally swap CJ McCollum and Brandon Ingram, the point value is comparable. Jonas Valanciunas might be a touch overrated, but Herb Jones is not. He's legitimately fantastic and could win Defensive Player of the Year next year. I'm not kidding.
6a. Los Angeles Lakers – 18 points
Tier 1 – LeBron James
Tier 2 – Anthony Davis
Tier 3 – N/A
Tier 4 – N/A
Tier 5 – Russell Westbrook
While the Clippers' score is reasonably dependent on their stars being top tier, the Los Angeles Lakers are in a league of their own. Everything hinges on LeBron James and Anthony Davis continuing to prove they're one of the most dynamic duos in the NBA. They were the most dynamic in 2020, showed some cracks in the armor in 2021, and shattered in 2022. This ranking assumes that they can recover some of that lost momentum.
Ranking Russell Westbrook in Tier 5 is both insulting and kind. It's insulting because a player making that much money at that high of a profile should not be ranked so low. It's kind because there's an argument for Westbrook to rank lower.
Nobody else on the Lakers deserves a whiff of inclusion in Tier 5.
6b. Memphis Grizzlies – 18 points
Tier 1 – N/A
Tier 2 – Ja Morant
Tier 3 – Jaren Jacksnon Jr.
Tier 4 – Desmond Bane, Dillon Brooks
Tier 5 – N/A
The Memphis Grizzlies ranked surprisingly low. Ja Morant and Jaren Jackson Jr. are probably ranked correctly, but there's an argument for Desmond Bane to join JJJ. There's also an argument for Tyus Jones to appear on the list. Steven Adams dropped out this year, but he remains good too.
A regression appears to be on the horizon for the Grizzlies though. The losses of Kyle Anderson and De'Anthony Melton, though not impacting the tier list, may impact their ability to outclass teams on the strength of their depth. Don't sleep on Brandon Clarke though.
6c. Minnesota Timberwolves – 18 points
Tier 1 – N/A
Tier 2 – Rudy Gobert
Tier 3 – Karl-Anthony Towns, Anthony Edwards
Tier 4 – N/A
Tier 5 – D'Angelo Russell
Adding Rudy Gobert undoubtedly improved the talent level of the Minnesota Timberwolves, especially given the lower tier players the T'Wolves exchanged for him. The T'Wolves are actually the only team outside of the Warriors with three players appearing in the top three tiers.
Talent at the top isn't the issue, but depth most certainly is. The T'Wolves are relying on Jaden McDaniels to break out, along with some supporting play from Austin Rivers, Kyle Anderson, and Taurean Prince. If that sounds underwhelming, it's because it is.
9. Dallas Mavericks – 15 points
Tier 1 – Luka Dončić
Tier 2 – N/A
Tier 3 – N/A
Tier 4 – Dorian Finney-Smith
Tier 5 – Spencer Dinwiddie, Maxi Kleber
To have a Tier 1 player and to rank this low is fairly impressive. The Dallas Mavericks lost Jalen Brunson in free agency to the New York Knicks, likely the second best player on the team, and chose to replace him with two bigs: Christian Wood and JaVale McGee. Wood was a borderline inclusion in the tiers, but that's about it. There just isn't a lot of inspiring talent around Luka Dončić, and the Mavs are liable to drop as a result.
For those wondering, Brunson ranked in Tier 4, which would have elevated Dallas into a tie with the above three teams.
10. Portland Trail Blazers – 14 points
Tier 1 – N/A
Tier 2 – Damian Lillard
Tier 3 – N/A
Tier 4 – Jerami Grant, Anfernee Simons
Tier 5 – Gary Payton II
After a brief but strong tank last season, the Portland Trail Blazers are hoping for a bounce back season. Damian Lillard is still expected to be a top contributor, and the additions of Jerami Grant and Gary Payton II should bolster the supporting cast. Anfernee Simons grew into a strong scorer last season. Both Jusuf Nurkić and Josh Hart were on the outside looking in but are still talented players.
The top end of the Blazers rotation is pretty solid. Just don't look past the seventh man or so.
Lottery bound
11. Oklahoma City Thunder – 9 points
Tier 1 – N/A
Tier 2 – N/A
Tier 3 – Shai Gilgeous_Alexander
Tier 4 – Josh Giddey
Tier 5 – Luguentz Dort
The Oklahoma City Thunder are way more talented than their record would suggest. Tanking has suppressed their win totals. They're building something pretty enticing after selecting Chet Holmgren second overall this year. Give it another year, and they will be knocking on the door of the playoffs sooner than later.
12a. Utah Jazz – 8 points
Tier 1 – N/A
Tier 2 – N/A
Tier 3 – Donovan Mitchell
Tier 4 – N/A
Tier 5 – Mike Conley, Bojan Bogdanovic, Patrick Beverley
Who would have thought that trading Rudy Gobert for strictly role players would diminish Utah's talent so greatly? They did recoup several draft picks from the Timberwolves though, and it doesn't appear that they're done making moves. The Donovan Mitchell rumors aren't going away, meaning the Jazz could soon drop even lower than this point.
12b. Sacramento Kings – 8 points
Tier 1 – N/A
Tier 2 – N/A
Tier 3 – N/A
Tier 4 – De'Aaron Fox, Domantas Sabonis
Tier 5 – Kevin Huerter, Harrison Barnes
The Sacramento Kings have never been short on rotation players. They just don't often have a ton of players capable of exceeding Tier 4. De'Aaron Fox could have a bounce back year, and Domantas Sabonis remains very talented. Both have their warts though, and they'd both be best as the clear second option in a star tandem. Instead, both will probably have to do more heavy lifting than they should.
14. San Antonio Spurs – 2 points
Tier 1 – N/A
Tier 2 – N/A
Tier 3 – N/A
Tier 4 – N/A
Tier 5 – Keldon Johnson, Jakob Poeltl
After trading Dejounte Murray for three first round picks, it's no surprise to see the Spurs dropping to the bottom of the conference in terms of talent level. While young players like Devin Vassell, Jeremy Sochan, and Josh Primo could still rise up the tier list, it's difficult to foresee any of them going higher than Tier 4. That's not great for the long term prospects of this rebuild.
15. Houston Rockets – 0 points
Tier 1 – N/A
Tier 2 – N/A
Tier 3 – N/A
Tier 4 – N/A
Tier 5 – N/A
Yeesh. The Rockets better hope for a Jalen Green breakout. Perhaps rookie Jabari Smith or second year player Alperun Sengun makes a leap. Right now though, things are bleak in Houston talent wise.