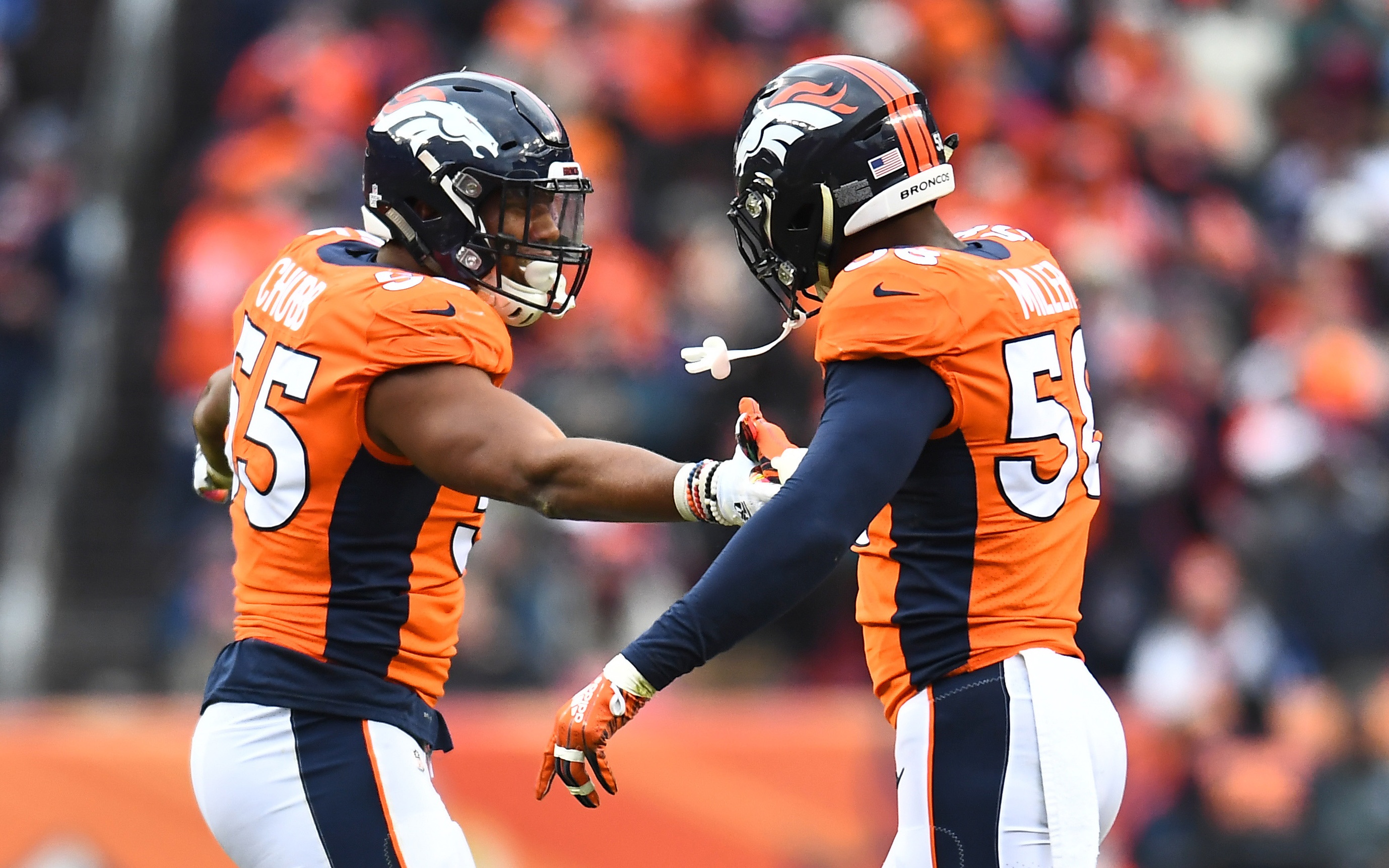 It feels weird to say that a unit headlined by reigning Pro-Bowler Bradley Chubb and future Hall-of-Famer Von Miller is 'underrated', but it's true. The reason they're underrated is that no one is treating them like an extremely talented pass-rush duo with marvelous depth behind them.
Now, some of that makes sense. Miller was injured for all of last year, and at age 32, it's reasonable for some to be skeptical about how he'll return from a season-erasing, lower-body injury. Plus, there's the disingenuous argument that 2019 was a bad season for Miller, and that we were already seeing signs of decline.
Maybe one could argue Miller has lost a step, but he was still an undeniably elite pass-rusher the last time we saw him, even if raw pass-rushing metrics like 'sacks' say otherwise.
Sacks can be misleading, as they don't truly capture the impact a pass-rusher is making.
In 2019, he finished eighth in the league in total pressures with 77, just three behind Aaron Donald and Nick Bosa. Of the 80 players with at least 35 pressures in 2019, only Za'Darius Smith — who was a candidate for defensive player of the year — created pressure at a higher rate than Miller, and he had Preston Smith opposite of him.
Miller achieved what he did after an abysmal start to the season (0 sacks, two total pressures through first two weeks), and despite having Malik Reed opposite of him instead of Chubb.
So, if Miller was still creating all this pressure, where did the sacks go? Other members of the defense just cleaned up Miller's pressures. The 2019 Broncos only had four fewer sacks than the 2018 Broncos, and Derek Wolfe and Shelby Harris set career-highs in sacks, and Demarcus Walker, Dre'Mont Jones and Jeremiah Attaochu combined for 11 sacks (over a quarter of Denver's total for the season).
Those sacks might've stuffed the stat-sheet (and pockets) of those players, but many of those opportunities were created by Miller.
However, Miller isn't the only member of the unit being underrated. Everyone on Denver's defensive edge is presently underrated.
Chubb isn't getting the love or hype that a reigning Pro-Bowler and game-wrecker of his caliber is used to getting. It's also fair to expect him to be even better this season, now that he won't be returning from a torn ACL and he has Miller helping him out on the otherside.
Malik Reed tied Chubb for the team-lead in sacks last season, and showed a lot of growth from his 2019 rookie campaign, yet is still talked about like a total non-factor. Reed's eight sacks in 2020 place him just a sack-and-a-half short of Jadeveon Clowney's career-best mark.
On top of that dynamic trio, the Broncos also have rookie pass-rusher Jonathan Cooper, who many expected to go several rounds earlier but fell due to heart concerns, and was recruited to Ohio State as a five-star athlete.
But wait, there's more! Having depth pieces like Pita Taumoepenu and Derrek Tuszka likely on the practice squad give the team much better pass-rushing insurance than they had in either of the last two seasons before Chubb and Miller went down for the season.
Taumoepenu was just added to the back of the roster, but shouldn't be slept on considering his incredible strength and physical tools which could make him an intriguing developmental or rotational piece behind Denver's top three-or-four edges.
Tuszka, Denver's seventh-round pick from a season ago has enticing quickness and a well-developed array of pass-rush moves that give him a shot at making the roster despite his other physical limitations.
That's a rotation that should have opposing quarterbacks shaking in their boots, especially considering the Broncos can pair a deadly interior pass rush and dominant secondary with their star-studded edge unit.
Time for takeaways galore in the Mile High City.