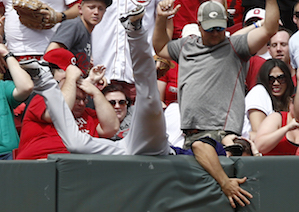 Nolan Arenado is proving he's much more than just a great glove at the hot corner. But that does't mean he's letting the leather take a day off.
Arenado did a little bit of everything in Monday's 5-4 victory over the Cincinnati Reds, including a sacrifice fly in the 9th inning to give the Rockies the lead.
There was nothing spectacular about the at bat, especially considering that Arenado had already posted an RBI single and a home run on the day, but it proved to be the game winner.
In addition to going 3-for-4 with 3 RBI, Arenado showed once again why he's the best-fielding third baseman in the game, making numerous acrobatic plays including another that sent him diving into the stands along the third base line.
Our friends at MLB.com and Root Sports have the highlights for you:
The win was the third in a row for Colorado. Arenado helped power the Rockies to victory on Sunday, as well, going 4-for-5 with a homer and a double against the Giants to earn a series split against the reigning World Series champs.
Colorado goes for four straight tonight against the Reds. Jorge De La Rosa will face Michael Lorenzen. First pitch is 5:10 p.m. MDT from Great American Ballpark.