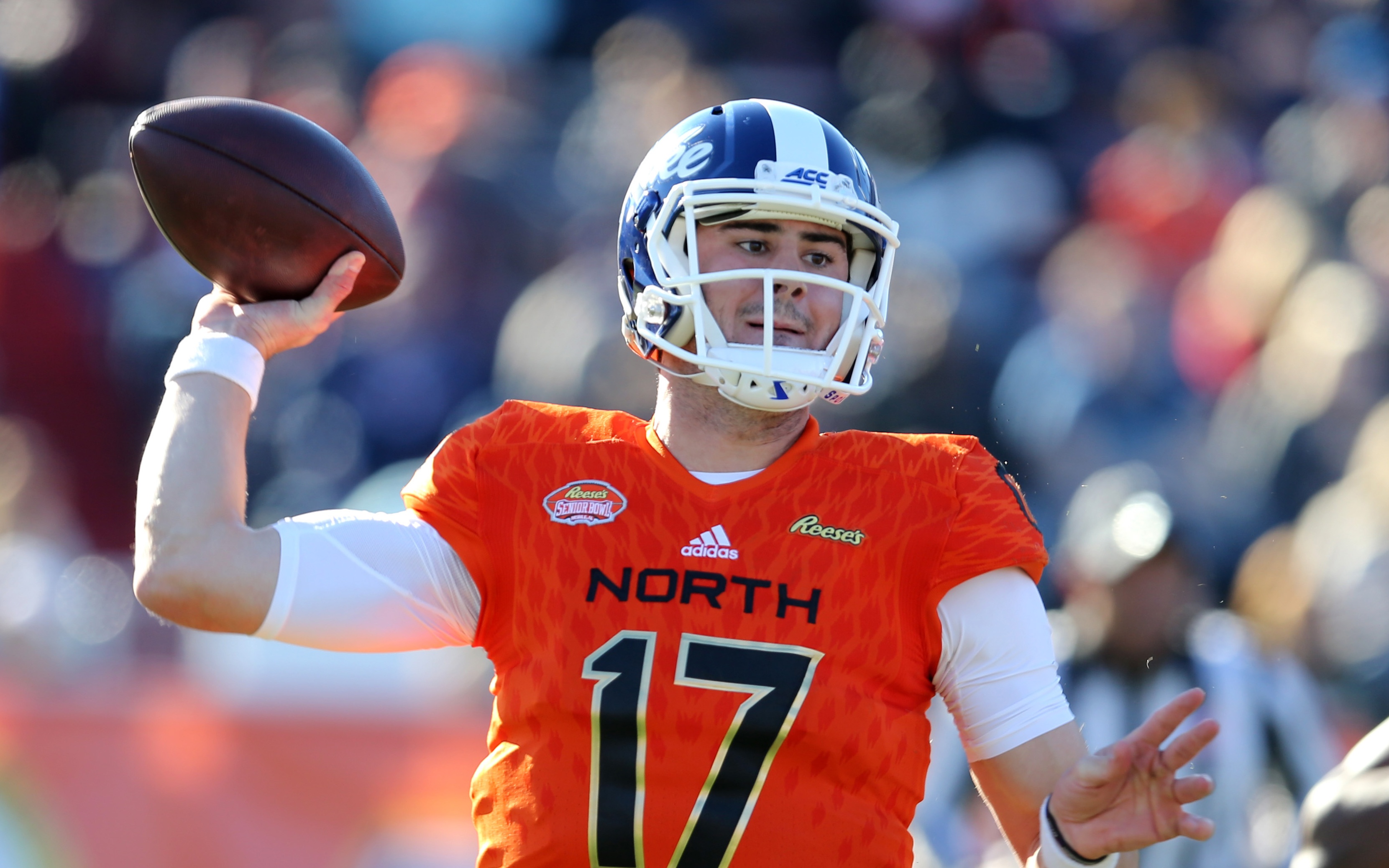 After a week of practices and the Senior Bowl game itself, there are two quarterbacks the Denver Broncos could consider who enjoyed great showings; Drew Lock and Daniel Jones.
Lock and Jones were already the two biggest names at QB to attend the Senior Bowl, and then Lock enjoyed a phenomenal week of practices. Not only did he improve his draft stock by showing he has all the tools necessary to succeed at the NFL level, but he could've even pushed himself past Denver's No. 10 pick.
And while Lock played well in the game — going 9-of-14 for 57 yards — Jones was even better, named the game's MVP. Jones, from Duke, went 8-of-11 for 115 yards and threw the North team's only touchdown throw of the day. But, his scoring started on his first drive of the contest, taking the North squad 84 yards by completing a number of short and intermediate routes, capping the drive with a one-yard touchdown run. At the end of the game, he earned MVP honors of the Senior Bowl, leading the North to the second-half comeback.
"But he showed a lot of mental toughness," North coach Jon Gruden said of Jones' bouncing back from some rough moments during the week. "He had some tough moments — he threw two interceptions in 7-on-7s in practice, which is uncommon. But he came back the next day, and the next day and the next day. And he shows the right stuff."
In fact, it's not just Jones' throwing and mental toughness which are impressive, but his athleticism is growing comparisons to another former Senior Bowl quarterback in Josh Allen from some scouts. And while he may not end up being that mobile — and definitely doesn't possess the same arm talent as Allen — Jones will be a dual-threat quarterback in the NFL.
"The Duke kid (Jones) is really intriguing also," Mike Mayock of the Oakland Raiders said at the Senior Bowl. "I don't think his arm's quite as big (as Lock's), but he's 6'5″ and 220, David Cutcliffe had him."
Cutcliffe is a proclaimed quarterback "guru" who famously worked with Heath Shuler, Peyton Manning and then years later, with Eli Manning as well. In all, Cutcliffe helped coach up six future quarterbacks during their college days, and he worked with former Rockies first baseman Todd Helton, too. Helton, of course, was Manning's backup quarterback at Tennessee, and then in 2012, Manning asked Cutcliffe to help refine his throwing motion once again.
The redshirt junior Jones left Duke a year early and has quickly gained a lot of attention as clearly one of the best quarterback prospects in this year's NFL draft. But, Jones will have to continue the momentum during the NFL Combine, which takes place next weekend in Indianapolis, Ind.
While the Senior Bowl MVP was a nice honor, Jones explained after the game, "…hopefully, by the time I see Coach Gruden and those guys in Indianapolis [for next month's NFL scouting combine], I've made even more progress."
Undoubtedly, Lock is the cream of the college quarterbacking crop. But, it's possible he's impressed so much, he could be gone when Denver's No. 10 pick comes in April. And if the Broncos are intent on adding a QB in the draft, Jones could be their guy.