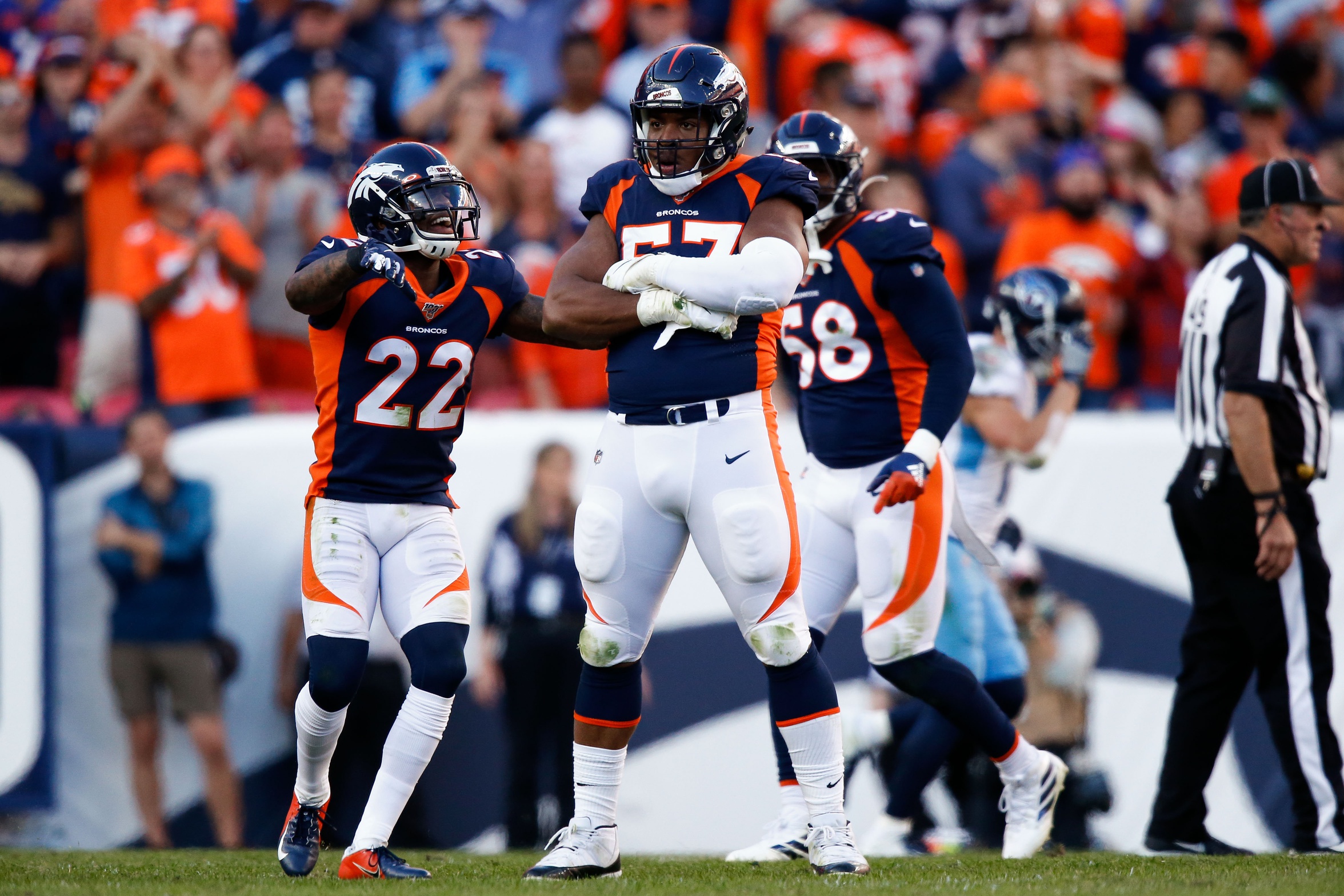 To say a team that's scored 20 and 16 points in the last two weeks is playing well might be a bit of a reach.
To say a defense that's only allowed two field goals in its last eight quarters has been dominant, well, that's just accurate.
To quote the venerable Dennis Green, perhaps "they are what we thought they were."
The Denver Broncos defense, that is.
They just might be as good as everyone thought… in August.
With an 0-4 record, it wasn't as if Denver's defense was "bad." To begin the season Broncos' opponents scored 24, 16, 27 and 26 respectively. Not that good, but things could be worse. They just couldn't get sacks and turnovers; that was the main problem. In the last two games, however, that's all changed. Without the services of Bradley Chubb, Denver has recorded seven sacks and six takeaways.
Who are these guys all of a sudden?
Better yet: Why? Why are the Broncos looking like one of the best defenses in the NFL of late?
Sure, much of the credit, at least statistically, has to go to some combination of Marcus Mariota, Ryan Tannehill and a porous Titans offensive line. All seven sacks and half the takeaways were earned against Tennessee. Still, at some level the idea that "the other guys get paid too" must apply; coming into the game, Tennessee had a better record than Denver. Two weeks ago, Philip Rivers didn't go down, but he was pressured all day, which led to two interceptions.
Another reason: No matter how talented, it takes time for any defensive unit to gel. The Broncos haven't been terrible – ever really – on defense, but it seems like they've turned the corner recently.
Another reason: These are Vic Fangio's guys. Against the Chargers, some eye-catching substitutions were made on defense. Most notably, Fangio sat down defensive tackle Adam Gotsis and put in Mike Purcell. He also made changes at corner and linebacker, benching Isaac Yiadom and Josey Jewell, replacing them with De'vante Bausby (who was injured against the Chargers) and Alexander Johnson. It's not quite as simple as this, but in a sense, it was "out with Elway's guys" and "in with Fangio's guys" (or at least "type of guys" – most notably Johnson who was on the Broncos practice squad last season). Whether Fangio finally said enough was enough with certain players, or just discovered that certain types of players fit his system better than the talent he was previously working with, it's worked.
And speaking of Fangio, perhaps he's starting to come into his own, too. Perhaps he's beginning to feel comfortable on the sidelines and as a head coach.
And speaking of Johnson, he's been the best middle linebacker the Broncos have had in three seasons. The eye test suggests he's everywhere. His stat line – 27 total tackles, 1.5, sacks and one interception – confirms it. And what a difference it makes to have a competent middle linebacker. Not so amazingly, when running backs aren't galloping everywhere, when backs and tight ends aren't the weapons of choice across the line of scrimmage, what a difference it can make. And a lot of that credit goes to Johnson.
Don't forget about Von Miller, either. His stats aren't jumping off the page (although he got a half-sack against Tennessee), but without Chubb, he's drawing more attention than ever. If the Broncos defense is good, No. 58 is almost always a reason. He's a big reason the Broncos were able to record seven sacks against the Titans, even if he's only credited with half of one.
So that's why the defense has been so good. It's also why the Broncos are winning. As everyone suspected, the Broncos are built to win with defense and Joe Flacco is here to be just good enough.
And he has been.
At 2-4, there's a good chance this could be a case of too little too late, but the Broncos are finally playing exactly as they were designed.
The Broncos aren't great, but behind a great defense, they might just be good enough. That's been the plan all along.