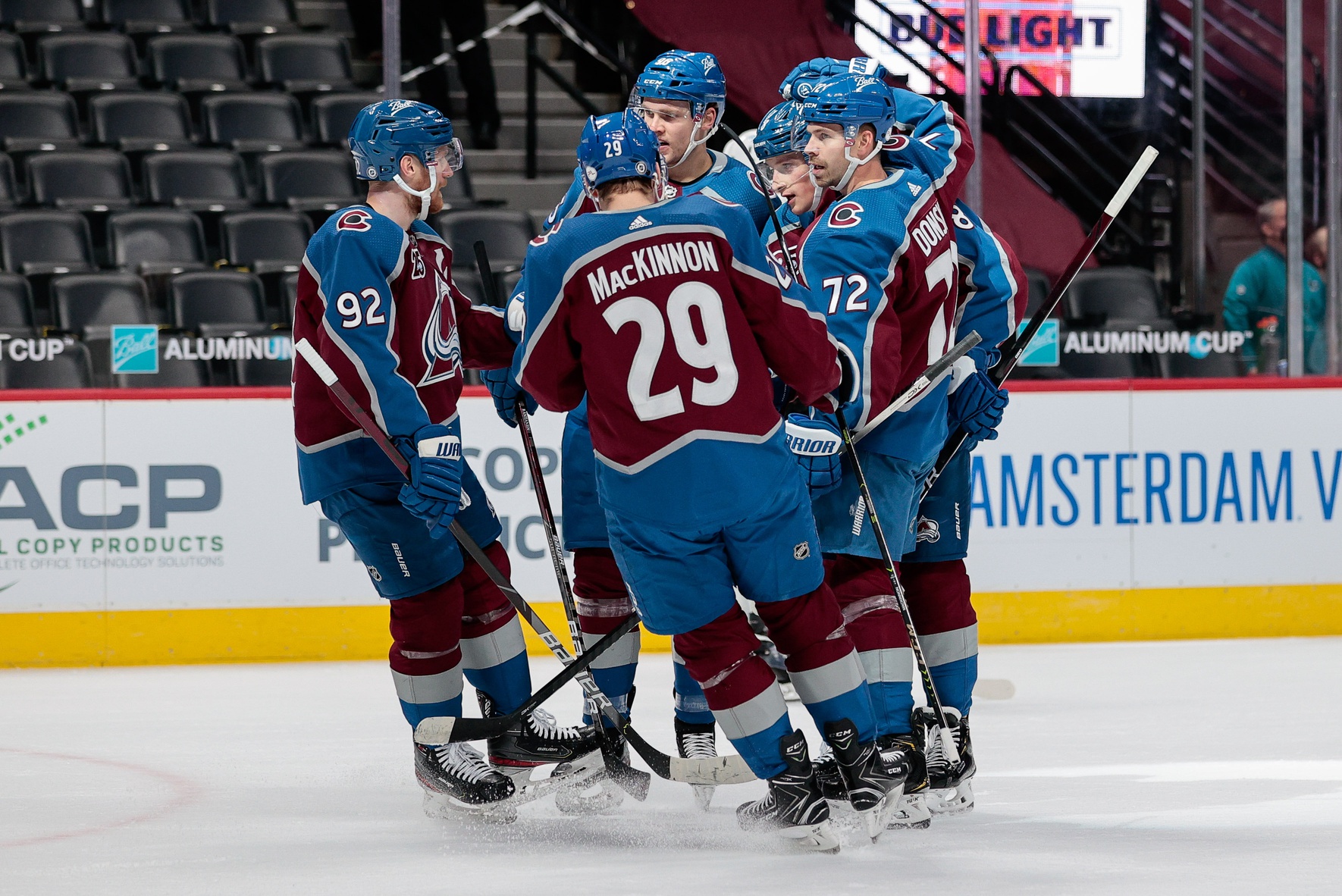 Three players returned to the lineup and had an impact on the game. But two defensemen left with an injury and tarnished what was a near-perfect night for the Avalanche on Friday.
Philipp Grubauer made his first start in goal in 18 days, making 21 saves to record his sixth shutout in leading the Avalanche to a 3-0 victory over the San Jose Sharks at Ball Arena. Wingers Mikko Rantanen (goal, two assists) and Joonas Donskoi (assist) both found the scoresheet in their returns from COVID protocol.
Colorado (32-12-4) ended its three-game losing streak and pulled to within four points of the Vegas Golden Knights for first in the West Division with a game in hand. The Golden Knights lost 3-0 at Arizona on Friday.
It was a costly win for the Avs, who lost Ryan Graves (upper body) and Sam Girard (undisclosed) in the process. Graves skated off early in the first period and did not return. Girard took a hit behind the net, sparking a fight between Avs superstar center Nathan MacKinnon and Sharks forward Kevin Labanc, who drove Girard into the end boards on a dangerous play.
It was MacKinnon's first fight since March 2018.
Avs coach Jared Bednar said it was "acceptable" for one of the most gifted offensive players in the world to step up for his teammate.
"I just don't want him getting hurt doing it," Bednar said. "He goes in, sticks up for a teammate, I come to expect that from him. He's a highly competitive guy. He didn't like the hit. I didn't either. He's on the ice and jumps in there and takes exception to it. To me, it's always acceptable as long as he doesn't get hurt doing it."
Bednar had no updates on Graves or Girard postgame.
Colorado's power play was dominant early. The Avalanche scored on their first two opportunities with the man-advantage two minutes apart in the first period to take a 2-0 lead.
Star defenseman Cale Makar was the catalyst of both goals, twice firing a wrist shot from the point that found the back of the net. The first one was tipped by captain Gabe Landeskog in front but the second one beat goalie Martin Jones clean for his sixth goal of the year.
"We were able to get some pucks to the net," Makar said of the team's power play. "We're going to have to keep playing to our strengths, especially on the power play."
Rantanen and Donskoi combined for three assists on the power-play goals. Both players returned to the top unit, joining MacKinnon, Makar and Landeskog, and it paid dividends instantly.
"Huge impact," Bednar said of Rantanen and Donskoi's returns. "Both those guys have been exceptional in their position on that power play. We know the year Mikko's having. Donskoi obviously gets overshadowed a little bit by the other four guys on that power play but he's a key piece to it."
Grubauer's shutout was his sixth of the season, tying him with former Avs teammate Semyon Varlamov for first in the NHL.
The Avalanche's No. 1 goalie, Grubauer had been relied on heavily before the goaltending acquisitions of Jonas Johansson and Devan Dubnyk. An 18-day break is not something he expected.
"It felt like it's been a long time since I've played," Grubauer said. "First period I felt a little rusty. Practices are limited too so it was tough in the first for me, got better in the second and the third I thought I was back to 100 percent."
Landmark victory
The Avalanche recorded their 1,000th win since relocating from Quebec in 1995. Only four teams have more wins than Colorado since their first game. (Detroit, Dallas, Pittsburgh and St. Louis).