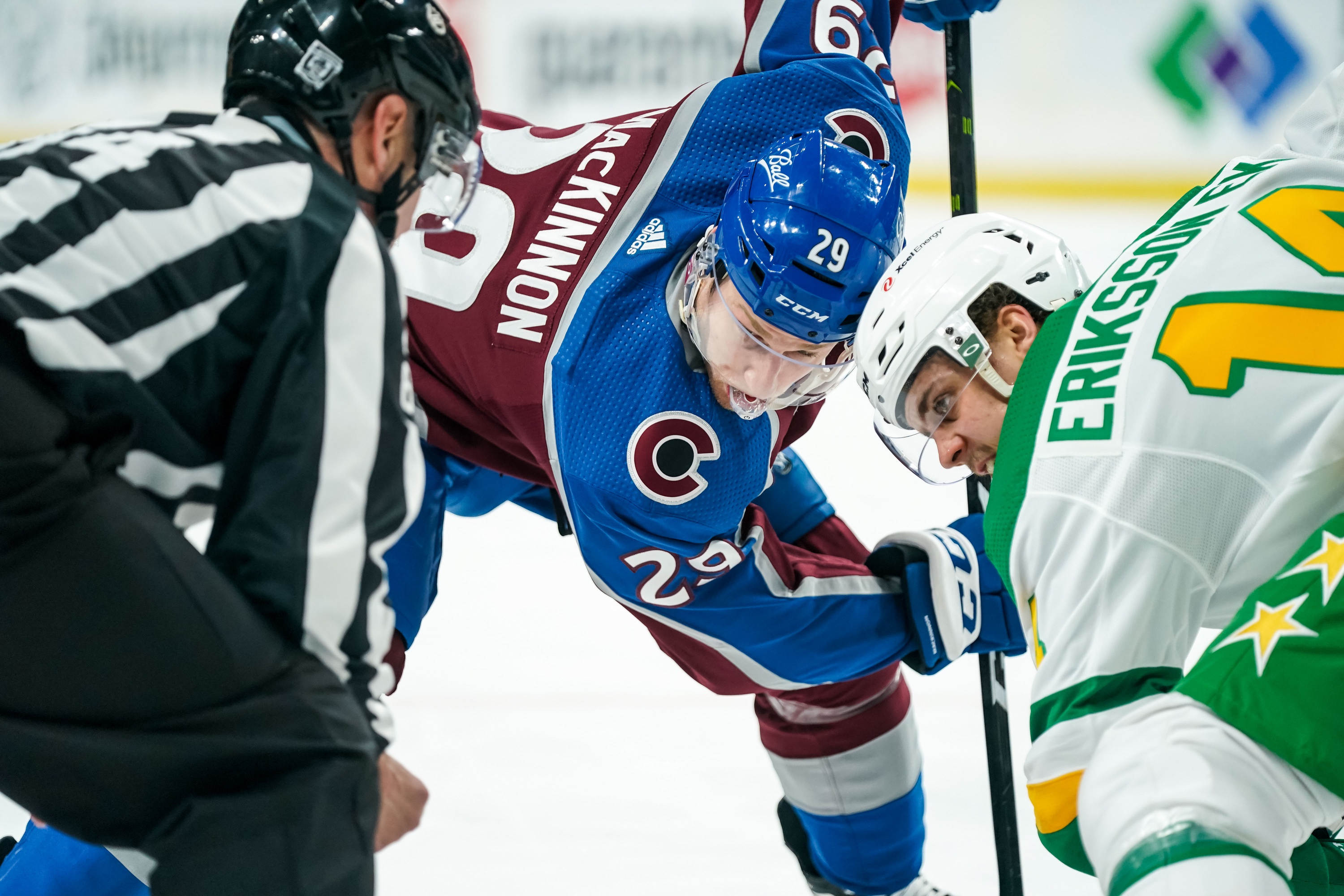 It is what it is.
That's what two Avalanche players said after losing superstar Nathan MacKinnon to a lower-body injury Sunday in a 4-3 overtime loss to the Minnesota Wild at Xcel Energy Center.
Jonas Brodin used a big slapshot 18 seconds into OT to beat third-string goalie Hunter Miska, who was making his second career NHL start.
MacKinnon joins an injured list that includes defensemen Erik Johnson (undisclosed) and Devon Toews (foot), forwards Pierre-Edouard Bellemare (lower-body) and Matt Calvert (head) and goaltender Pavel Francouz (lower-body).
The first four were all lost over Colorado's recent stretch of three games in four nights.
"It is what it is," Avs captain Gabe Landeskog said of all the injuries. "Better to go through it now than in May and June in the playoffs. We'll figure this out and we'll keep working."
The Avalanche entered the third period without MacKinnon after already dressing just 19 skaters to remain cap compliant. The short bench was suddenly shortened even more in the second of a back-to-back with Miska, a Minnesota native, in net for Francouz.
The Avs, who led 3-2 thanks to an early third-period goal from Brandon Saad, gave up the game-tying goal with 7:26 left in regulation.
And despite all of those potential roadblocks, the Avalanche still believed they could have won this game and were not ready to use the shortened bench as an excuse.
"There is no other way to answer this than to say we're going to keep working," Landeskog said. "The guys that we have in that room, we have plenty of depth to beat the Minnesota Wild. We just didn't play well enough."
Joonas Donskoi and Cale Makar also scored for the Avs. But Minnesota answered back with two goals from Viktor Rask.
Colorado used defenseman Jacob MacDonald to replace Johnson. MacDonald played just 10:28 in his season debut. The Avs relied heavily on Makar (28:09), Sam Girard (26:13) and teenager Bo Byram (20:37).
It's not the workload the Avs expected to give their young defensemen just 10 games into the season.
"We're getting hit by the injury bug here but at the end of the day we have so much depth," Makar said. "Guys can come in and fill roles that we need them to play. It is what is. I know we'll come back stronger."
Colorado will host Minnesota Tuesday and Thursday a Ball Arena to complete the four-game series. And there could be a number of lineup changes in the coming days, depending on the status of the Avs' long list of injuries.
There was no update on MacKinnon after the game. But Bednar had news to share about the others.
"Toews stayed back for further evaluation. We'll get some more information on him tomorrow," Bednar said. "But that still might not tell me when he's good and when he's able to come back in. No news is probably good news on that front."
Bednar also said he does not think Johnson will be rushed back into the lineup. "He's going to miss some time," he said.
Bellemare has "been feeling really good and is encouraged by his progress over the last few days," but will not play the next two games against Minnesota.
And for Francouz, Bednar says the Avalanche will get more news on him either Monday or Tuesday.
A killer penalty kill: The Avs killed off all three of their minor penalties Sunday, bringing their consecutive streak of kills to 22. Colorado now leads the NHL in PK percentage (91.7).
Footnotes: Byram, 19, dressed in his seventh game, which means he will now burn the first year of his entry-level contract. … The Wild played their second consecutive game without forward Kevin Fiala, who served the second of a three-game suspension. Minnesota also lost defenseman Matt Dumba to injury Saturday. … Colorado plays four of its next six games at Ball Arena.