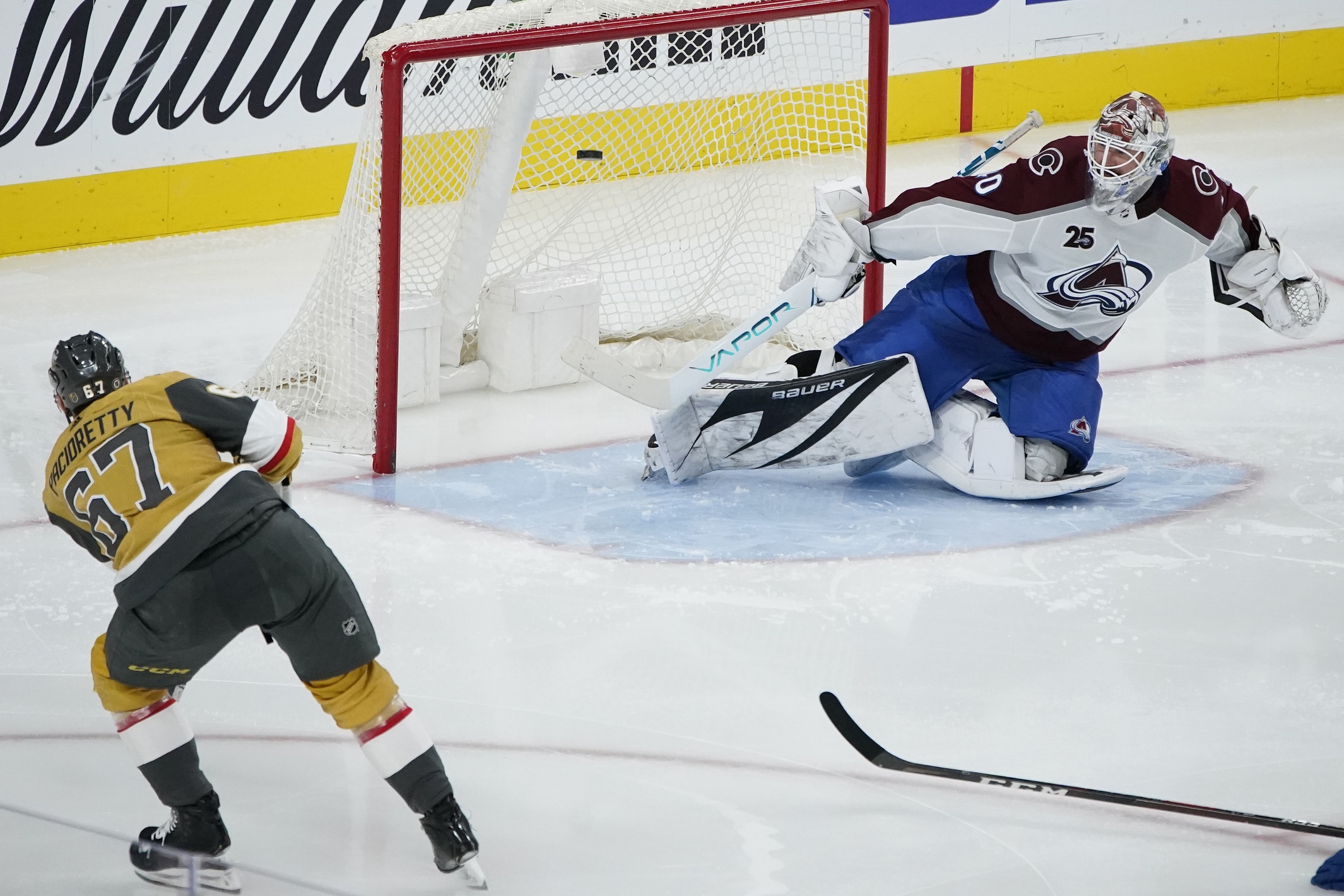 Losing three-straight games is always a cause for concern but the Avalanche's injuries and COVID-related absences have taken a toll.
Colorado (31-12-4) had an opportunity to close the gap with the Vegas Golden Knights for first in the West Division on Wednesday but was defeated 5-2 at T-Mobile Arena to close out a five-game road trip that spanned 15 days.
It now trails Vegas by six points with a game in hand. The Avs, who have nine remaining games, play at Vegas on May 10.
But reinforcements could be on the way as early as Friday at Ball Arena against San Jose. No. 1 goalie Philipp Grubauer and wingers Mikko Rantanen and Joonas Donskoi — each of whom were on the COVID protocol list in recent weeks — are expected back.
"We have an opportunity to go home and turn things around against San Jose," Avs coach Jared Bednar said. "We'll get some reinforcements back in the lineup, should have some guys back in and healthy. It's going to change the dynamic of our team."
The injury-depleted Avalanche will still be without defensemen Bo Byram and Jacob MacDonald, and forwards Matt Calvert, Brandon Saad and Logan O'Connor.
Defenseman Erik Johnson and goalie Pavel Francouz also remain out for the rest of the season.
"We don't care who we have in the lineup. We're missing guys, we don't care," said Avs defenseman Devon Toews, who scored his seventh goal Wednesday to tie it 1-1 late in the first period. "We got enough guys, we got enough depth to win these hockey games. It's going to take a little bit more from everyone to get it done."
Vegas got on the board early and never trailed. Center William Karlsson won the opening faceoff and scored just 10 seconds in. The puck was up for grabs after it bounced off the skate of Avs blueliner Sam Girard, and Karlsson located it first and swung in on goalie Devan Dubnyk.
Bednar called the play a defensive lapse but said Dubnyk should have made the stop.
The Avs also had a defensive blunder on the third goal, a tally from Mark Stone behind the net where he banked it in off Dubnyk.
The Avs had ample opportunity to close the gap but each time they got close, another penalty or defensive breakdown stopped them in their tracks.
Vegas goalie Marc-Andre Fleury stopped 35 shots and did his part to keep Colorado from rallying.
"We generated some nice scoring chances but Fleury was good in goal," Bednar said. "The margin for error is small for us right now. We have to find a way to be better with the puck and more disciplined in a couple of different areas."