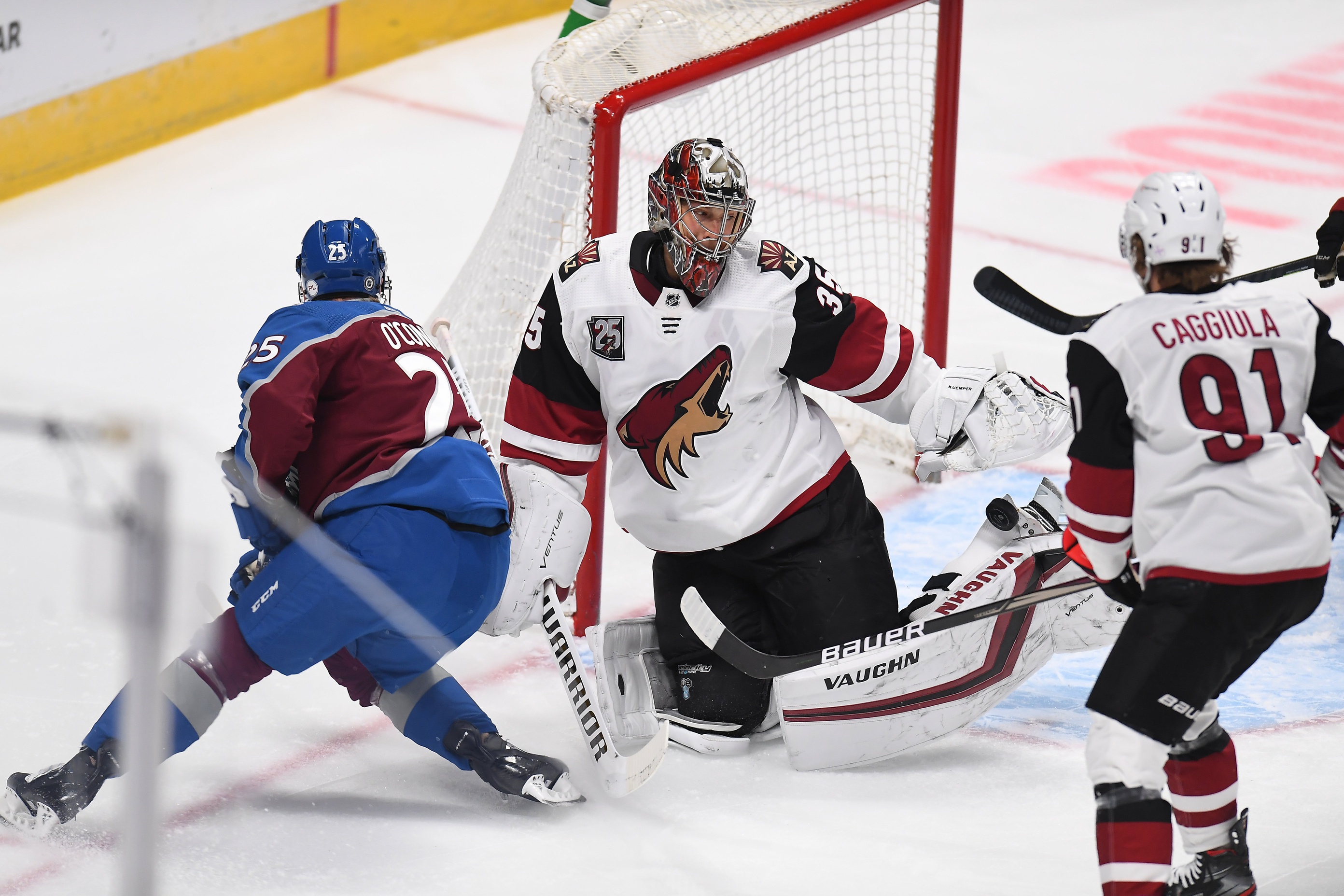 The Avalanche have found their new starting goalie.
Colorado has traded for goaltender Darcy Kuemper from the Arizona Coyotes on Wednesday. The move was announced just as the goalie-filled free-agent market suddenly had gone dry.
The trade is for defenseman Conor Timmins, a 2022 first-round pick, and a 2024 conditional third-round pick.
Kuemper, 31, is one year away from unrestricted free agency on a contract that holds a cap hit of $4.5 million. The Coyotes will retain $1 million, meaning Kuemper will cost the Avs just $3.5 million against the cap.
"In Darcy, we are acquiring a proven, reliable netminder who brings a ton of NHL experience at just 31 years of age," said Avs general manager Joe Sakic. "Obviously, we had to solidify the goaltending position and we feel like Darcy is someone who can step in and do that."
The goalie was injured for most of 2021 but finished with a 10-11-3 record in 27 starts for the lowly Coyotes.
Listen to "Darcy Kuemper Is the Man" on Spreaker.
The Avalanche tried to keep its core together. Late Tuesday night, Colorado secured an eight-year, $56 million deal for its captain Gabriel Landeskog. But Philipp Grubauer, the starter in Denver for the last three years, signed a six-year, $35.4 million deal with the Seattle Kraken.
Grubauer had the best season of his career in 2021, earning a Vezina Trophy nomination in the process. Grubauer was 30-9-1, with a 1.95 goals-against average and a .922 save percentage. This was his change to sign a lucrative deal.
Grubauer's 30 wins were second best in the NHL.
The team will also welcome back goalie Pavel Francouz, who missed the entire 2021 season. Francouz will likely play a backup role behind Grubauer but has the ability to split duties if needed.
"We feel very confident in our goaltending tandem as we head into the 2021-22 season," Sakic said.
Colorado still has to fill in gaps elsewhere as Ryan Graves (traded), Joonas Donskoi (selected in the expansion draft), Matt Calvert (retired), Pierre-Edouard Bellemare (free agency) and Patrik Nemeth (free agency) have all moved on. The Avs are also expected to lose Brandon Saad in free agency.
__
Aarif Deen is our Colorado Avalanche beat reporter. He covers Avs games live from Ball Arena and attends practices, media availabilities and other events pertaining to the Avs on the daily beat. He is also a co-host of Hockey Mountain High: Your go-to Avalanche podcast. Deen joined Mile High Sports upon completion of his bachelor's degree in journalism and master's in business administration from the University of Michigan – Dearborn. Before Mile High Sports, Deen worked for the Michigan Wolverines Athletics Department as the assistant sports information director.
Follow him on Twitter @runwriteAarif