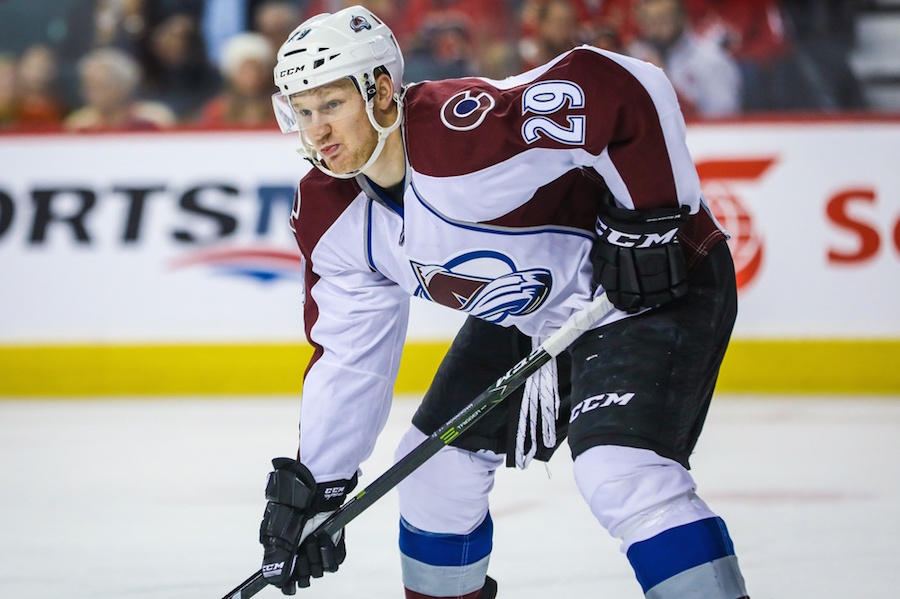 The Colorado Avalanche have the fourth overall pick in this year's NHL Draft. With the draft just around the corner it's time to take a peek at how the Avalanche's recent first round picks have fared in the league.
The last time the Avs picked in the top five, they had the No. 1 overall selection. This was back in 2013 when they selected center Nathan MacKinnon. MacKinnon, who has turned into a franchise cornerstone in Colorado has racked up 75 goals and 131 assists in his four years in the league, but has posted a career plus-minus of minus 5. His face-off percentage has increased every season, as he posted a career high 50.56% last season. MacKinnon had a taste of the playoffs in his rookie season, where he shined with two goals and eight assists a seven-game series loss to the Wild.
In 2014, coming off a playoff berth, the Avalanche had the 23rd selection. With this pick, they took another center in Conner Bleackley. In his three seasons since being drafted, Bleackley has yet to record an NHL stat. He was traded to Arizona but did not re-sign. Bleackley then re-entered the draft in 2016 and now resides in the St. Louis Blues' organization. Denver received Mikkel Boedker in the deal with Arizona, but could not re-sign him that offseason. He signed a four-year contract with San Jose in the 2016 offseason.
The Avs took right winger Mikko Rantanen with the 10th overall pick in 2015. He only appeared in nine games in his first season in the league without posting any meaningful statistics, but Rantanen enjoyed a breakout season last year, appearing in 75 games while scoring 20 goals (two game-winners) and notching 18 assists. Rantanen also showed some prowess in the face-off circle, winning 58% of his chances.
Last year the Avs added Tyson Jost, another center, to their roster in the draft with the tenth pick. Jost only appeared in six games and scored one goal. If Mikko Rantanen is a pattern to follow, expect Jost to provide a bigger impact in his second year with the team next season.
The Avalanche have had mixed luck with their first-round picks in recent memory. Nathan MacKinnon has preformed about how a No. 1 pick is supposed to. They saw no return on Bleakley and Jost is still a relatively unknown quantity, but Rantanen made big strides last year.
With the No. 4 pick in this year's draft, expect the Avs to find someone who will contribute in the very near future. Whoever the Avalanche select this weekend may not be the savior that will carry the team back into playoff contention, but they should be a step in the right direction.