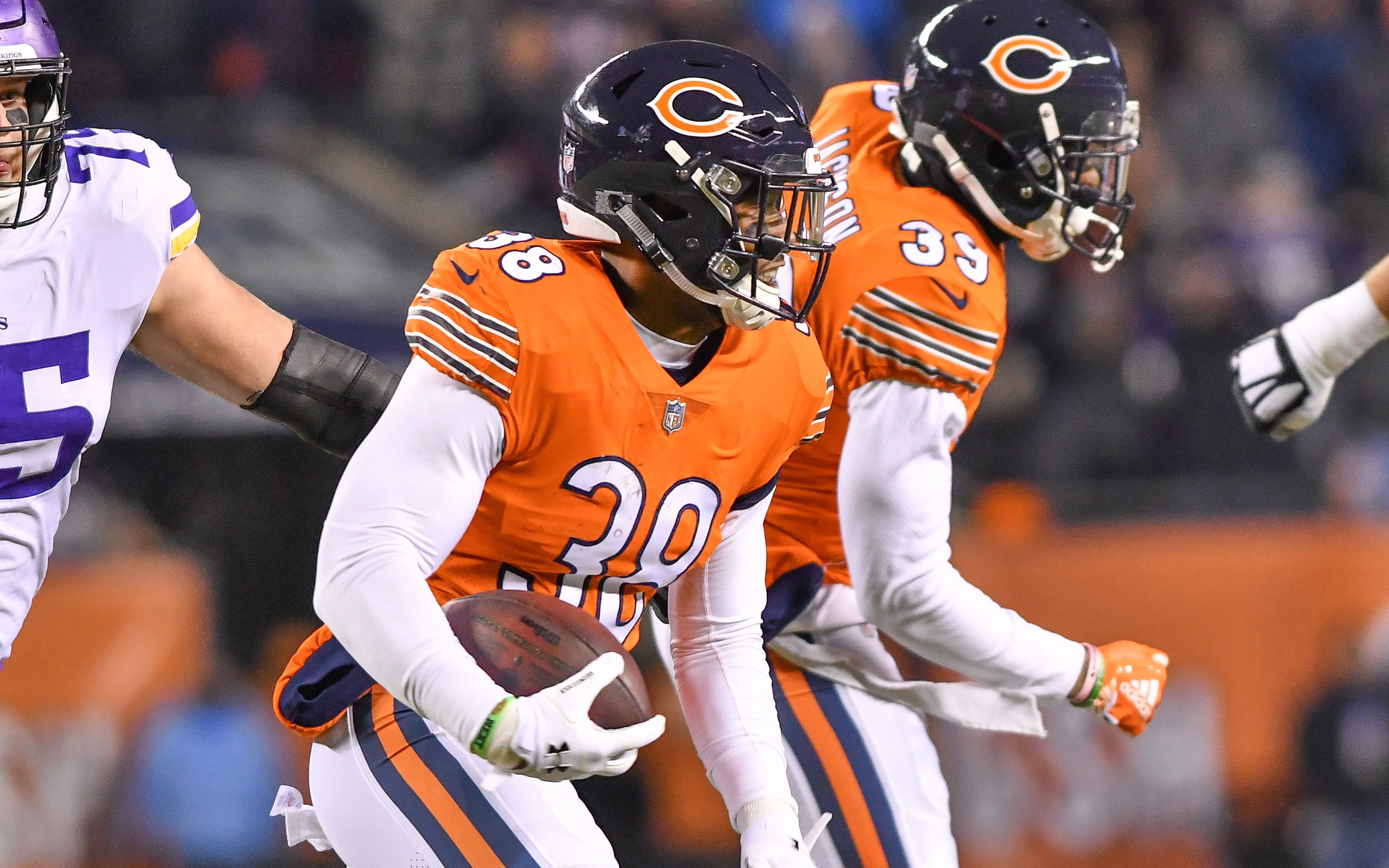 With Vic Fangio becoming the Denver Broncos new head coach, the possibility of signing former Chicago Bears players who thrived in Fangio's defense abounds.
Bryce Callahan — slot cornerback extraordinaire — is one player we've said the Broncos should go after, especially considering corner is Denver's biggest weakness. But, considering Darian Stewart's underwhelming 2018 season, could the Broncos also upgrade that defensive backfield by signing a big-time safety?
Adrian Amos, who just finished his rookie deal with the Bears, was the eighth-best safety in the NFL last year according to Pro Football Focus (82.7 overall grade). He's a hard hitter, a solid tackler, can rush the quarterback and he enjoyed three interceptions in 2018 with five pass breakups.
Amos, on SiriusXM radio said,"I want to be back in Chicago. Chicago has been talking back and forth, they want me back. But we'll see how things shake out. Nothing is certain right now. It's still a little early. Over the next couple weeks, I guess we'll find out a lot more."
But, when asked about other destinations he could land outside of Chicago, and if Denver could be a fit for him because he's played in Fangio's defense, he agreed.
"I don't know, but obviously that would be a fit where I know the defense and things like that," Amos said on SiriusXM. "But it's not something that I'm pinpointing like, 'Hey, I want to go there,' or anything like that. I'm just keeping all options open. First and foremost, I'm a Bear right now, so that's a main focus early on. But if that doesn't work out, then I have to explore what team fits me best, what team gives me the best opportunity to take care of my family as well as progress on the football field."
It's not just that Denver signed Fangio as head coach, but new Broncos defensive coordinator Ed Donatell was Amos' DB's coach with the Bears, too.
While Amos is a blossoming star, Stewart has never graded higher than a 77.9 (in 2015) and his grade last year by PFF was a sad 59.6. His coverage grade was only slightly higher, at 60.8, with Amos being an 85.5 in coverage, the seventh-best for a safety last season.
Without a doubt, Amos would be an upgrade over Stewart, who played free safety from 2014-17 before switching to strong safety in 2018.
And, there's a potential out for Denver in Stewart's contract, as well. The Broncos could cut him and take a $2.8 million dead cap hit, but they'd save $2.2 million. Considering Amos will likely be offered somewhere in the neighborhood of $6-7 million per year, Denver would have to pay an additional $4 million from their cap to sign Amos.
Playing Amos alongside Justin Simmons would give the Broncos much-needed versatility in the defensive backfield. Both Simmons and Amos possess the speed to cover, and Amos can crowd the line at times, if the Broncos choose to send him on pressures.
Imagine a defensive backfield of Chris Harris, and Bradley Roby outside, Callahan in the slot, with Simmons and Amos as the safeties. Denver would instantly possess one of the best defensive backfields in the game again — along with one of the best pass rushes — and with Fangio calling the plays, the Broncos would likely be a top-5 defense in 2019.