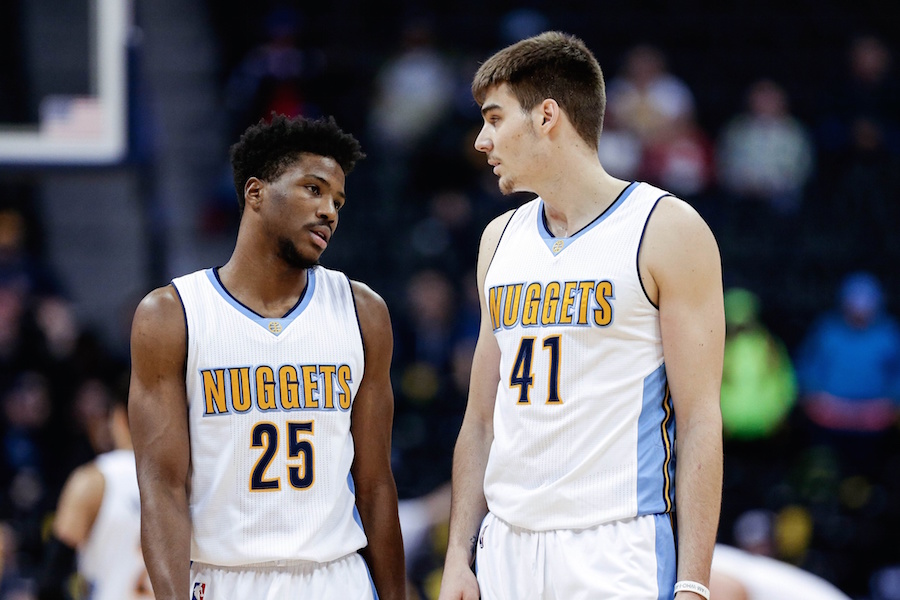 After defeating the New Orleans Pelicans on Friday, the Denver Nuggets finished Summer League action with a 2-4 record. Regardless of the nearly meaningless implications of Summer League, the losing record is less a less than hopeful for the young players. However, progress that certain Nuggets showed gives reason for optimism in Denver.
Second-year players Malik Beasley and Juancho Hernangomez did exactly what they needed to do in Summer League. Through the five games, the two led the Nuggets in scoring and acted as the primary options on offense. Torrey Craig was another Nugget who proved himself to Denver's coaching staff, while first-round selection Tyler Lydon did just the opposite. Here's a look at four of the noteworthy performances of the Nuggets' 2017 Las Vegas Summer League.
Beasley's performance in Las Vegas is just what the Nuggets' coaching staff was looking for. He led the Nuggets in scoring with 19.4 points per game while shooting 40 percent from the field and securing 5.4 rebounds per game. In the first contest of Summer League, Beasley posted his best scoring performance with 29 points. However, it took him 30 shots to do so, including a lowly 3-for-12 on 3-point attempts. His efficiency improved drastically in game two, scoring 20 points while shooting 47 percent from the field and 60 percent from deep. In his final Summer League appearance against the Brooklyn Nets, Beasley once again led the Nuggets in scoring with 20 points while adding seven rebounds.
After a rookie season in which Beasley was limited by a crowded roster ahead of him, a strong Summer League performance bodes well for his playing time in 2017-18. Beasley could be on a similar track as teammate Gary Harris, who also saw little playing time during his rookie season before becoming a difference-maker in year two.
With a chance to quiet the critics who were unsupportive of his first-round selection by the Nuggets, Lydon struggled. Despite playing in five of the six games and averaging 24.2 minutes, Lydon recorded just 2.4 points per game while shooting 20 percent from the field. Presumed to make the biggest difference shooting the basketball, those numbers are far from enticing. Against Brooklyn, Lydon played 12 minutes while scoring zero points and posting a minus-16. Lydon's poor performance combined with the bevy of talent above him makes it difficult to envision the first-rounder having an impact this season.
Hernangomez came into Summer League with the second-most NBA experience on the Nuggets' roster. Selected four picks ahead of Beasley in the 2016 NBA Draft, Hernangomez played in 62 games his rookie season. This summer, Hernangomez further proved his ability to contribute at the NBA level by averaging 16.3 points, 7.3 rebounds and 1.7 steals per game. Hernangomez scored 21, 18 and 10 points in the three games he played while shooting over 37 percent from the field. Because of the crowded roster, Hernangomez's biggest impact in 2017-18 will be off the bench.
Torrey Craig
In a last-ditch effort to make an NBA roster, the 26-year-old Craig excelled for the Nuggets. The wing averaged 11.5 points and 4.8 rebounds per game while knocking down an exceptional 46.9 percent of his field goal attempts. Craig shined in the team's first win against the Houston Rockets, scoring 27 points and securing 11 rebounds. He also scored 15 points against the Toronto Raptors on 6-for-10 shooting.
Playing overseas for the past three seasons, Craig has developed into a versatile star. While playing in Australia's National Basketball League last season, Craig was named Defensive Player of the Year while finishing in the top-10 in the league in scoring. Craig's Summer League performance did not go unnoticed by the Nuggets' front office, as he earned himself a two-way contract with the team. For a team in need of help on the defensive end, Craig's versatility could prove beneficial in the 2017-18 season.