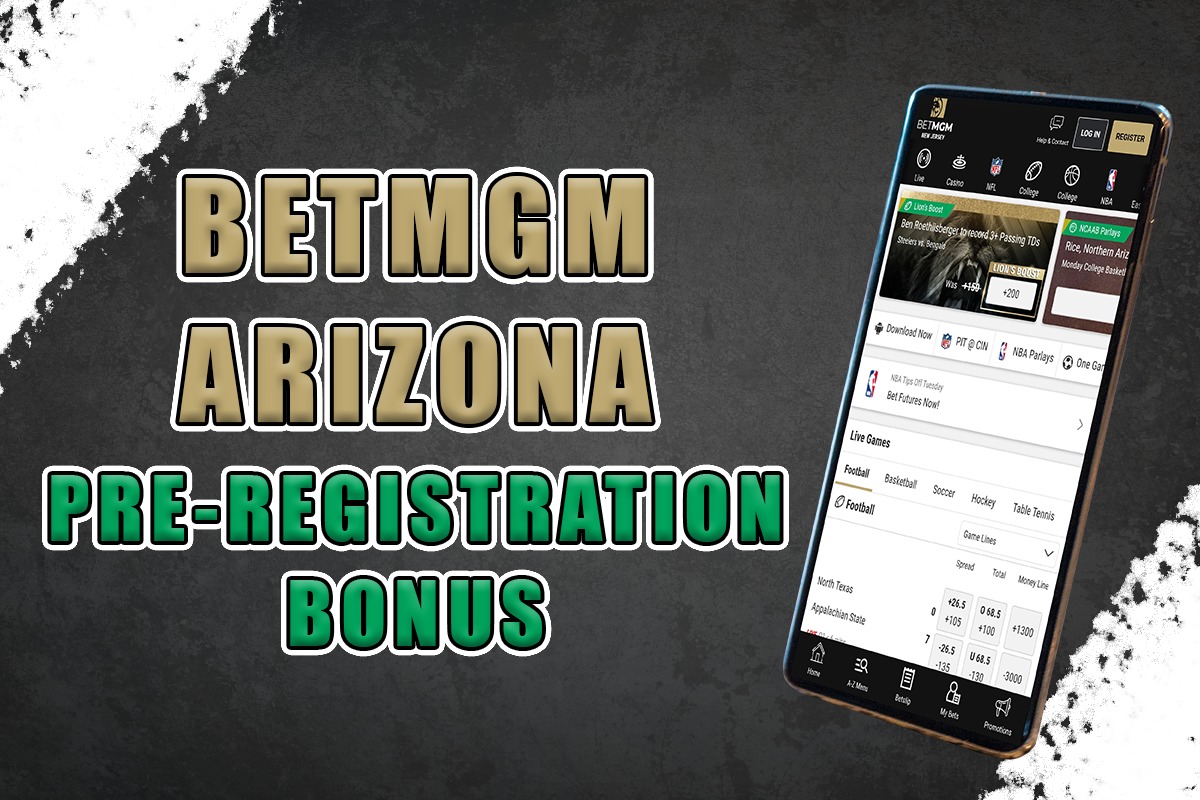 Arizona sports bettors are counting down the days until the official launch of sports betting in the state and BetMGM Arizona is going to be right there when it does.
Players who pre-register with BetMGM Arizona will earn a $200 bonus, no strings attached, just for signing up. This is the easiest way to start things off with some substantial bonus money in a new sportsbook account.
Arizona's push for sports betting has finally paid off. After sports betting legislation was passed in April, the state has spent months trying to prepare for launch and that day will finally arrive on Sept. 9.
As BetMGM Arizona is looking to make a play for the prospective bettors, the popular sportsbok is offering a lucrative $200 pre-registration bonus. There is no need for a deposit and there are no hoops to jump through to secure this bonus.
Click here to pre-register with BetMGM Sportsbook Arizona and grab a $200 bonus.
BetMGM Arizona Bonus Offers $200 Free
If someone is trying to give you $200 for nothing, you take the money every single time — and that's exactly what BetMGM Arizona is trying to do here. All you need to do is input some basic information to create an account and the $200 will be waiting in your account.
Plenty of online sportsbooks run new-user promos this time of year, but rarely are the barriers of entry as low as they are with this BetMGM Arizona offer.
Follow these steps to sign up with BetMGM Arizona and secure that $200 bonus:
Begin the sign-up process by clicking on any of the available links on this page, including right here.
Input some basic information to pre-register.
Earn $200 in bonuses to use when Arizona officially launches sports betting.
When Will BetMGM Arizona Go Live?
So, that begs the question — when can you legally bet on sports in Arizona? Well, Arizona lawmakers and stakeholders picked the perfect time to launch. Arizona bettors can begin placing legal wagers on Sept. 9. It makes sense that this date falls on the same day as the start of the NFL season.
With the NFL kicking off that day and college football season already in full swing, there has never been a better time to launch online sports betting. We expect to see a ton of interest among bettors early on in Arizona, and that's why BetMGM is coming out early with this pre-registration bonus.
What to Bet
As we said, the NFL and college football will be the most popular markets early on in Arizona, but there should be widespread interest for most of the major sports.
The MLB season is winding down as teams are jockeying for postseason positioning. Not to mention, the NBA and NHL are set to return in October. During that month, all four major professional sports will be in full swing.
In other words, Arizona bettors are going to be in heaven from the start. BetMGM Arizona has competitive odds on almost any market you could ever dream of betting. Don't miss out on the opportunity to secure a pre-registration bonus. It's the perfect way to get off on the right foot.
Click here to pre-register with BetMGM Sportsbook Arizona and grab a $200 bonus.