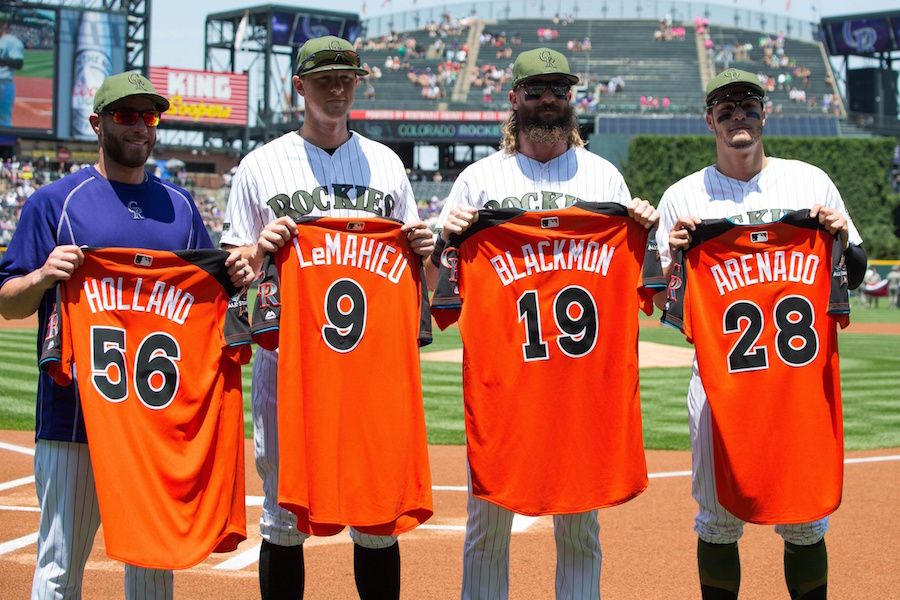 Charlie Blackmon has been the best leadoff hitter in baseball this season. As such, he'll be batting leadoff for the National League on Tuesday night in the 88th Major League Baseball All-Star Game. Teammate Nolan Arenado will bat sixth.
NL All Star lineup pic.twitter.com/LnbkCpanFa

— Bob Nightengale (@BNightengale) July 10, 2017
Blackmon leads the MLB with 117 hits and 10 triples. His .319 average is fifth in the National League and his 20 home runs are the most among NL centerfielders.
It is the second time in All-Star Game history that a Rockies player will bat leadoff for the National League. Carlos Gonzalez, although not a leadoff hitter, batted first for the NL in 2012 as the designated hitter. The National League won that game comfortably, 8-0, although Gonzalez was 0-for-2, including a strikeout to open the game.
Blackmon will start in center for manager Joe Maddon, with Bryce Harper (also a center fielder and MLB's top vote-getter in this year's voting) playing right field and batting third. Outfielders Giancarlo Stanton and Marcell Ozuna of the host team Marlins will play designated hitter left field, respectively, and bat second and eighth
Arenado, who made a late push to overtake reigning MVP Kris Bryant for the starting third base spot, will bat sixth behind second baseman Daniel Murphy.
Arenado's 70 RBIs are tied for the most in baseball along with Ozuna and Nelson Cruz. His 106 hits are the most among NL third basemen by a long shot. Milwaukee's Travis Shaw (not an All-Star) is next with 89.
San Francisco's Buster Posey will bat cleanup and catch starting pitcher Max Scherzer. Joining Harper and Scherzer in the starting lineup from the Nationals is Ryan Zimmerman, playing first and batting seventh. Cincinnati's Zac Cozart will play shortstop and bat ninth.
Rockies second baseman DJ LeMahieu will be on the bench in a reserve role, while Greg Holland will be in the bullpen for the National League.
The MLB All-Star Game is Tuesday at 6 p.m. MDT.