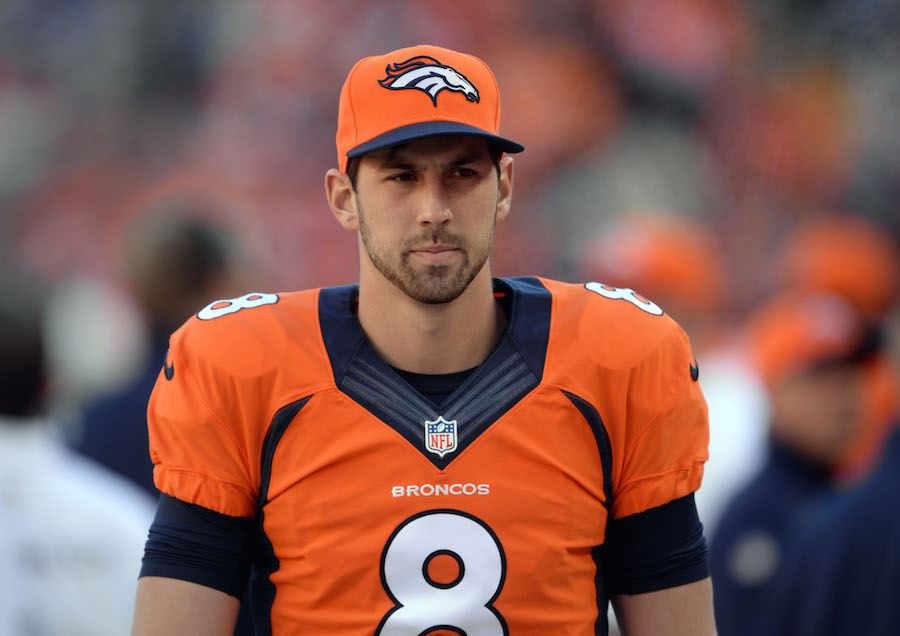 Brandon McManus is often overlooked despite his tall frame. He sits in the corner of the Denver Broncos locker room with fellow specialists Britton Colquitt and Aaron Brewer, simply going about his business. That is the life of a place kicker in the NFL, until one day in their career they are asked to win the monumental game, even a Super Bowl. Then, all eyes are on them and surely, good or bad, they will be remembered. McManus has been training for that day and expects and even hopes it arrives at Levi's Stadium in Santa Clara, Calif. on Feb 7.
"Obviously everyone's dream is to get to the Super Bowl and my position specifically, the end of the game could end up on my foot. I'm super excited that it might happen that way, but you never know how the game is going to unfold," McManus said Thursday.
McManus has a shy but confident demeanor. Whether it is a weekday at UCHealth Center on the field with his teammates, or in front of 70,000 hostile opposing fans on a Sunday night game, he remains calm. It is an attitude he has cultivated by design and certainly by necessity for his high-pressure job.
"I just don't think this is a position where you can be on two ends of the spectrum. One day be real excited and happy and the next day be kind of down. There are too many fluctuations between kicks, between quarters, halves and games. I just always wanted to be that way. I kind of grew up trying to be like that, taking the penalty kicks in soccer, the free throws in basketball, so I've kind of been preparing my life for this," he said calmly.
He has fared well, staying calm through three seasons of uncertainty and now, notoriety. He entered the league with the Indianapolis Colts in 2013, only to be waived before the season began. In 2014 he joined the New York Giants for preseason, only to be traded to the Denver Broncos on Aug. 26, 2014. He made 9-of-13 field goal attempts under former head coach John Fox, but lost his job to Connor Barth later in the season, even being waived briefly before re-signing in December.
To start the 2015-16 season he entered training camp in a battle with Barth for the job, knowing that head coach Gary Kubiak was intent on keeping just one place kicker. Each performed well but McManus edged out Barth.
"I think training camp I obviously had a really good battle with Connor [Barth]. We both performed really well, no misses in the preseason by either of us and I'm just thankful they gave me the opportunity to kind of earn my stripes and get this job back for myself."
He has been masterful this season, converting 30-of-35 field goal attempts and winning multiple games with late kicks. He missed only one point-after attempt and has not missed a field goal attempt inside 40 yards. He did however have a five-game stretch in which he missed four field goals and a point after. However, where some kickers may have questioned their skills or let doubt creep into their heads, McManus remained confident and found a positive out of the negative.
"They were not gimmes, but I never got down on myself. I still made every other kick in those games. I didn't have one miss and add another within the same games. I think that is a little more important, not missing multiple kicks in games rather than getting down on yourself in that aspect," he said.
Now that McManus has solidified himself on the Super Bowl-bound Broncos, he can focus all his attention on the biggest game of his young career. Despite the mounting pressure and the amount of focus that is being heaped on him and his teammates, he has still to really absorb the enormity of the game ahead.
"It hasn't set in yet. I think it kind of will once you show up to the stadium and you see everything and you go out to kick off," he said. "I don't want to change anything I do. You have to think every game might come down to a game-winning field goal, that's just how the playoffs work, especially Super Bowls, how tight they have always been and I'm ready for the challenge and excited for it."
He has dreamed of the opportunity that awaits him since he was a seventh-grader and began to realize his unique skill for field goal kicking. He was a football fan since his first Philadelphia Eagles game at the age of three, but played multiple sports growing up. By middle school he realized he needed to start focusing purely on football and with that came dreams of emulating the great kickers in NFL history.
"[Adam] Vinatieri comes to mind for anybody and I was with Adam in training camp two or three years ago coming out, so I learned a lot from him and stay in contact with him. He's been a good mentor for me and we play Indianapolis usually every year so I get to pick his brain even more throughout the seasons."
He has yet to reach out to his mentor for any advice on his appearance in Super Bowl 50 but there can be no better example of how to remain calm on the big stage and ultimately live out a kicker's dream. Vinatieri has won four of the five Super Bowls he has appeared in, winning two with late field goals. McManus can follow in Vinatieri's footsteps, and though he remains calm, McManus is nearing a long-awaited goal.
"Obviously when you are in the neighborhood with all the kids you have all these dreams and fortunately this is going to be a reality for me in a couple of weeks."
---
Email Sam at [email protected] and follow him on Twitter @SamCowhick.