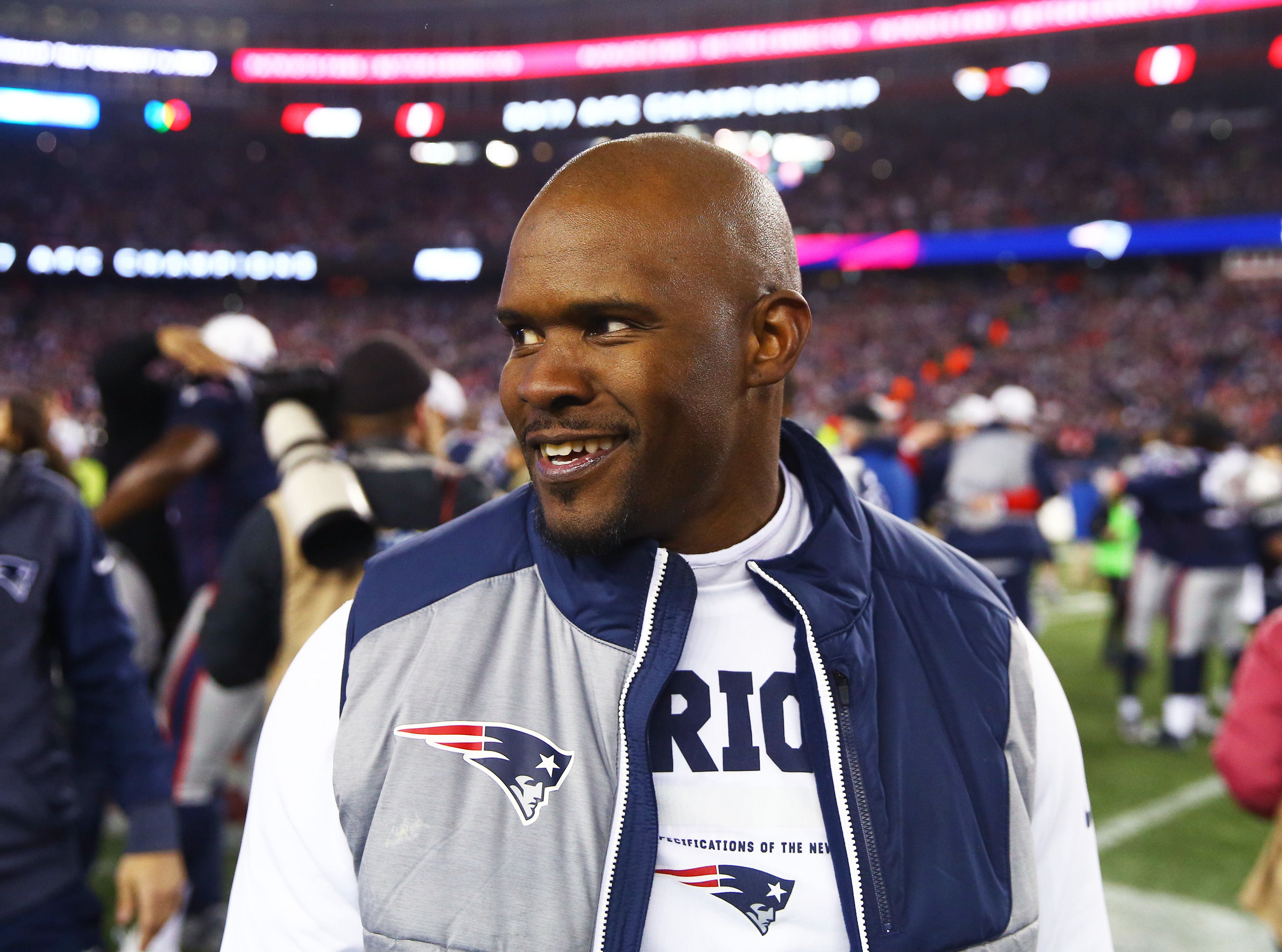 Brian Flores is the latest interviewee of John Elway and the Denver Broncos. The Patriots linebackers coach called plays for New England's defense in 2018 and is reportedly being considered in Green Bay, Miami and Denver.
According to Nicki Jhabvala of the Athletic, representatives from the Broncos left Denver on Friday evening and landed in Providence, R.I., around midnight. Early Saturday morning, the Broncos and Flores had a four-hour interview. New England is on a bye this weekend, which allowed Flores to interview with the Packers, Dolphins and Broncos over the last 48 hours.
The argument for Brian Flores: 
Flores is certainly green with only 10 years of actual coaching experience in the NFL. That being said–Flores also worked in New England's scouting department for four years–and a decade under Bill Belichick is about as valuable as as it gets in this league.
Hiring Flores would be unconventional, but we tend to focus too much on the status quo and what has worked in the past in the NFL. If Flores is as brilliant as he is portrayed to be by the Boston media, shaking things up could be good for Denver.
The Rams took a risk on Sean McVay and the 32-year old has rewarded Los Angeles with a .742 winning percentage over the last 32 games (23-8).
Elway seems to rely on his gut when it comes to big decisions regarding the future of the franchise. If he liked what he heard from Flores in Saturday morning's interview, it would not be shocking to see him roll the dice on Flores.
Earlier this week, Elway claimed that he wanted Denver's next head coach to have strong leadership characteristics. As noted by Andrew Mason, Flores is the son of Honduran immigrants and grew up with four siblings in the housing projects of Brownsville, Brooklyn. Everything that Flores has achieved in life has been the product of hard work, so if Elway wants to hire a man that knows how to deal with adverse conditions, Flores is the perfect candidate.
The argument against Brian Flores:
Flores has only handled the play calling duties in New England for one season and the 37-year old has never even officially been a coordinator in the NFL. Even though the up-and-coming assistant is widely regarded for being incredibly football savvy, hiring Flores would be a huge risk for a franchise that has already crashed and burned with a young Patriots assistant in the past.
The Broncos are not in a position where the franchise can afford to get another major decision wrong. If Elway gambles on Flores and the move does not pan out, Denver could very well find itself potentially looking for a new owner, general manager and head coach in the next couple of seasons.
Flores definitely has a bright future in the NFL, but the Broncos simply cannot justify taking this big of a risk.