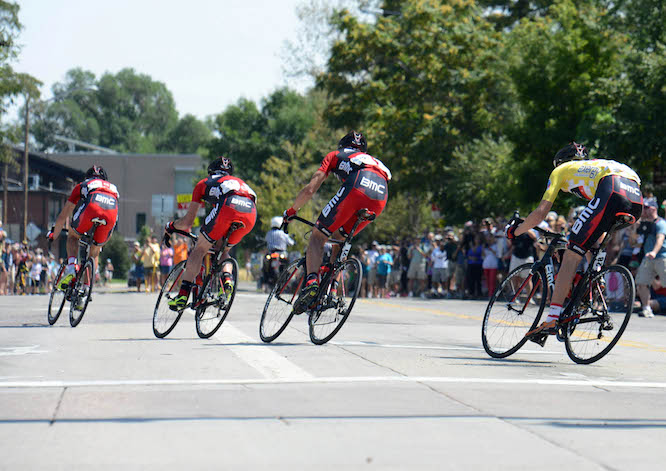 Australian Rohan Dennis of BMC Racing took matters into his own hands during Stage 4 of the 2015 USA Pro Cycling Challenge and was all business on his way to his first stage victory since winning the opening stage of the Tour de France last month.
Thursday's 203 km ride from Aspen to Breckenridge is considered the premier stage of the race and Dennis turned on the style winning this stage. Holding off Brent Bookwalter, the race leader for the past two stages during the final climb, Dennis was not to be denied.
In doing so, Dennis took over the Smashburger Leader's Jersey, the Lexus Sprint Points jersey and the Sierra Nevada King of the Mountain jersey.
Talking to usaprocyclingchallenge.com after the race, Dennis explained how he managed to put on such a great performance.
"I was definitely in the red. I kept looking at my power and making sure I didn't go too far into it. I was sort of letting go a little bit. I rode my own tempo. I was playing mind games with myself. I was waiting for the 1k to go to the KOM and I never saw it. Then I saw the 200-meter, the crowd was going nuts. I kicked it into a B gear and went. It hurts still. I'm not gonna lie."
No pain no gain as they say, and now with three stages remaining, Dennis is in prime position to be the top dog come Sunday afternoon.
Boulder native and stage one winner Taylor Phinney finished Stage 4 in 36th position and is currently over 10 minutes behind the leaders.
The top 5 riders going into the pivotal time time trial on Friday are as followed:
1. Rohan DENNIS, BMC Racing Team, in 17:24:03
2. Brent BOOKWALTER, BMC Racing Team, at :13
3. Robbie SQUIRE, Hincapie Racing Team, at :26
4. Jonathan CLARKE, Unitedhealthcare Professional Cycling Team, at :27
5. Hugh CARTHY, Caja Rural-Seguros Rga, at :27
Three stages remain in the USA Pro Cycling Challenge and nothing is decided as of yet. Dennis has a clear advantage but fellow BMC racing rider Bookwalter will be right behind him hoping to capitalize on any mistake.
Whatever the case, the final three stages certainly will provide high drama in one of the premier cycling events in North America.
---
Sammy Mugharbil, a Mile High Sports intern and student at MSU-Denver, contributed to this report
---