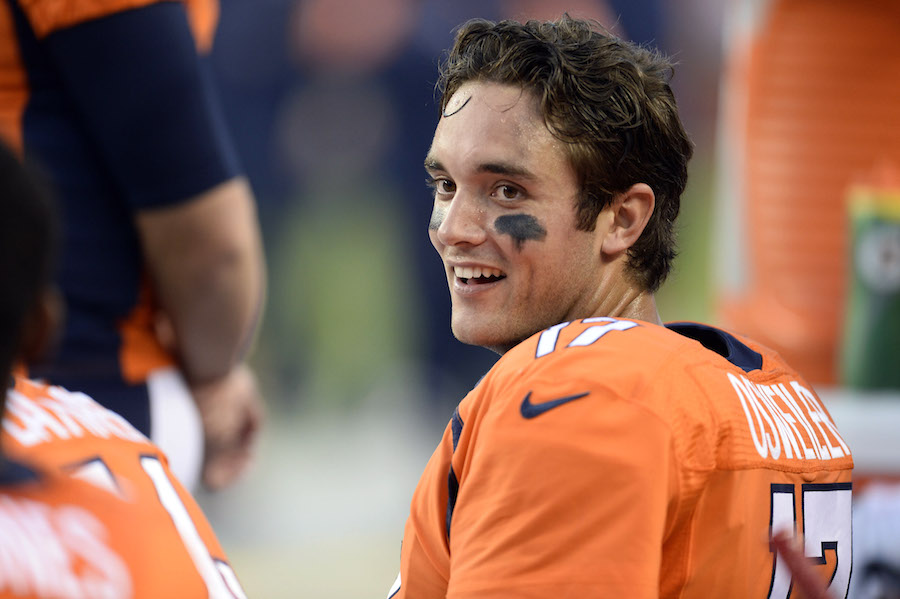 Brock Osweiler was always going to play this season.
Don't believe it? That's understandable. It's not as if it's been a hot topic of inevitability here in Denver lately. As far as the world was concerned, the Broncos had a first-ballot Hall of Fame quarterback in Peyton Manning for one more season. That meant Super Bowl or bust, and there was just no way that anyone in their right mind could contend that an offense led by Osweiler, who hasn't played a meaningful NFL snap (or even a meaningful snap of any football) in the past two years.
It is within that mindset that Broncos Country has dwelled since Manning announced that he would be returning for the 2015 season, and within that line of thinking there simply is no room for Osweiler to be the quarterback in Denver this year.
But the Broncos don't always think in such black and white terms. Despite Denver's perpetual "Super Bowl or bust" mentality that has kept them atop the AFC West since 2011 and the picture of excellence in the NFL since Pat Bowlen has owned the franchise, there's another buzz-phrase that the Broncos have been fond of using as of late that often gets lost in the shuffle: It's about winning from now on.
So with that phrase in mind, let's look at the 2015 season through a different lens.
The Denver Broncos open the 2015 season with a starting quarterback who has been excellent, but who almost certainly won't be back with the franchise in 2016. The upcoming quarterback draft class looks weak, and the team probably won't have a very high pick to leverage into a quarterback even if there's one they like. The best impending free agents have already signed extensions with their current teams. Probably the best candidate to be that quarterback next season (both in terms of convenience and likelihood to be a pleasant surprise considering who will be out there to sign) is already on the roster, but has never played meaningful snaps in an NFL game and is not under contract for next season. And no, it's not Trevor Siemian.
When put into those terms, the Broncos would have to be insane not to give Osweiler a look during meaningful games in 2015. That's not to say that the goal of finding a future quarterback is more important than the goal of winning with the present quarterback; but an NFL franchise as successful as the Broncos doesn't get where it is today with a singular focus on winning now that casts aside the long-term good of the franchise. That is to say, "winning now" and "winning from now on" are both goals that need to be accomplished, and the means to those ends can often conflict.
Despite the media firestorm since Sunday, stirring up debate regarding the impending quarterback controversy, this was actually done in the least controversial way possible. Without a compromising injury to Manning, it would have been next to impossible for Osweiler to get the reps needed for Denver to make an educated decision on the Arizona State product. But now the question becomes, "Does Manning automatically get the job back upon his return?"
Publicly, of course, Kubiak has already answered this question with a resounding "yes," but don't be so sure that's the case. It's been well documented that Manning's nine touchdowns to 17 interceptions are dead last in the NFL. In fact, in the last two years, the only similar touchdown to interception ratios belonged to Blake Bortles (11/17 in 2014) in his rookie season, Geno Smith (12/21 in 2013) in his rookie season, and Eli Manning (18/27) in his 2013 campaign that would have gotten any quarterback without two Super Bowl victories in the past decade benched.
The Broncos are 21st in the league in the percentage of drives that go three-and-out, and 28th in the NFL in third down conversions. A healthy Peyton Manning of yesteryear gets the job back with no questions asked, but Osweiler may not have to do as much as you'd think to outperform 2015 Peyton Manning.
"But," one might say, "this is Manning's last season. You can't take away his starting job based on injury in his last season."
It may sound cold, but the Broncos have been thinking that way for far too long. Manning's implementation back into the offense has to be the best thing for the team. If it isn't, you get things like seven rushing attempts in the first half against the Colts, one week after beating Green Bay (and the offense looking its best) while running a balanced attack. It's how you get Manning out there against the Chiefs in the first place last week, looking like a shell of his former self and prompting nervous glances among Broncos teammates as if to say, "What the heck is going on here?" You get awkward postgame speeches about how the worst performance that any quarterback has ever put forth never should have happened.
Brock Osweiler was always going to play this season. The question now becomes whether he will remain after Manning is healthy.
"I have to do what's best for the player," Kubiak told the media after the game. "And for the team."
No coach, you've been doing what you thought was best for the player. Now it's time to do what's best for the players. They, collectively, are the team.