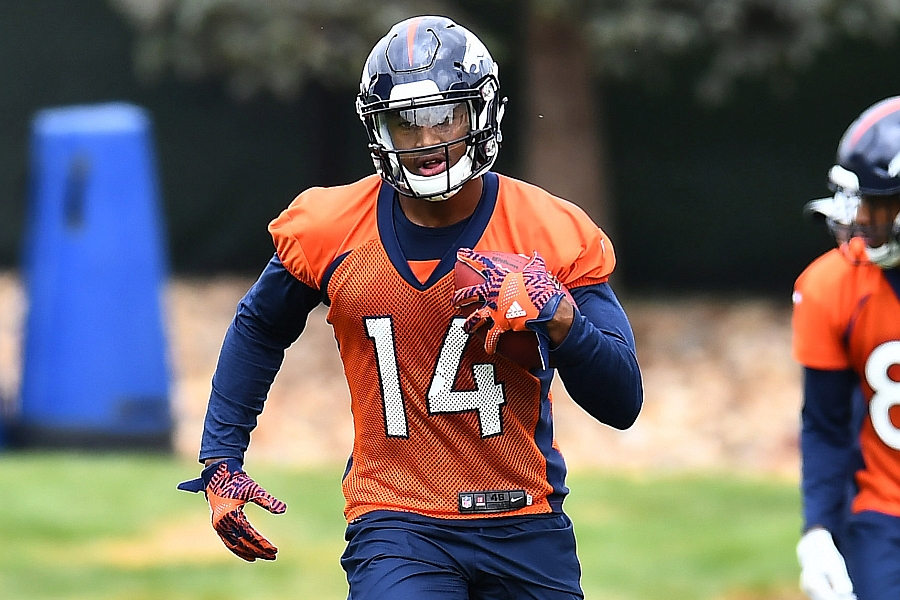 When the Denver Broncos selected Courtland Sutton with the 40th overall pick, general manager John Elway landed a player the team had graded as a first-round selection. The big-bodied receiver from SMU was the third wide receiver selected in the 2018 draft behind D.J. Moore (Carolina Panthers, 24th overall) and Calvin Ridley (Atlanta Falcons, 26th overall).
As Demaryius Thomas and Emmanuel Sanders approach the end of their contracts with Denver, and with so much uncertainty behind them at the position, Sutton has the opportunity to develop into a mainstay for the Broncos.
If Elway's talent evaluation is correct, the Broncos landed a gem in the second round. If not, the gaping hole at the third wide receiver position could grow. Here's a breakdown of best- and worst-case player comparisons for Sutton at the next level.
Best-case scenario: Alshon Jeffrey
The measurements on these two receivers coming out of college are shockingly similar. At the NFL combine, Sutton measured 6 feet 3 inches, 218 pounds. Jeffrey entered the league at the same height, weighed two pounds less and had longer arms and wider hands than Sutton. Both were touted for their downfield strength and ability to use size to their advantage.
In terms of drills, the two produced similar results before entering the league. Sutton ran a 4.54 40-yard dash and 6.57 3-cone drill while registering a vertical of 35.5 inches and broad jump of 124 inches. During his pro day in 2012, Jeffrey ran a 4.48 40-yard dash, 6.71 3-cone drill and measured a 36-inch vertical and 122-inch broad jump.
Production-wise, Sutton and Jeffrey had similar results in their three years of college football. From 2009-2011, Jeffrey caught 183 passes for 3,042 yards and 23 touchdowns. After redshirting due to injury in 2014, Sutton proceeded to catch 193 passes for 3,193 yards and 31 scores.
More important than their numbers, though, both receivers succeed in the same areas. Sutton and Jeffrey are elite producers in the red zone and can use their bodies to high-point balls over a majority of cornerbacks. Their physicality gives them advantages on smaller defenders and opens up a larger window for quarterbacks. Neither receiver has elite straight-line speed, but both are still downfield threats with capable of breaking open for big plays.
Following his sophomore season, Jeffery was viewed as a first-round selection but opted for another year in college. Diminished production that season caused him to slip to the Chicago Bears in the middle of the second round.
At some points last season, Sutton was also considered a first-round selection but eventually slid into the Broncos' waiting arms in the second round. He has the physical traits and style to match Jeffrey's production in the NFL, which has proven to be among the league's best when healthy.
Worst-case scenario: Cody Latimer 
The situation and expectations surrounding Sutton feel eerily similar to those of Cody Latimer when he entered the league in 2014. Both were second-round selections who drew rave reviews from Elway and were expected to develop into a primary option.
The Broncos traded up to grab the Indiana product towards the end of the second round after a strong showing at the NFL Combine. Latimer and Sutton both measured similarly prior to the draft, though Latimer tested better in terms of speed.
He also came out a year early after an impressive junior season in which he recorded 72 receptions, 1,096 yards and nine touchdowns. Latimer was widely thought to have been put in a position to succeed with Peyton Manning as his quarterback and the likes of Demaryius Thomas, Wes Welker and Emmanuel Sanders helping his development.
Though the tangibles seemed to be there, Latimer never found his stride in Denver. The inability to improve his route-running and find ways to create separation limited his time on the field as he failed to develop into a reliable option.
In his four-year career with Denver, Latimer posted just 35 receptions, 445 yards and three touchdowns. Latimer mostly found himself as a special teams contributor before signing with the New York Giants this offseason.
It may be too soon to write off Latimer in the NFL, but his lack of production thus far shows that numbers and measurable don't always develop into success. Though neither player's physical attributes are in question, Sutton will have to show this development that Latimer did not to mature into his potential.