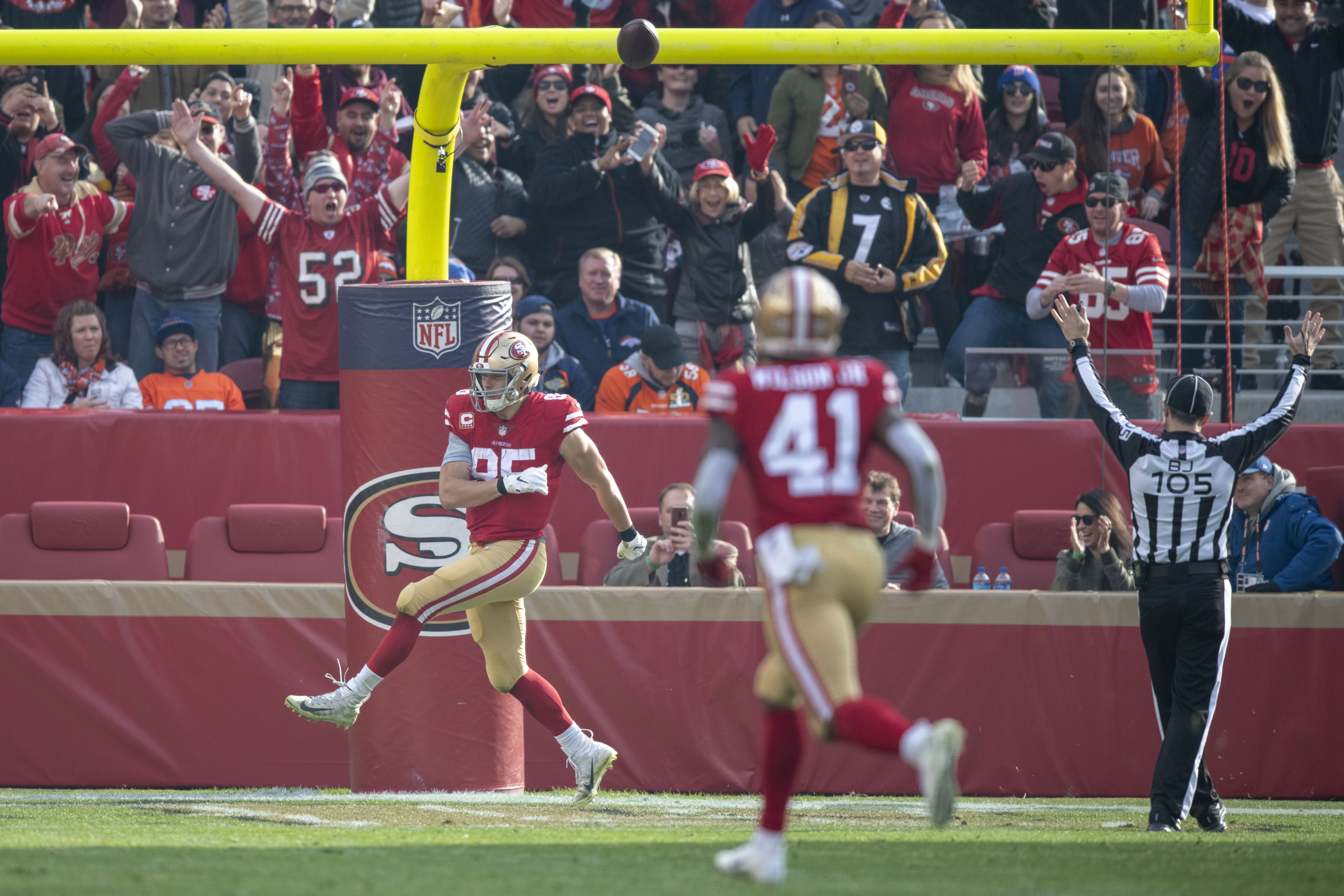 In order to keep pace in the AFC Wild Card race, the Denver Broncos (6-7) desperately needed to beat the San Francisco 49ers (3-10) on Sunday.
Unfortunately for the visiting Broncos, the game plan to slow down 49ers tight end George Kittle was apparently left back in the Mile High City. Kittle torched the Broncos for seven catches, 210 receiving yards and an 85-yard touchdown as the 49ers defeated the Broncos, 20-14.
Kittle, 25, is San Francisco's leading receiver this season and the second-year pro proved why on Sunday. Kittle's 210 receiving yards put him in the same conversation as players like Jerry Rice and Terrell Owens, and while the 6'4″, 250-pound tight end may not be as fast as those Hall of Fame wide receivers, Denver made him look like an All-Pro.
Time and time again quarterback Nick Mullens was able find his tight end in the open field. And by the end of the fourth quarter, Mullens only had 122 passing yards to players not named Kittle. The rookie quarterback finished 20-33 for 332 yards, with two touchdowns and one interception.
While Mullens did not do anything special for San Francisco, the young QB put his team in a position to win and allowed his defense to do the rest.
With the game on the line, Denver's offense had multiple opportunities to drive down the field and chip away at the 49ers' lead, but on two different occasions, the Broncos turned the football over on downs.
Down two scores with 3:53 remaining, Case Keenum was able to connect with rookie wide receiver DaeSean Hamilton in the end zone to cut the deficit to six points (20-14). The veteran quarterback would not get another chance to lead his team down the field though.
In a losing effort, Keenum completed 23-41 pass attempts for 165 yards and one touchdown. Keenum will look to get his team back in the winning column when the Cleveland Browns come to town on Saturday, Dec. 15.