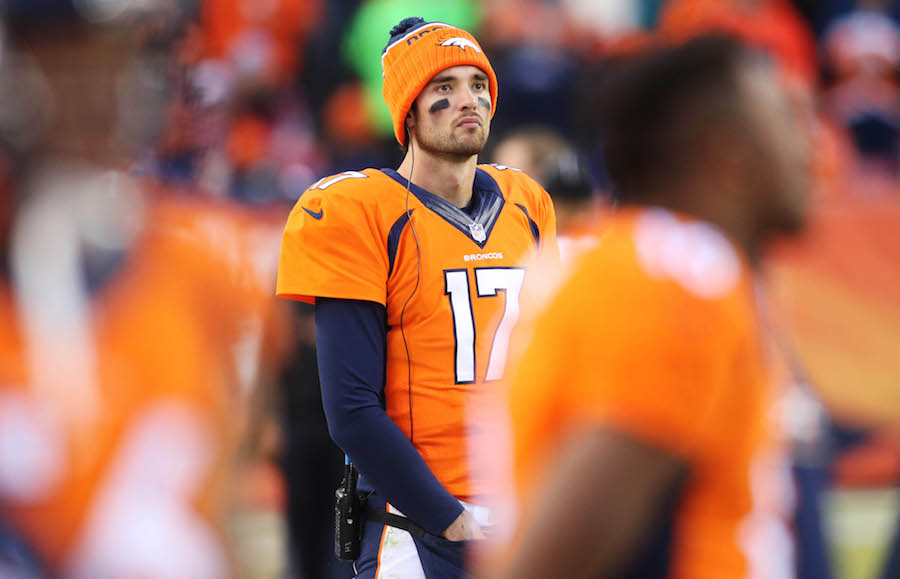 Sometimes, there's no going back.
The bridge was very badly burned, even worse than Will Ferrell in the original Austin Powers.
Picture a rope bridge in the middle of a rugged forest, soaked in kerosene and lit on fire with all of the matches. It was torched to the ground; no one will ever cross it again.
On one side stood a 6-foot-7 man, greasy hair slicked back, money signs gleaming in his eyes, but even more anger burning in his heart.
On the other stood No. 7 and No. 8, John Elway and Gary Kubiak united together, staring across a treacherous valley at a very ticked off Brock Osweiler.
After what happened late last season, Oz was never coming back to Denver. So let's all quit pretending like that was an option.
Sports talk across the Mile High City has beaten the Broncos quarterback situation to death this offseason. Will it be Mark Sanchez under center next year? But what about fan favorite Trevor Siemian? Surely, Colin Kaepernick will be traded here soon, right? How about Ryan Fitzpatrick? Josh McCown? Mike Glennon? Uncle Rico?
And while this topic is a valid one (even if it's reached a nauseating level), something that's not valid is the following argument spit out by radio hosts and fans alike: "Why didn't Elway just pony up and outbid Houston for Osweiler?!"
Stop.
Stop it now.
Osweiler didn't want the Broncos money. At least not by January of 2016.
The instant Oz was benched in Week 17 against the San Diego Chargers for an ailing Peyton Manning it was over. Finished. Done.
The golden boy was gone.
Osweiler's ego was so bruised by that decision he may have made his mind up on the sideline while watching PFM lead the Broncos back against the Chargers.
He woke up that day as the Broncos starter, but five turnovers later Oz was yanked; a comeback orchestrated by Manning to turn a 13-7 deficit into a 27-20 win and the No. 1 seed in the AFC meant Osweiler would never play a snap for Denver again.
Watching Manning lead the Broncos to the Super Bowl (while the defense did the heavy lifting) was ultimately just salt in the wound. It solidified even further what Osweiler had already decided; he was running away and never coming back.
One person who knows Osweiler well told me at the Super Bowl he was "mad" about the whole situation. When I asked "how mad?" the response was "freakin' pissed."
Of course Brock said all the right things at the time, but based on what ultimately happened it's clear he was indeed, well, freakin' pissed.
Broncos figured Brock Osweiler didn't want to come back when he stopped returning phone calls to coaches/some teammates past 2 weeks. #9news

— Mike Klis (@MikeKlis) March 9, 2016
That sounds like a man who had his mind made up. He was bolting. And in retrospect, it's pretty clear Osweiler and his agent, Jimmy Sexton, spoke with the Broncos simply to drive up the Texans' final offer; something that ultimately worked. Oz got $18 million a year from Houston; Denver reportedly went as high as $16 million per season, a number Osweiler only cared about because it became the ultimate negotiating tool.
"We've stayed true to our philosophy of building a team with players who want to be Denver Broncos and want to be here. That's been a successful approach for us," Elway said after being spurned by Osweiler. "While we did offer a very competitive and fair long-term contract to Brock, we ultimately had to remain disciplined while continuing to assemble a roster that can compete for championships."
That was Elway's way of burning the bridge even further, but as we know, it had already been torched. At that point the Broncos' boss was just lighting ashes on fire.
So let's stop acting like this mess at the quarterback position for the Broncos could have been avoided by re-signing Osweiler. Even if Elway had found $20 million in the couch cushions to offer Oz, it wouldn't have been enough.
The former second-round pick didn't want another dime from the Broncos; at least not after what happened against the Chargers and throughout the following month.
Some argue Elway should have extended Osweiler before the 2015 campaign. Maybe he could have gotten a bargain. The rebuttal to that flawed way of thinking? Oz had zero career starts before last season. No one had any idea what Denver had with him; the only real test in the NFL is regular season football. Osweiler could have thrown another 10,000 perfect spirals in practice at Dove Valley and it still wouldn't have justified extending him last offseason.
No one knows exactly who will start at quarterback for the Broncos Sept. 8 in a Super Bowl rematch against the Panthers. But the way Super Bowl 50 was won, starting during Week 17 of last season, ensured it wouldn't be Brock Osweiler.
That bridge was blazed to the ground in January, and there was never going to be any way back.